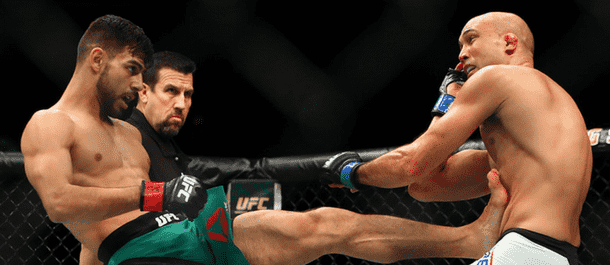 Frankie Edgar vs. Yair Rodriguez
Yair Rodriguez has earned his shot at the #2 featherweight in the world, Frankie Edgar at UFC 211 in Dallas. Rodriguez has been given the green light from the UFC after competing, winning and impressing in two consecutive main events, with the most recent being his absolute destruction of B.J. Penn in January (which we predicted). The 24-year-old is a fan-favorite due to his athletic style, combined with an ever-intriguing array of striking attacks. There's no question that Frankie Edgar will stand as his toughest test to date, though.
Put the Jose Aldo fight aside, and Frankie Edgar has been one of the most dominant fighters in all of mixed martial arts for the past three or so years. After losing to Aldo originally in 2013, Edgar went on to defeat Charles Oliveira, B.J. Penn, Cub Swanson, Urijah Faber and Chad Mendes before falling short against Aldo again at UFC 200. Aldo easily controlled the contest and proved that he is still many levels above the rest of the competition, regardless of how much Edgar has improved over the past years. Edgar then featured on another massive UFC event at UFC 205, in which he picked apart Jeremy Stephens quite convincingly despite a scare in the early second round.
The Breakdown
While on a name-value basis, Yair Rodriguez doesn't stand up to some of Frankie Edgar's most recent competition, Rodriguez could possibly be the biggest problem that Edgar has faced in the cage so far. Rodriguez is as unorthodox as they come. He's a perfect example of the evolution of the 'mixed martial artist', including his taekwondo black belt into his natural striking game, takedown defence and ability to scramble out of bad positions with technical precision.
Frankie Edgar says he is "going to go and get some of that young blood" at UFC 211. I imagine that Edgar will employ a similar strategy to what he has done over his past couple of fights -considering his constant movement ensured that Aldo was not able to plant his feet and set up his strikes. Unfortunately for Edgar, downplaying Aldo's game meant that he wasn't able to establish his own, and he was outscored by Aldo over the course of five rounds as Aldo continually picked him apart as he entered range.
Prediction
Constant movement combined with Edgar's defensive ability and legendary chin will see him make it the distance against Yair Rodriguez, but I'd want to see Frankie set up more of his own game rather than play into the hands of his opponent.
Yair Rodriguez proves too tricky, too strong and too explosive for Frankie Edgar as he scrapes through to a decision victory.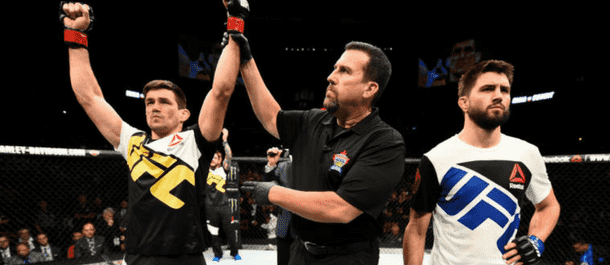 Demian Maia vs. Jorge Masvidal
Tyron Woodley recently spoke out about Demian Maia taking the fight against Jorge Masvidal, calling it 'stupid' and asking:
"Why would you put yourself up against the worst possible matchup outside of a title fight?"
Woodley has a point. Maia was the obvious number one contender and would have been eligible to fight Tyron Woodley for the welterweight championship belt if he wasn't scheduled against Masvidal right now. Demian Maia has been absolutely crushing his opponents with an improved wrestling ability that has allowed him to dominate opponents on the mat using his expert Brazilian jiu-jitsu. His recent dominance can be expressed in one simple statistic, Maia has absorbed just 13 total significant strikes in his last four fights. Maia dismantled Carlos Condit in just a minute and showed that he is the last guy in the UFC you want on top of you.
As for Woodley's claim that Maia is fighting the worst possible matchup outside of a title fight, he's right. Jorge Masvidal has looked like a killer out there in his lasts fights. He took apart Donald Cerrone, as we predicted, with precise boxing and lightning-fast timing, despite the first round being a true back-and-forth battle until the final ten seconds.
The Breakdown
A fight like this is a head-scratcher when it comes to understanding how it may play out. Yes, Maia is insanely good at ensuring he doesn't take damage on the way to a takedown. Masvidal, however, has lightning-fast boxing and a wicked jab that could be enough to keep Maia at distance for long enough to frustrate him.
While sometimes you wonder if said opponent can defend the jiu-jitsu onslaught from Demain Maia, let's not be silly. Once he has you on the mat, it's a ticking time bomb and you need to get him off you as soon as possible. Masvidal has improved his offensive wrestling ability, but it remains to be seen lately how much his scramble and defensive wrestling has improved as recent fighters haven't challenged him at this.
The Prediction
As much as I think Masvidal has the abilities to stop Maia in his tracks, I still think Maia is way too good and even at his age, remains a student of the game and is improving every time we see him. I'm expecting Maia to go on and challenge Tyron Woodley for the UFC welterweight championship.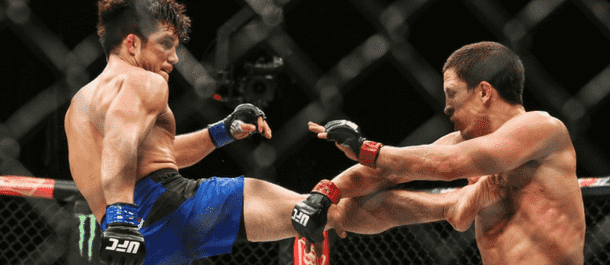 Henry Cejudo vs. Sergio Pettis
Henry Cejudo is in a strange position. I'd probably consider him at his absolute best right now despite the fact he has lost his last two bouts. He featured heavily on The Ultimate Fighter: Tournament of Champions and at the end of it was extremely unlucky not to come away with a decision victory against Joseph Benavidez in one of the craziest decisions of 2016. Cejudo looked like a whole new fighter out there against Benavidez and I thought he controlled the striking and grappling exchanges all night long.
Sergio Pettis has long been touted as another of the up-and-comers that could threaten Demetrious Johnson's reign at the top of the division. After coming down from bantamweight in early 2015, Pettis has put together a 3-1 record, scoring wins over Chris Cariaso, Chris Kelades and John Moraga in his last three fights. Personally, I think he has a long way to go before even reaching Mighty Mouse – and first things first, he has to get through the difficult task of Henry Cejudo.
The Breakdown
Interestingly, this is the first time that Sergio Pettis enters a fight as an underdog. Further to that, the bookmakers have a vast difference between the two fighters in this one.
Cejudo's stand-up game has vastly improved since entering the UFC and still on an every-fight basis, too. We saw it against Joseph Benavidez when Cejudo was able to work a beautiful counter left hook and some excellent body kicks all night. Defensively, his timing was perfect too – often catching the kicks of Benavidez.
I like Sergio Pettis' game and his offense is well thought-out, too. Defensively, however, Pettis seems to always be there for the counter shot as he doesn't move his head when he strikes. Simply, I think that Cejudo is too much of a task for Pettis right now.
The Prediction
It's extremely difficult to bet against Henry Cejudo not working his way to another shot at Demetrious Johnson and it all starts at UFC 211 when he defeats Sergio Pettis with relative ease. If this fight was taking place at any other weight but flyweight, I'd back Cejudo to finish Pettis with a beautiful left hook over a southpaw jab. Instead, the best bet here is Cejudo to win by decision.
Tips Summary
Recommended Plays
Frankie Edgar vs. Yair Rodriguez
Yair Rodriguez to Win by Decision
Sunday 23rd April, 02:00 GMT
Odds: 4.00Bet €100 to win €4003/1Bet £100 to win £400+300Bet $100 to win $4003.00Bet HK$100 to win HK$4003.00Bet Rp100 to win Rp400-0.3333Bet RM100 to win RM400 – BetVictor
Demain Maia vs. Jorge Masvidal
Demian Maia to Win
Sunday 23rd April, 01:30 GMT
Odds: 2.10Bet €100 to win €21011/10Bet £100 to win £210+110Bet $100 to win $2101.10Bet HK$100 to win HK$2101.10Bet Rp100 to win Rp210-0.9091Bet RM100 to win RM210 – Betway
Henry Cejudo vs. Sergio Pettis
Henry Cejudo to Win by Decision
Sunday 23rd April, 01:00 GMT
Odds: 1.87Bet €100 to win €18787/100Bet £100 to win £187-115Bet $100 to win $1870.87Bet HK$100 to win HK$187-1.15Bet Rp100 to win Rp1870.8700Bet RM100 to win RM187 – BetVictor
Demian Maia
Henry Cejudo
MMA
UFC
UFC 211
Yair Rodriguez