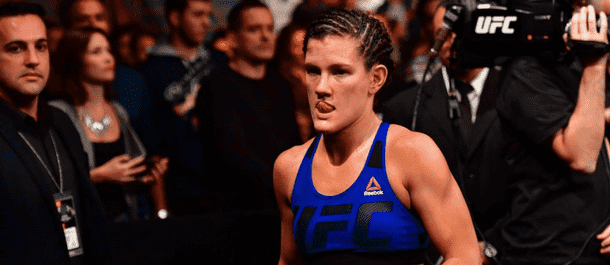 Jessica Aguilar vs. Cortney Casey
Jessica Aguilar hasn't competed in the UFC since UFC 190 in August 2015, at her UFC debut. She was scheduled against Gadelha in a bout that would determine who gets a shot at Joanna Jedrzejczyk for the UFC women's strawweight championship. Gadelha was much more comfortable and composed inside the octagon that night and went on to defeat Aguilar by way of unanimous decision. Aguilar was then forced to pull out of UFC 197 after tearing her ACL in training, and UFC 211 will mark her return from the injury.
Cortney Casey is also coming off a loss against Gadelha, back in November 2016, a bout in which she was dominated by the former title-challenger from Brazil. All three judges scored the bout 30-27, putting a swift end to the streaking Cortney Casey and her rise through the division.
The Breakdown
Aguilar returns to the octagon hungry and determined to reach the top of the division. Her willingness to stand and fight is a welcome attribute. She was bloodied and bruised against Gadelha but continued to come forward and land strikes.
Casey's greatest advantage in this one is her strength. She has shown the ability previously to throw an opponent around the cage with relative ease and then unloads with damaging ground and pound.
Prediction
The bookmakers have this scheduled as a pick em', but I'm leaning towards Cortney Casey because I can see the wrestling being a massive influence on the fight. I feel confident in backing Casey for a decision victory.

Jared Gordon vs. Michel Quinones
Two featherweight's with knockout power meet in their respective UFC debut's at UFC 211 when Jared Gordon takes on Michel Quinones. Jared Gordon was picked up in Dana White: Lookin' for a Fight, after impressing Dana White enough for him to sign him to the world's largest MMA organisation. Gordon has put together a 12-1 record as a professional, dating back to 2011. Check out the video below to see the Jared Gordon segment on DW: LFAF.
While much will be made of Jared Gordon's debut because of his feature on the UFC reality TV show, Michel Quinones will be desperate to kick-start his career in the UFC as well. Quinones is 8-1 as a mixed martial artist is now riding a five-win streak. Quinones was supposed to debut back in February at the UFC Fight Night 105 card, but a leg injury delayed his entrance to the organisation.
The Breakdown
Michel Quinones stated that Jared Gordon isn't even on his level and he'll light him up on the feet at UFC 211. From what I've seen, Quinones likes to fight off the back foot and will lure opponent's into his range before striking.
Jared Gordon wants to be the aggressor and looks to take down opponents to slow their momentum before working some ground and pound. Standing up, I think that Quinones has a significant edge and I'd be expecting Gordon to rush this one to the mat as he won't be able to keep up with Quinones fast lateral movement.
Prediction
Quinones gets the job done in his debut and silences the hype for Dana White: Lookin' for a Fight newcomer, Jared Gordon. I'm expecting this one to be a finish, so am happy to take either the outright win odds for Quinones – just in case.

Chase Sherman vs. Rashad Coulter
Rashad Coulter, a Dallas heavyweight, gets a perfect starting opportunity in the UFC against heavyweight Chase Sherman who has managed a 0-2 record in the UFC. Coulter steps in to replace the injured Dmitry Poberezhets on short-notice and his opponent, Sherman, is also a short notice addition replacing Jarjis Danho. Coulter is 8-1 as a mixed martial artist with all eight wins coming via KO/TKO.
Sherman had entered the UFC with a 9-1 record as a professional but hasn't been able to get into the winner's column with losses to both Walt Harris and Justin Ledet. There's every chance that Sherman is fighting for his career at UFC 211 with a loss potentially putting him out of favour with Dana White and the UFC.
The Breakdown
Chase Sherman has some pretty good movement for a big heavyweight and can often get around the edges of the cage and keep his opponent guessing. All this does, though, is let his opponent walk forward with their feet set and start throwing bombs. Sherman especially has trouble against opponent's with a fast and accurate jab, as shown in both of his previous fights.
It's difficult to find footage of Rashad Coulter, but I found a fight of his back in 2015. He has a sweet jab and will choose to work behind that more than any other punch. When he moves into range, his combinations are super-fast and deadly, too. Defensively, though, there's a lot of room for improvement, and he makes some fundamental mistakes including parrying downwards too far with his right hand and leaving his chin exposed.
Prediction
Chase Sherman needs to bring the fight to Rashad Coulter, and with the added confidence boost of having been in the organisation longer than Coulter, he may just do that and secure a knockout victory late in the first round/early second.

Gabriel Benitez vs. Enrique Barzola
Gabriel Benitez vs. Enrique Barzola is a battle between two featherweight's who haven't established any momentum in the UFC and sit well down in the rankings for the division. On that, however, just a couple of wins under the belt will see both of these fighters shoot up the rankings fairly quickly and earn a fight against a recognised opponent. For Barzola, he has defeated Horacio Gutierrez and Chris Avila in the UFC and lost a controversial split decision to Kyle Bochniak in August 2016. Barzola was also the winner of "The Ultimate Fighter: Latin America 2".
Gabriel Benitez has put together a 3-1 record in the UFC with two wins coming the way of submission. Benitez was knocked out by Andre Fili back in November 2015 before making a successful return against Sam Sicilia in September.
The Breakdown
The first glaringly obvious aspect of this fight to watch out for is the standing guillotine of Gabriel Benitez when Enrique Barzola shoots for a takedown. Barzola has in the past shown that he would like to attempt four or more takedowns per round and I'm sure that Benitez has been drilling catching him in his brutal guillotine chokes ever since this fight was made.
Both fighters have a little diversity in their standing game and like to attack the legs. Barzola started off in the UFC a little crazy, throwing all kinds of wild punches but has now tightened up and improved his striking – becoming somewhat more selective.
If Barzola can get Benitez to the mat, that's where he will do the most damage. Barzola is insanely active on the ground and likes to keep punching from every position, making his opponent work. He also has tight back control and can keep an opponent locked up for a long time.
Prediction
Unlike the bookmakers, I believe that Enrique Barzola will take the victory here and get his UFC career back on track after that crazy decision loss against Kyle Bochniak.
Tips Summary
Recommended Plays
Jessica Aguilar vs. Cortney Casey
Cortney Casey to Win
Saturday 22nd April, 11:30 GMT
Odds: 1.92Bet €100 to win €19223/25Bet £100 to win £192-109Bet $100 to win $1920.92Bet HK$100 to win HK$192-1.09Bet Rp100 to win Rp1920.9200Bet RM100 to win RM192 – Marathon
Jared Gordon vs. Michel Quinones
Michel Quinones to Win
Saturday 22nd April, 11:00 GMT
Odds: 2.40Bet €100 to win €2407/5Bet £100 to win £240+140Bet $100 to win $2401.40Bet HK$100 to win HK$2401.40Bet Rp100 to win Rp240-0.7143Bet RM100 to win RM240 – Betway
Chase Sherman vs. Dmitry Poberezhets
Chase Sherman to Win
Saturday 22nd April, 10:30 GMT
Odds: 1.62Bet €100 to win €16231/50Bet £100 to win £162-161Bet $100 to win $1620.62Bet HK$100 to win HK$162-1.61Bet Rp100 to win Rp1620.6200Bet RM100 to win RM162 – PaddyPower
Gabriel Benitez vs. Enrique Barzola
Enrique Barzola to Win
Saturday 22nd April, 10:00 GMT
Odds: 2.80Bet €100 to win €2809/5Bet £100 to win £280+180Bet $100 to win $2801.80Bet HK$100 to win HK$2801.80Bet Rp100 to win Rp280-0.5556Bet RM100 to win RM280 – Sportingbet
Fight Pass Prelims
MMA
UFC
UFC 211