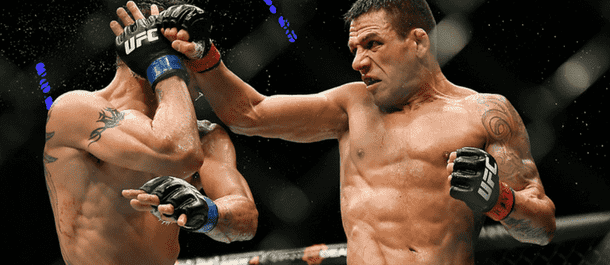 Season 28 of The Ultimate Fighter will come to an end this weekend in Las Vegas, Nevada.
At The Ultimate Fighter: Heavy Hitters Finale, the heavyweight and women's featherweight finals will both feature on the main card. These bouts will, however, be in the shadows of a spectacular main event that sees two welterweight stars do battle.
Rafael Dos Anjos will attempt to bounce back as he takes on the fast-rising Kamaru Usman in what should be one of the best fights of the weekend.
The Ultimate Fighter: Heavy Hitters Finale will take place at Pearl Theatre at Palms Casino Resort on Friday, November 30.
Make sure to also read our best bet for Junior Dos Santos vs. Tai Tuivasa, the other UFC main event this weekend. Dos Santos and Tuivasa is an important heavyweight clash at the top of UFC Fight Night 142 in Adelaide, Australia.
Rafael Dos Anjos may have dropped three of his last six fights, but don't let that fool you into thinking he is anything but an elite talent in the UFC. Dos Anjos, a former UFC lightweight champion, recently moved up to the welterweight division after losing consecutive bouts to Tony Ferguson and Eddie Alvarez. Finding a home in the 170-pound category, Dos Anjos proceeded to defeat Tarec Saffiedine, Neil Magny, and then Robbie Lawler. However, his three-fight winning streak as a welterweight came to an end when he was overrun by Colby Covington at UFC 225.
The Covington fight proved what we had already known from Dos Anjos' battle with Khabib Nurmagomedov many years ago. The Brazilian has trouble adapting to a high-pressure, grappling-focused opponent and was unable to keep Covington away for long periods. As a result, Covington claimed the UFC Welterweight Championship and now Dos Anjos will find himself standing across from yet another wrestler.
This time it's Kamaru Usman.
Usman – who is fittingly nicknamed "The Nigerian Nightmare" – has made a career of overwhelming his opponents. Undefeated since May 2013, Usman currently rides a wave of momentum and will enter this contest on a 12-fight winning streak. Usman is now 8-0 in the UFC and recently managed the biggest victory of his career when he outworked Brazilian Jiu-Jitsu expert Demian Maia over the course of five rounds.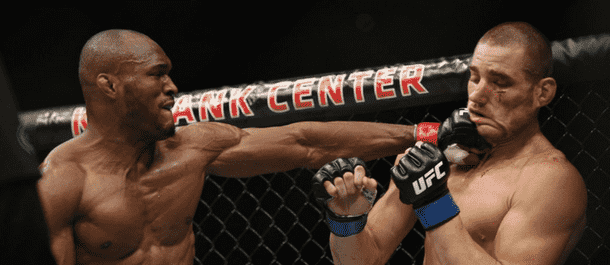 Fight Breakdown
There are just a handful of factors at play in this main event that could turn the tide of this fight either way.
Mostly, it's going to come down to pace and pressure.
When given room to operate, Rafael Dos Anjos is an incredibly crafty and dangerous striker. He's won rounds against Tony Ferguson while standing and defeated Robbie Lawler and other highly-skilled veterans with his striking and clinch work alone.
Colby Covington understood this and applied a ridiculously intense pace from the very first second of the contest. Covington continually backed Dos Anjos to the cage and tied him up in the clinch while trying to drag him to the mat. Dos Anjos was never able to plant his feet and go to work from a distance.
Can Usman do the same?
We saw it before against Sean Strickland when Usman applied a high-pressure approach and dominated Strickland with grappling, But other times, we've seen Usman also hesitate and stand back and trade with opponents. If he opts to exchange with Dos Anjos in the center of the cage, he is almost certainly going to find himself in trouble considering the devastating leg kicks and powerful combinations of his adversary.
And if Usman does try and smother Dos Anjos, he'll need to weather the storm of Muay Thai techniques in the clinch and from long range. Dos Anjos' work to the body, especially, might cause Usman to fatigue earlier than expected.
If Dos Anjos is to win this one, it's because he has outlasted his opponent and has managed to turn the fight around by the end of the second round, the third round, or even later.
That's an outcome we can get behind at odds like these.
The Ultimate Fighter Finale 28: Rafael Dos Anjos vs. Kamaru Usman
Friday, November 30 – 11:30 pm (ET) / 3:30am (GMT)
Kamaru Usman
Rafael dos Anjos
TUF 28 Finale