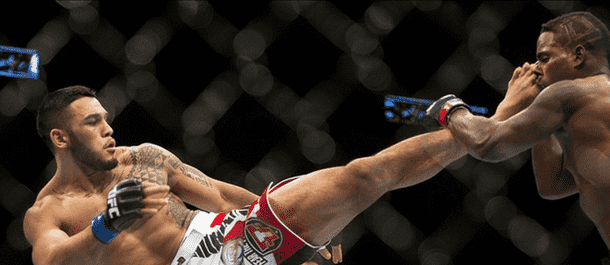 Las Vegas, Nevada – Friday, July 6 – 10:00 pm (ET) / 2:00am (GMT)
Headlining the second-biggest event of International Fight Week in Las Vegas, Nevada, Brad Tavares will do battle with rising star Israel Adesanya in a pivotal five-round matchup
Brad Tavares is on the rise. The 30-year-old Hawaiian has enjoyed success in each of his last four outings, with major victories against Caio Magalhães, Elias Theodorou, Thales Leites, and Krzysztof Jotko. This streak has seen him shoot into contention in the middleweight division and he now sits just behind the upper echelon of fighters. Tavares' last defeat was to the current champion, Robert Whittaker, back in May 2015. He looks to be continually improving and has shown an ability to punish an opponent who stands in front of him.
Tavares will undoubtedly be tested by Adesanya, who is looking to break into the UFC's middleweight rankings.
Israel Adesanya will be hoping to prove that the hype-train is justified. Backed by the overwhelming confidence of fans and continually growing in popularity due to his eccentric kickboxing style, Adesanya has been thrown into the main event here against Tavares. Before meeting Marvin Vettori in his last UFC contest, Adesanya had knocked out all 12 of his prior opponents. That undefeated streak extends to 13, but he was unable to put Vettori away inside the distance. We haven't seen anything so far that indicates Adesanya can't hang with the likes of Tavares, but some are claiming it to be too much too soon for the prospect.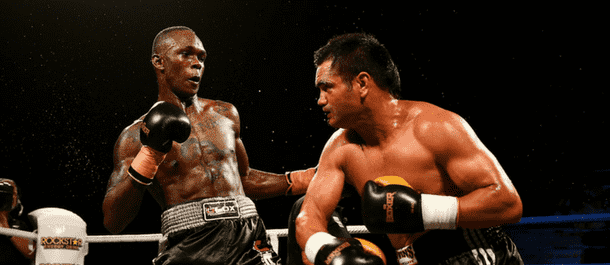 Fight Breakdown
Israel Adesanya's strength is, of course, his striking. Coming from a background in kickboxing and a dabble in boxing, as well, Adesanya has amassed nearly 40 fights outside of the mixed martial arts arena. His striking is as technical as it is gorgeous and exciting as it is devastating. He mixes up his kicks, punches, and elbows with unsuspecting pace and power to deliver game-changing shots to the head and body.
He's more than just a point-striker, though, and he certainly packs KO power. Yes, he can keep an opponent guessing by using a variety of feints and evasive footwork, but he can also move forward and connect with devastating strikes when an opening is presented.
Now, the question remains as to whether Adesanya will be able to deal with the 'mixed martial arts' element of the fight with Tavares, who is a big and strong middleweight fighter.
By all means, Tavares is a 'very good' mixed martial arts striker. The difference between a very good striker in MMA and a very good kickboxing striker is massive, however. Adesanya might be many levels above Tavares, and we are sure that Tavares isn't going to want to play with Adesanya on the feet for too long at a time. The Hawaiian does have an extensive skillset on the feet, though, and if he can take some of Adesanya's best shots and continue to walk forward (much like Marvin Vettori did), he's going to be able to turn this fight on its head.
Betting Market
Israel Adesanya, the unranked challenger, will enter this one as a betting favorite over Brad Tavares (#8) in Las Vegas.
Right now, Adesanya's odds have been smashed down to 1.64Bet €100 to win €16416/25Bet £100 to win £164-156Bet $100 to win $1640.64Bet HK$100 to win HK$164-1.56Bet Rp100 to win Rp1640.6400Bet RM100 to win RM164 with BetOnline. On the other hand, Tavares has extended all the way out to 2.37Bet €100 to win €237137/100Bet £100 to win £237+137Bet $100 to win $2371.37Bet HK$100 to win HK$2371.37Bet Rp100 to win Rp237-0.7299Bet RM100 to win RM237 on BetOnline.
Betting Play
While many are leaning Adesanya because they think that he'll defeat Tavares at his own game (striking), we believe Tavares might have a trick or two up his sleeve for the kickboxer from New Zealand. Expect some heavy ground and pound to influence the scorecards, if it isn't enough to secure a finish.
Best Bet: Brad Tavares to win 2.37Bet €100 to win €237137/100Bet £100 to win £237+137Bet $100 to win $2371.37Bet HK$100 to win HK$2371.37Bet Rp100 to win Rp237-0.7299Bet RM100 to win RM237 at BetOnline
Brad Tavares
Israel Adesanya
TUF 27 Finale