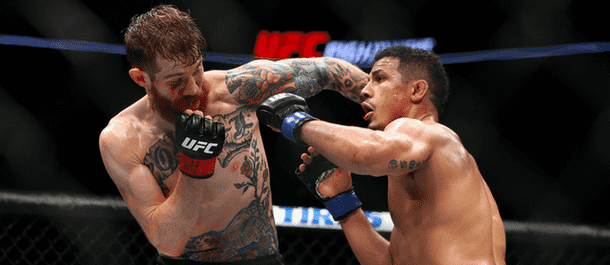 The Ultimate Fighter 25 Finale – Main Card Preview
Marc Diakiese vs. Drakkar Klose
UFC TUF 25 Finale – UFC Lightweight Bout
Marc Diakiese could be just two or three wins away from mixing it up with some of the top lightweight contenders. Diakiese arrived in the UFC when UFC 204 took place in Manchester, England. He survived an early grappling onslaught from Lukasz Sajewski before defeating the Polish youngster by TKO in the second round. We didn't get to see what Diakiese was fully capable of until his third fight in the UFC. 'The Bonecrusher' met Teemu Packalen at UFC Fight Night 107 and completely obliterated his opponent; finishing him in just 30 seconds. It was this fight, and the Performance of the Night that came with it, that put Diakiese on our radars.
Diakiese's opponent is another relative newcomer to the UFC who is looking to stamp his name on the lightweight division. Drakkar Klose dominated the "Dana White: Lookin' for a Fight" pick-up, Devin Powell, over the course of three rounds in his debut at UFC Fight Night 103. Klose controlled the action from start to finish with such ease that he was even having a conversation with Daniel Cormier who was ringside during the fight.
The Breakdown
Marc Diakiese is incredibly dangerous if given the space to operate. We can almost guarantee that Drakkar Klose will be looking to smother him from the very start, much like he did to Devin Powell. By forcing Diakiese's back to the cage and making every second of the fight a positional war, Klose may just be able to squeeze out a victory against the talented Diakiese.
If Diakiese can punish Drakkar Klose early and often, especially when he tries to rush into grappling distance, it may force Klose to retake a step and reconsider his gameplan.
Prediction and Betting Strategy
I don't want to see either of these guys lose at this point of their career. Unfortunately, one of them has to.
I'm backing Drakkar Klose to turn this into a three-round war, and I'll be backing him to avoid the strikes of Diakiese long enough to grind out a decision on the back of excellent clinch-work and heavy top pressure.
Drakkar Klose by Decision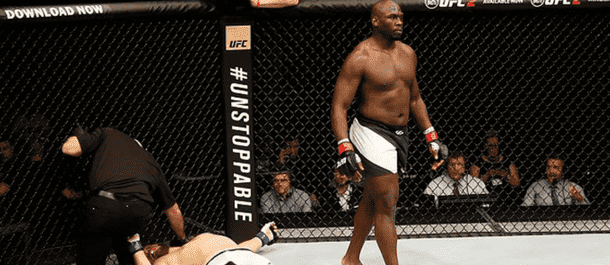 Jared Cannonier v Nick Roehrick
UFC TUF 25 Finale – UFC Light Heavyweight Bout
**July 6 Update**
Nick Roehrick steps in to replace Steve Bosse on late notice at UFC 213 on just three days notice.
Roehrick is undefeated with a 7-0 MMA record and four of his wins have come via decision. He is an excellent wrestler and his usual strategy is to take guys down to the mat and grind out a win.
Jared Cannonier, suffered a setback in his last bout when he lost to Glover Teixeira at UFC 208. The loss snapped his two fight winning streak that included wins against Cyril Asker and Ion Cutelaba. Was Glover Teixeira too much of a step up in competition? I believe so. Now, Cannonier will be looking to make his record 3-2 in the UFC with a win over Roehrick at The Ultimate Fighter 25 Finale.
The Breakdown
Originally, Cannoniers matchup suited him down to the ground. He was matched against Steve Bosse, another guy who loves to stand and trade. But now, he has a short-notice fight against a guy who can take you down to the mat and hurt you.
Jared Cannonier has brilliant boxing technique. He lost his last fight as Glover Teixeria's rag dolled him around the cage and refused to stand and trade with the dangerous hands of Cannonier.
Prediction and Betting Strategy

Is there a chance that Roehrick can take Cannonier down and score a victory? Absolutely. I had Cannonier scoring a decision victory against Bosse, but this time, the odds are heavily in his favour against Roehrick and it's a bad matchup for him. I'm going to be taking the other side.
Nick Roehrick to Win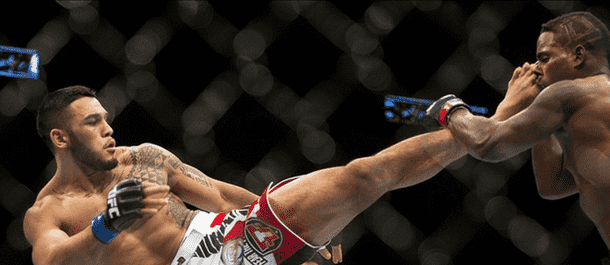 Elias Theodorou vs. Brad Tavares
UFC TUF 25 Finale – UFC Middleweight Bout
Elias Theodorou probably doesn't get all the credit that he deserves for putting together a 5-1 record in the UFC since 2015. He's doing all he can
Brad Tavares is motivated to fight Elias Theodorou mainly because he was angry that Theodorou's overall rating in the 'EA Sports UFC 2' video game was higher than his own. After starting off well in the UFC, Tavares has encountered a downward slide at the hands of Yoel Romero, Robert Whittaker and Tim Boetsch. You noticed it, as well? These are all very tough opponents and don't get trapped into thinking about his defeats only. Tavares has scored wins over Lorenz Larkin, Nate Marquardt and Caio Magalhaes.
The Breakdown
Elias Theodorou strikes me as one of the stranger guys in the UFC. I'm not even talking about his different personality, more so the style in which he fights. He is just so unusual. His opponents don't have an answer for his style. His cardio is excellent, and he fights strong down the stretch.
Brad Tavares is fast. In fact, he was probably faster than Lorenz Larkin in their bout at UFC Fight Night 35. He has great kicks and works well behind his strikes. Elias' pressure and fast pace may cause problems for Tavares who likes to remain composed and pick his shots.
Prediction and Betting Strategy
I've got the Theodorou train coming to a halt at The Ultimate Fighter 25 Finale on 8 July. Tavares is sneaky good, and personally, I feel that there is extra motivation for him here because a win could see him end up in a good spot for the possible upcoming UFC Hawaii card.
Brad Tavares by KO/TKO
Jordan Johnson vs. Marcel Fortuna
UFC TUF 25 Finale – UFC Light Heavyweight Bout
Jordan Johnson vs. Marcel Fortuna is an interesting battle between two vastly different grappling schools. Johnson, an accomplished wrestler and no-gi grappling athlete will test his skills and knowledge against Marcel Fortuna, a Brazilian Jiu-Jitsu third-degree black belt.
Both fighters successfully launched their UFC careers with a victory, and now each fighter has respective records of 1-0 in the organisation. Fortuna's debut was hugely impressive. He moved up to heavyweight to take on Anthony Hamilton and put the larger fighter away just 3:10 into the fight.
Johnson entered his debut fight against Luis Henrique da Silva as an 1.50Bet €100 to win €1501/2Bet £100 to win £150-200Bet $100 to win $1500.50Bet HK$100 to win HK$150-2.00Bet Rp100 to win Rp1500.5000Bet RM100 to win RM150 favourite, and you could see that the bookmakers had it all worked out. Johnson dominated da Silva behind effective wrestling over the course of three rounds.
The Breakdown
Marcel Fortuna's power demands respect after his showing against Anthony Hamilton. But, that isn't my greatest consideration going into this one. It's whether he will be able to handle the grinding style of Jordan Johnson. Johnson looks to score 'ride-time' in the sense that he wears down opponents while looking for all kinds of chokes, his favourite- being the anaconda choke. His blend of wrestling and no-gi grappling may cause trouble for the traditional aspects of Fortuna's game.
Prediction and Betting Strategy
Jordan Johnson to be too good in this one and continue his rise in the division.
Jordan Johnson by Decision
Best Bets
Marc Diakiese vs. Drakkar Klose
Drakkar Klose by Decision
Friday 7th July – 11:00pm (ET) / 3:00am GMT
Odds: 4.50Bet €100 to win €4507/2Bet £100 to win £450+350Bet $100 to win $4503.50Bet HK$100 to win HK$4503.50Bet Rp100 to win Rp450-0.2857Bet RM100 to win RM450 – Unibet
Jared Cannonier v Nick Roehrick
Nick Roehrick to Win
Friday 7th July – 10:30 pm (ET) / 2:30am GMT
Odds: 3.15Bet €100 to win €31543/20Bet £100 to win £315+215Bet $100 to win $3152.15Bet HK$100 to win HK$3152.15Bet Rp100 to win Rp315-0.4651Bet RM100 to win RM315 – Unibet
Elias Theodorou vs. Brad Tavares
Brad Tavares to win by KO/TKO
Friday 7th July – 10:00 pm (ET) / 2:00am GMT
Odds: 6.50Bet €100 to win €65011/2Bet £100 to win £650+550Bet $100 to win $6505.50Bet HK$100 to win HK$6505.50Bet Rp100 to win Rp650-0.1818Bet RM100 to win RM650 – Unibet
Jordan Johnson vs. Marcel Fortuna
Jordan Johnson to win by Decision
Friday 7th July – 09:30 pm (ET) / 1:30am GMT
Odds: 2.20Bet €100 to win €2206/5Bet £100 to win £220+120Bet $100 to win $2201.20Bet HK$100 to win HK$2201.20Bet Rp100 to win Rp220-0.8333Bet RM100 to win RM220 – Unibet