Tom Duquesnoy vs. Cody Stamann

UFC 216 Prelims – Bantamweight Bout
If you haven't heard of Tom Duquesnoy yet, you're in for a treat when this weekend swings around. Duquesnoy is a heavy-hitter who arrived in the UFC with a massive wave of potential. In fact, he entered his debut fight in the UFC as an odds-on betting favorite. Funnily enough, though, Duquesnoy didn't look all that good against Patrick Williams and got whacked by his opponent fairly often. We'll see if Duquesnoy has adjusted his preparation in the leadup to this fight.
Standing across from him this time around is Cody Stamann. Stamann is a quality up-and-comer who is technically just as good as Duquesnoy but doesn't receive anywhere near the level of hype that the "Fire Kid" is seeing. Stamann came out and defeated Terrion Ware in his UFC debut via unanimous decision.
Breakdown
Let's begin by saying that Tom Duquesnoy has hands of stone. It's rare to see a bantamweight pack such power into his punches, but the Frenchman manages to do so.
But looking at the first fight, it was all about Patrick Williams and not Duquesnoy in the early stages. Where Patrick Williams became tired against Duquesnoy and ended up giving the fight away, Cody Stamann isn't a guy to get tired. In fact, Stamann has exceptional cardio and is likely to push Duquesnoy into the deeper part of the fifteen minutes.
Prediction and Betting Guide
It's rare to break down a fight based on fatigue, but we saw holes in Duquesnoy's game and Stamann is about to rip them wide open. Stamann enters this one as a slight underdog and we'll back him confidently.
Prediction: Cody Stamann to win by KO/TKO – round three
You can find the best odds on a Cody Stamann victory at Paddy Power
Will Brooks vs. Nik Lentz
UFC 216 Prelims – Lightweight Bout
Will Brooks hasn't had the best of starts to his time in the UFC. In fact, it hasn't been good at all. Brooks came over from Bellator as a highly-touted lightweight but has struggled to put it together against some of the middling pack of the UFC's division. His second fight, with Alex Oliveira, was certainly a strange one as Oliveira came in massively over the weight limit. Brooks lost in the third round after injuring his rib. In the third fight, Charles Oliveira submitted him in the first round with a choke.
If Brooks was hoping for an easy fight to get him back in the win column, Nik Lentz isn't the guy you want to be facing. Lentz is entering this fight after losing his last outing, as well, but he's renowned for putting in strong efforts every time he steps into the UFC's octagon.
Breakdown
The way that Will Brooks beats opponents is exactly the way that Nik Lentz lost his last fight.
Islam Makhachev threw Lentz to the mat over and over again before scoring a decision victory. It was a suffocating fight for Lentz, who had to deal with relentless takedowns and top pressure from his opponent.
If Will Brooks gets going early and starts working Lentz from the first round, this one could end up a similar way. What does concern me, though, is Brooks' lack of awareness at times. All it takes is one slip and Lentz can finish the fight, so Brooks needs to stay on his A-game.
Prediction and Betting Guide
It's a simplistic breakdown but I can see Will Brooks outworking Lentz and giving Lentz a two-fight losing streak.
Prediction: Will Brooks by decision
You can find the best odds on a Will Brooks victory at Marathon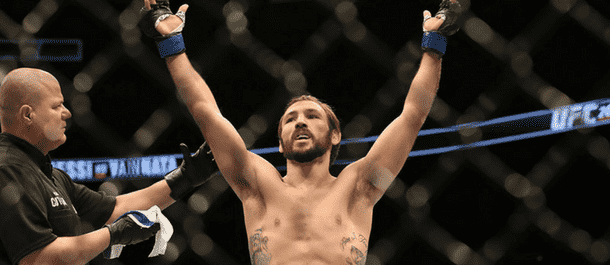 Lando Vannata vs. Bobby Green

UFC 216 Prelims – Lightweight Bout
Lando Vannata, a favorite of MMA fans around the world, is stepping back into the cage this weekend at UFC 216. Vannata is famous for his spectacular UFC debut against Tony Ferguson on short notice. Vannata, despite next to nobody giving him a chance against Ferguson, came out and nearly finished "El Cucuy" in the first round to the surprise of everybody. He didn't get the win, though. Since then, Vannata picked up an incredible spinning wheel kick knockout that won Performance of the Night and he was involved in a Fight of the Night winning bout with David Teymur.
Bobby Green wasn't the original opponent for Lando Vannata at UFC 216. In fact, Vannata was supposed to fight Abel Trujillo. Green has stepped up, though, and is ready to get back inside the Octagon and snap his three-fight losing streak. It's been a strange turn of events for Green, who was on an eight-fight winning streak before losing to Edson Barboza.
Breakdown
This matchup isn't all that clear. From a glance, it looks as though Green has the type of matchup to confuse and overwhelm Vannata. From another angle, it also looks like Green could be walking into a spectacular finish.
Green doesn't get stopped all that often, though, and it's going to take one of Lando Vannata's best shots to end this one early. If he can't, he's going to need to find a way to deal with Bobby Green's forward pressure, boxing and temptation to wrestle when necessary.
Prediction and Betting Guide
I hope that Lando Vannata wins this in a Performance of the Night kind of way. Instead, I think Green manages to hang on for the ride and give some punishment back to Vannata. At the end, we might see one of the better fights of the night and Lando Vannata with his hand raised.
Prediction: Lando Vannata by decision
You can find the best odds on a Lando Vannata victory at Marathon
Pearl Gonzalez vs. Poliana Botelho

UFC 216 Prelims – Women's Strawweight Bout
What's the first thing that comes to mind when you think of Pearl Gonzalez? For me, it's breast implants. And no, that's not because I've got some wacky images of her in my head or anything, it's because the New York State Athletic Commission tried to remove her from UFC 210 because of them. So, unfortunately, Pearl Gonzalez, rather than being known as a talented mixed martial artist, is just remembered for this moment with fans around the world. For me, though, I know Pearl Gonzalez is much more than that. and I'll cover it in the breakdown.
Poliana Botelho is a 28-year-old 5-1 fighter from Brazil who is making her UFC debut this weekend at UFC 216. Botelho has won each of her five victories by way of KO/TKO and it's a testament to her hard-hitting nature. Botelho's most recent win saw her defeat the 5-0 Silvana Gomez Juarez for the vacant XFC flyweight title.
Breakdown
Lots of people may not realize what Pearl Gonzalez can do because she had to step in the octagon with the super wild Cynthia Calvillo in her first fight. Gonzalez is a lengthy striker who likes to use powerful kicks and punches to keep her opponents out of range. On the ground, she also has some sweet submission skills and has picked up four of her six victories by submission.
While Botelho is quickly becoming an all-around fighter, right now she is a big puncher with some moderate jiu-jitsu skills. The knockout power is there, and that's exceedingly rare for this division.
Prediction and Betting Guide
This will be a close contest between two very capable fighters. I'm predicting Pearl Gonzalez to pick up a win. She's been here before and her first fight was against a potential top three girl in the division one day.
Prediction: Pearl Gonzalez by unanimous decision
You can find the best odds on a Pearl Gonzalez victory at Marathon
Best Bets
Tom Duquesnoy vs. Cody Stamann
Cody Stamann to Win
Saturday, 7th October – 9:30 pm (ET) / 1:30am (GMT)
Odds: 2.50Bet €100 to win €2503/2Bet £100 to win £250+150Bet $100 to win $2501.50Bet HK$100 to win HK$2501.50Bet Rp100 to win Rp250-0.6667Bet RM100 to win RM250 – Paddy Power
Will Brooks vs. Nik Lentz
Will Brooks to Win
Saturday, 7th October – 9:00 pm (ET) / 1:00am (GMT)
Odds: 1.29Bet €100 to win €12929/100Bet £100 to win £129-345Bet $100 to win $1290.29Bet HK$100 to win HK$129-3.45Bet Rp100 to win Rp1290.2900Bet RM100 to win RM129 – Marathon
Lando Vannata vs. Bobby Green
Lando Vannata to Win
Saturday, 7th October – 8:30 pm (ET) / 12:30am (GMT)
Odds: 1.47Bet €100 to win €14747/100Bet £100 to win £147-213Bet $100 to win $1470.47Bet HK$100 to win HK$147-2.13Bet Rp100 to win Rp1470.4700Bet RM100 to win RM147 – Marathon
Pearl Gonzalez vs. Poliana Botelho
Pearl Gonzalez to Win
Saturday, 7th October – 8:00 pm (ET) / 12:00am (GMT)
Odds: 2.19Bet €100 to win €219119/100Bet £100 to win £219+119Bet $100 to win $2191.19Bet HK$100 to win HK$2191.19Bet Rp100 to win Rp219-0.8403Bet RM100 to win RM219 – Marathon
Lando Vannata
Tom Duquesnoy
UFC 216