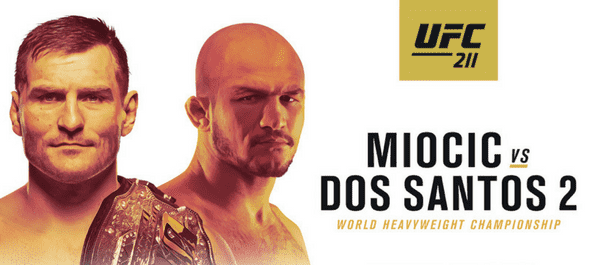 The current heavyweight champion of the UFC will battle the former champion of the division when Stipe Miocic defends his title at UFC 211 against Junior dos Santos. This bout is widely expected to be a brilliant spectacle between two of the best strikers in the heavyweight division and is an excellent way to end a well and truly stacked event with top-level mixed martial arts action.
This fight marks the second time that these two will compete against each other, after having first battled in December 2014 at UFC on FOX 13. Dos Santos had his hand raised at the end of five back-and-forth rounds with two judges scoring the fight as 49-46, and the other with a score of 48-47. To the eye of some fans and media, however, Miocic had done enough to win the fight, and five media scores had it as 48-47 Miocic. The key to victory was the boxing of Dos Santos, who controlled the pace for the majority of the fight and regularly stuffed the takedown attempts of Miocic.
Since then, Miocic has been on a roll and managed to stamp himself as one of the most dominant fighters of 2016 with an array of dominating performances. Stipe smashed Andrei Arlovski in less than a minute, he knocked out Fabricio Werdum in just under three minutes to win the heavyweight title and then defended his title successfully against Alistair Overeem by stopping him in the first round. He's a seemingly unstoppable force in the heavyweight division right now and is quickly turning into an unexpected star for the UFC who have longed for a consistent and marketable heavyweight.
Junior dos Santos probably hasn't 'earned' his way to a title shot in typical fashion. Instead, he is on a one-win streak after defeating the storming Ben Rothwell via unanimous decision. It was an excellent performance from Junior dos Santos against the incredibly dangerous and confident Ben Rothwell. Before that, Dos Santos was stopped by Alistair Overeem, an opponent that Miocic made short work of in Cleveland after first making it through an initial scare. This will be the first time Dos Santos features on a UFC pay-per-view event since UFC 166.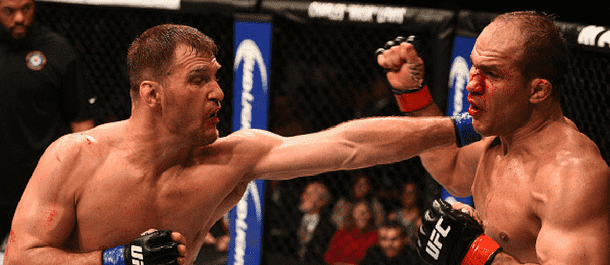 The Breakdown
Both Dos Santos and Miocic are reasonably predictable heavyweights. Time after time, we see Dos Santos initiating the combat and leading with his jab against opponents. In his first fight with Stipe Miocic, he was able to unload a high volume of punches to the head and body without any real respect for the counter striking of Miocic. Because of this, Dos Santos was effectively able to turn the fight into a boxing contest by also neutralising the takedowns of Miocic.
Dos Santos' most recent loss against Overeem was a result of him being unable to set up his boxing behind his jab. The respect for Overeem's counter striking, particularly the heavy kicks led to Dos Santos waiting too much and not being able to utilise his boxing ability.
On the other side, Miocic had some success shooting for the double leg takedown underneath the sweeping left hook of Dos Santos. This same technique will be relied upon heavily as he attempts to wear down Dos Santos with heavy grappling pressure, again.
Miocic previously has used a strategy of rushing opponents and utilising forward pressure so that they aren't able to set up their striking. This pressure worked against Alistair Overeem as he was able to swarm 'The Reem' and keep him from planting his feet for kicks. This strategy isn't so effective against Dos Santos who can tag Miocic as he enters into range with the jab, right straight or left hook.
The one part of Dos Santos' game that always worries me is that he habitually backpedals from disadvantaged exchanges with his chin facing the sky. Miocic has shown on multiple occasions that he can precisely track opponents as they retreat from combat as his footwork enables the continuation of combinations.
Miocic found some success following Junior dos Santos as he withdrew from exchanges in the first fight. I can see Miocic's camp recognising this as a significant opportunity, again, and drilling following up on punches as Dos Santos tries to move out of range.
Prediction
This is a very tough battle for Miocic, more so than people realise, as Dos Santos' boxing is still insanely troublesome.
The first few minutes may be slow as the fighters battle the respect for each other's power before Dos Santos sets the pace with his jab again. It's a difficult matchup for Miocic, who is generally unable to discourage Dos Santos from boxing.
Over the past two and a half years, Miocic has developed a number of additional tools now that can help slow the high-volume pressure from Dos Santos. Miocic's leg kicks, better footwork and feinting will now create opportunities that weren't there in the first fight.
I'm expecting this to be another back-and-forth battle but Miocic will be the better man on the night in Dallas and should manage to overwhelm Dos Santos in Round 2 or 3 with punches.
Tips Summary
Recommended Plays
Stipe Miocic vs. Junior dos Santos
Stipe Miocic to Win
Sunday 14th May, 04:00 GMT
Odds: 1.91Bet €100 to win €19191/100Bet £100 to win £191-110Bet $100 to win $1910.91Bet HK$100 to win HK$191-1.10Bet Rp100 to win Rp1910.9100Bet RM100 to win RM191 – BetFred
Junior Dos Santos
MMA
Stipe Miocic
UFC
UFC 211