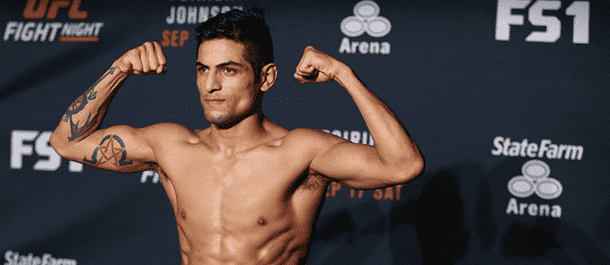 Jason Knight vs. Gabriel Benitez
Jason Knight and Gabriel Benitez are the two who have been selected to fill the co-main event slot at UFC Fight Night 123.
Knight rose to fame in the featherweight division after storming past Jim Alers, Daniel Hooker, Alex Caceres, and Chas Skelly in the past 18 months before earning his shot at a top opponent in Ricardo Lamas at UFC 214. Knight was overwhelmed by Lamas after poorly returning to his feet after time on the mat in the first round.
Benitez steps back into the Octagon just one fight after losing to Enrique Barzola via unanimous decision at UFC 211. The loss to Barzola brought Benitez to 3-2 in his last five fights with his only other loss in this time coming to Andre Fili via first-round TKO.
Breakdown
Jason Knight is about as mean and keen as they come. His never-say-die attitude sees him continually march forward with pure aggression. On the mat, he is just as aggressive and generally attacks from his back. Standing up, his boxing is sharp, but there are plenty of holes in his defense.
Gabriel Benitez is a strong and powerful striker with seemingly limited abilities. The abilities he does have, which include vicious left kicks and punches, are certainly dangerous, but he is unable to hide these techniques with others.
Prediction and Betting Guide
Gabriel Benitez might seem like a giant step down for Knight, who had been tearing his way through the division, but he definitely has the ability to topple Knight in this contest.
His powerful left kicks may crash hard into Knight's head and body before rocking him.
Prediction: Gabriel Benitez via KO/TKO – Round 1
You can find the best odds for Gabriel Benitez to win at BetVictor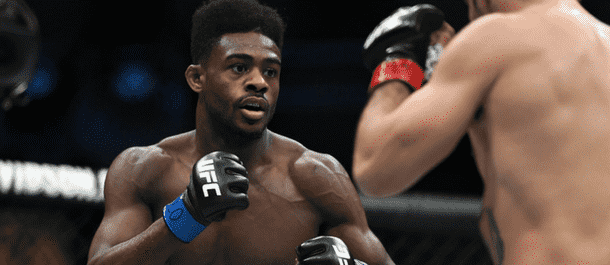 Marlon Moraes vs. Aljamain Sterling
Marlon Moraes steps in just one month after defeating John Dodson at UFC Fight Night 120 to replace Rani Yahya in this contest with Aljamain Sterling.
Sterling picked up the best win of his career when he defeated Renan Barao at UFC 214 earlier this year and has since been calling out for a top contender.
After losing to Raphael Assuncao at UFC 212, Marlon Moraes clearly didn't get the start that he wanted in the UFC. He recovered well, however, to defeat John Dodson and now looks to make up lost time by stepping into the cage with Sterling almost immediately afterward.
Breakdown
Marlon Moraes enters this one as the more 'well-rounded' of the two fighters. Moraes' stand-up could cause trouble for Sterling in this contest, so it will be up to Sterling to get this fight down to the mat in order to control Moraes there.
Sterling's strength as a wrestler has been on display recently and he also mixes in his expert submission grappling abilities when the fight hits the mat.
Prediction and Betting Guide
Moraes' takedown defense needs to be A+ if he wants to make it past Aljamain Sterling this weekend.
There's every chance it isn't, though, and Sterling could control the contest from start to finish.
Prediction: Aljamain Sterling by unanimous decision
You can find the best odds for Aljamain Sterling to win at BetOnline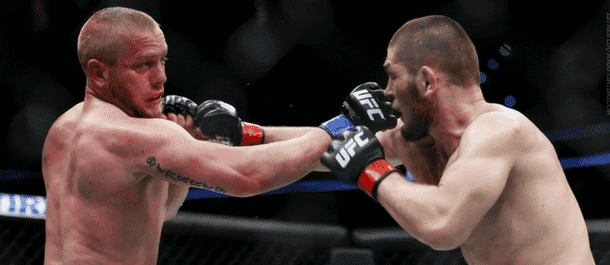 Scott Holtzman vs. Darrell Horcher
Scott Holtzman vs. Darrell Horcher is going to be an explosive battle between two extremely tough lightweight mixed martial artists.
Holtzman, who is now 3-2 in his short UFC career, has alternated wins and losses since arriving in August 2015. He overcame losses to Drew Dober and Josh Emmett to score wins against Cody Pfister and Michael McBride.
Horcher had probably the toughest UFC debut of recent history when he stepped in to compete against Khabib Nurmagomedov on short notice at UFC on FOX 19. Of course, this fight was a difficult one for Horcher, but he managed to last until the second round. He bounced back with an impressive win against Devin Powell earlier this year.
Breakdown
Many people still seem to underrate Darrell Horcher because the only time they have seen him compete was against the uber-tough Nurmagomedov. To those who watched his Powell fight, however, we saw just a glimpse of what he is capable of. He walks forward with a Justin Gaethje-like approach and looks to throw bombs.
Just like Horcher, Holtzman has a 'move forward at all costs' approach, as well. He will rush forward with powerful flurries of strikes in an attempt to shake up his opponent.
Both Horcher and Holtzman have decent enough ground games, but it is likely the contest doesn't end up there as these two like to stand and trade.
Prediction and Betting Guide
Darrell Horcher will land more often and with more power in this contest and he should be able to score a late stoppage against Holtzman.
Prediction: Darrell Horcher by KO/TKO – Round 3
You can find the best odds for Darrell Horcher to win at BetOnline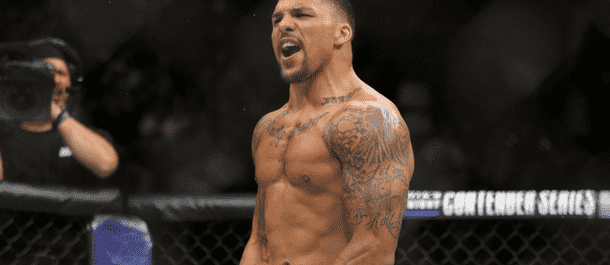 Eryk Anders vs. Markus Perez
Eryk Anders stepped up on very short notice to face Rafael Natal at UFC on FOX 25 in July and scored a first round KO victory. The extreme power in Anders' hands proved too much for Rafael Natal as he went crashing to the mat.
The also undefeated Markus Perez will make his UFC debut against Anders this time around. Perez recently picked up the LFA Middleweight Championship in his last bout after submitting Ian Heinisch in the first round.
Breakdown
Anders' greatest weapon is his destructive ground and pound ability. Once he takes someone down to the mat, he slices through their guard using both technique and strength to land in a dominant position and launch powerful strikes from top position.
Perez has a wrestling and grappling background which could help him keep the fight standing against Anders at UFC Fight Night 123. If he can keep it to a striking contest, he might have a chance of picking apart Anders and his poor defense by using his tricky offensive striking techniques.
Prediction and Betting Guide
Anders and Perez are closely matched, but there's a real chance this one doesn't make the distance.
If Anders can continue to cut the cage and force Perez to the mat, his power might just be too much.
Prediction: Eryk Anders via KO/TKO – Round 2
You can find the best odds for Total Rounds – Under 2.5 at BetOnline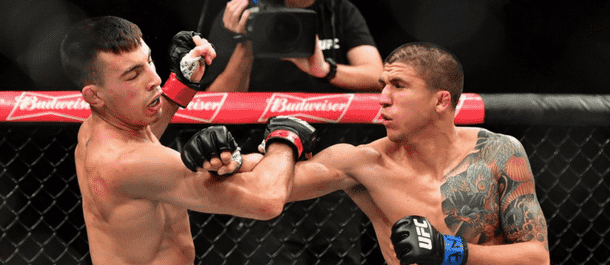 Albert Morales vs. Benito Lopez
Benito Lopez steps into the UFC's octagon for the first time after appearing on Dana White's Tuesday Night Contender Series earlier this year. Lopez was a standout performer on Contender Series 7 and won a contract after defeating Steven Peterson by decision.
Albert Morales is 1-2-1 in his four fights with the UFC. His two losses come against the highly-skilled Brett Johns and Thomas Almedia and his win was against Andre Soukhamthath at UFC 209.
Breakdown
Lopez is insanely talented and enters with the backing of Team Alpha Male, who has been on a roll lately. His counter striking abilities carried him to victory, but he showed difficulty in getting back to his feet after being pinned underneath Peterson for close to three minutes.
Morales started as a jiu-jitsu guy who has recently focused more and more on his striking game. It's to the point now where he looks equally deadly on the feet, however Brett Johns was able to make easy work of him on the mat.
Prediction and Betting Guide
We should expect this one to stay standing, so it is a question of whether Lopez can handle Morales' acquired experience inside the octagon against top-caliber guys.
As close as this one might be, Morales should back with a convincing win against Lopez.
Prediction: Albert Morales via KO/TKO – Round 2
You can find the best odds for Albert Morales to win at BetVictor
Best Bets
Jason Knight vs. Gabriel Benitez
Gabriel Benitez to win
Saturday, December 9 – 11:20 pm (ET) / 4:20am (GMT)
Odds: 3.50Bet €100 to win €3505/2Bet £100 to win £350+250Bet $100 to win $3502.50Bet HK$100 to win HK$3502.50Bet Rp100 to win Rp350-0.4000Bet RM100 to win RM350 – BetVictor
Marlon Moraes vs. Aljamain Sterling
Aljamain Sterling to win
Saturday, December 9 – 11:00 pm (ET) / 4:00am (GMT)
Odds: 2.50Bet €100 to win €2503/2Bet £100 to win £250+150Bet $100 to win $2501.50Bet HK$100 to win HK$2501.50Bet Rp100 to win Rp250-0.6667Bet RM100 to win RM250 – BetOnline
Scott Holtzman vs. Darrell Horcher
Darrell Horcher to win
Saturday, December 9 – 10:40 pm (ET) / 3:40am (GMT)
Odds: 1.91Bet €100 to win €19191/100Bet £100 to win £191-110Bet $100 to win $1910.91Bet HK$100 to win HK$191-1.10Bet Rp100 to win Rp1910.9100Bet RM100 to win RM191 – BetOnline
Eryk Anders vs. Markus Perez
Total Rounds – Under 2.5
Saturday, December 9 – 10:20 pm (ET) / 3:20am (GMT)
Odds: 1.80Bet €100 to win €1804/5Bet £100 to win £180-125Bet $100 to win $1800.80Bet HK$100 to win HK$180-1.25Bet Rp100 to win Rp1800.8000Bet RM100 to win RM180 – BetOnline
Albert Morales vs. Benito Lopez
Albert Morales to win
Saturday, December 9 – 10:00 pm (ET) / 3:00am (GMT)
Odds: 1.91Bet €100 to win €19191/100Bet £100 to win £191-110Bet $100 to win $1910.91Bet HK$100 to win HK$191-1.10Bet Rp100 to win Rp1910.9100Bet RM100 to win RM191 – BetVictor
Aljamain Sterling
Jason Knight
UFC Fight Night 123