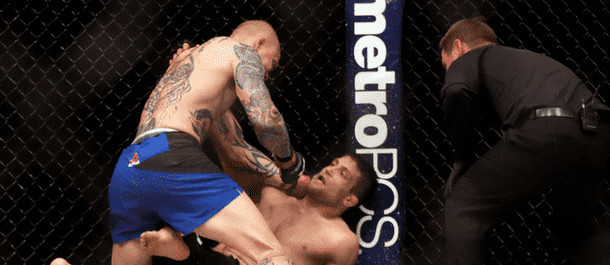 Hamburg, Germany – Sunday, July 22 – 4:30 pm (ET) / 8:30 pm (GMT)
UFC Fight Night 134's main event in Hamburg, Germany, this weekend is an explosive battle between two very powerful light heavyweight strikers.
Mauricio Rua, who is best known as "Shogun", is a true legend of mixed martial arts. A former champion of the light heavyweight division, Rua has competed against and knocked out many of the past greats of the sport. A quick glance at his resume and you will find he has scored major wins over Lyoto Machida, Chuck Liddell, Alistair Overeem, Antônio Rogério Nogueira, and many more – all of which are famous for their efforts inside the UFC's Octagon.
But now, "Shogun" is mounting somewhat of a comeback inside the UFC and has overturned a bad run of form through 2012-2014 to string three wins together against worthy competition in the division. For a while there, it looked like Rua's chin had packed it in after he was shut down by Ovince Saint Preux in just 34 seconds at UFC Fight Night 36. However, many believe that "Shogun" could be next in line for a shot at Daniel Cormier and the title if he scores a win this weekend.
Anthony Smith will be making his walk to the Octagon this weekend on relatively short notice after the former opponent for Rua was withdrawn and shifted across to another event. Volkan Oezdemir was the original matchup for Rua, a fighter who most recently competed for the title. But now, he finds himself in a battle with the unranked Anthony Smith who has only just made his move to light heavyweight after a career of all-out wars in the middleweight division.
It's important to note that Anthony Smith loves being in a fight. Not a drawn-out contest, Smith is capable of exchanging bombs with an opponent as he showed against Thiago Santos recently in one of the best first rounds of recent memory.
After stepping up to 205lbs, Smith drove a devastating knee into the head of Rashad Evans and got rid of him in under a minute.
Fight Breakdown
From the limited look we got of Anthony Smith in the light heavyweight division, he did seem stronger, bigger, and able to carry his power up a weight class. Although Rashad Evans is a ghost of his former self, he expertly timed that knee to end the bout.
By all means, Smith's techniques aren't impressive when compared to some of the best that compete in the UFC. But there is something about the way that the 29-year-old carries himself inside the Octagon that poses a real threat to any opponent. He's got true fight-ending power in his hands and is certainly able to put an early end to Rua's night here in Germany.
It's time to talk about Mauricio Rua and what he still brings to the table. Like the aforementioned Rashad Evans, "Shogun" might not be capable of what he was in the past, but he still possesses several brilliant attributes and traits that can catch Smith off guard at UFC Fight Night 134. In particular, Rua's never-ending aggression and forward-pressure might cause problems for Smith if he doesn't bring the energy early. It has sometimes been the case that Smith takes a round or two before he really gets going in the UFC, and he might not be able to afford that luxury against "Shogun" who has stormed out of the gates many times before.
But then again, Rua's aggression works against him as much as it works for him, as we saw against Ovince Saint Preux in 2014. Rather than cutting the cage and unloading combinations when it was most suitable, Rua rushed forward and threw punches at "OSP" who simply sidestepped and countered with a fantastic left hook – Smith should take note of this.
A couple of other things to note… Smith has also shown a preference to rush forward with combinations of his own, and he successfully landed some strikes against Santos when the opportunity presented itself. Previously, Rua's defense wouldn't have been able to withstand this type of pressure. Lately, however, he's shown that he can keep his hands held high and block incoming flurries of punches. This might be the one key element to surviving against Anthony Smith.
This is a true "Fight of the Night" contender.
Betting Market
Anthony Smith is the favorite for this main event at UFC Fight Night 134 and is currently a 1.48Bet €100 to win €14812/25Bet £100 to win £148-208Bet $100 to win $1480.48Bet HK$100 to win HK$148-2.08Bet Rp100 to win Rp1480.4800Bet RM100 to win RM148 favorite with BetOnline.
If you're looking to bet the underdog, Mauricio "Shogun" Rua is now sitting at 2.80Bet €100 to win €2809/5Bet £100 to win £280+180Bet $100 to win $2801.80Bet HK$100 to win HK$2801.80Bet Rp100 to win Rp280-0.5556Bet RM100 to win RM280 with trusted bookmaker Bovada.
Betting Play
While you can certainly make a case for both sides in this one, it's hard to see why Anthony Smith is such a large favorite against what should be a larger and battle-tested opponent in "Shogun."
We expect Smith to have some early success, but Rua's ability to deflect incoming strikes off his gloves and forearms will see him hang in there just long enough to turn the fight around and punish Smith in the second round.
Best Bet: Mauricio Rua to win 2.80Bet €100 to win €2809/5Bet £100 to win £280+180Bet $100 to win $2801.80Bet HK$100 to win HK$2801.80Bet Rp100 to win Rp280-0.5556Bet RM100 to win RM280 at Bovada.
Anthony Smith
Mauricio Rua
UFC Fight Night 134