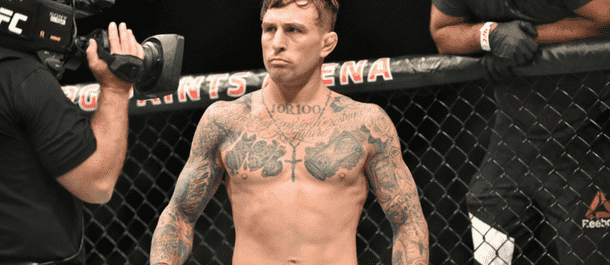 Gregor Gillespie vs. Vinc Pichel
Saturday, June 2– 12:00 am (ET) / 4:00am (GMT)
Gregor Gillespie and Vinc Pichel will meet in an excellent lightweight matchup for the co-main event of UFC Fight Night 131.
Gregor Gillespie is quickly becoming a rising talent in the division after having worked past all four of his opponents in the UFC. His undefeated streak extends well past his time in the UFC, however, and he has now accumulated an undefeated record after 11 fights as a professional. In addition, Gillespie is quickly becoming known for his wild style, heart, and tendency to be involved in exciting fights. Most recently, Gillespie defeated Jordan Rinaldi in the first round and scored his third stoppage in a row. When he meets Vinc Pichel this weekend, we can be sure that Gillespie is in for another possible Fight of the Night contender.
Vinc Pichel isn't particularly well-known, primarily due to his long-term absence from the cage, but is currently climbing toward gaining some more attention as a contender in the division. Pichel is 11-1 as a professional and his only career defeat came at the hands of Rustam Khabilov in 2012. Since then, Pichel has enjoyed a four-fight winning streak that was topped off with a brilliant uppercut finish of Damien Brown last year.
Betting Market and Prediction
Vinc Pichel is a huge underdog going into this fight with Gregor Gillespie and can be found at odds of +375 with BetOnline. While Gillespie deserves to be the betting favorite, it's tough to see how there is such a margin between these two considering that Gillespie has been rocked, stunned, and hurt in a few of his last appearances. One well-timed strike from Pichel could send Gillespie home early.
Bet: Vinc Pichel to win +375 at BetOnline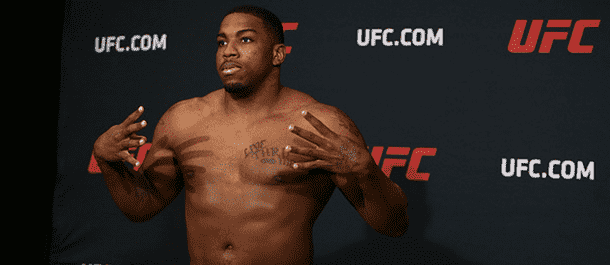 Walt Harris vs. Daniel Spitz
Friday, June 1– 11:30 pm (ET) / 3:30am (GMT)
Walt Harris vs. Daniel Spitz is your everyday token heavyweight matchup between two guys who are likely to never be top contenders in the division – yet this fight is likely to be an exciting one.
Walt Harris has had a particularly difficult run lately. He was scheduled to meet with Mark Godbeer at UFC 216, but a last-minute injury to Derrick Lewis resulted in him being shifted into a main card matchup against one of the very best heavyweight fighters of our time, Fabricio Werdum. As expected, Harris was completely mauled by Werdum and submitted in just over a minute. Harris eventually got his shot at Godbeer one month later but was disqualified for an illegal low blow. The result has sent him spiraling into a two-fight skid and he is now 3-4 during his time in the UFC.
Daniel Spitz scored his first UFC win when he knocked out Anthony Hamilton in just 24 seconds at UFC Fight Night 116. The win marked a much-needed turnaround for the heavyweight who lost his UFC debut against Mark Godbeer. The loss to Godbeer was Spitz's first blemish on his professional record and he now sits at 6-1.
Betting Market and Prediction
Walt Harris is the moderate betting favorite for this fight with Daniel Spitz and it's not hard to see why. Harris is strong, powerful, and relatively explosive for the division. At the moment, you can bet on Harris for approximately -260 at a number of sites, but we'll wait for the extended markets to open before placing a bet.
Bet: Walt Harris to win -260 at BetOnline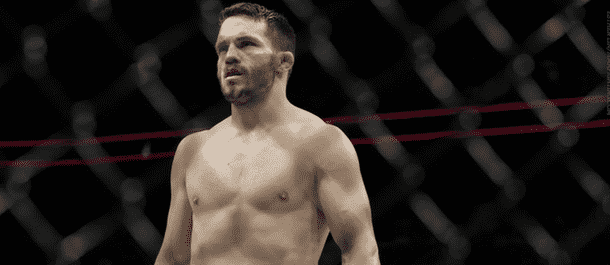 Jake Ellenberger vs. Ben Saunders
Friday, June 1– 11:00 pm (ET) / 3:00am (GMT)
Jake Ellenberger vs. Ben Saunders is the type of contest that would have got hardcore fight fans excited about three or four years ago, but now here we are.
Jake Ellenberger is struggling lately, and there's no other easy way to say it. Last year he was absolutely crushed by a stiff elbow from Mike Perry and ended up folding up into the mat. Before that, he was dominated by Jorge Masvidal. In fact, Ellenberger has lost four of his last five fights, and seven of his last nine. He's not in red-hot form, but this might just be the type of fight that enables the 33-year-old to get back on track.
Ben Saunders isn't having much of a good run in the UFC lately, either. The last time we saw Saunders, he was in a 10th Planet vs. 10th Planet matchup with Alan Jouban, and he came out on the losing end when he was stopped in the second round. The defeat was Saunders' second consecutive loss as he dropped a fight to Peter Sobotta before that one. Much like Ellenberger, Saunders is in desperate need of a big win if he wants to stick around at this level.
Betting Market and Prediction
This should be the fight that Ellenberger uses to bounce back and score a win.
Bet: Jake Ellenberger to win -170 at BetOnline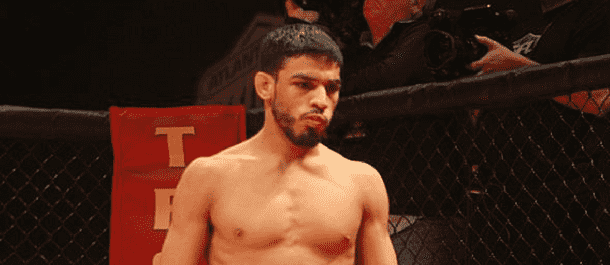 Julio Arce vs. Daniel Teymur
Friday, June 1– 10:30 pm (ET) / 2:30am (GMT)
Julio Arce vs. Daniel Teymur might not be the type of fight that gets people tuning in from all over the world (it's definitely not), but it will likely be one of the better fights on this main card.
Julio Arce arrived in the UFC by what I would consider the most difficult way. That's by earning a call-up to the organization after not just winning, but standing out, on Dana White's Tuesday Night Contender Series. Arce defeated Peter Petties by second-round KO/TKO and impressed Dana White and the team enough to get his shot in the premier MMA organization. When he arrived, Arce made an immediate impact when he defeated Dan Ige via unanimous decision.
Daniel Teymur suffered his first-ever defeat when he lost to Danny Henry last year at UFC Fight Night 113. It was Teymur's first outing in the UFC and his six-fight winning streak came to a sudden end. The thing to note about this Teymur brother, though, is that his record is padded with wins against relatively inexperienced opponents, especially when compared to the gauntlet that many American fighters have to run through.
Betting Market and Prediction
Daniel Teymur is certainly a threat, but it's going to take a superb performance to overcome Julio Arce considering his red-hot form. I'll be taking Arce to win.
Bet: Julio Arce to win -165 at Bovada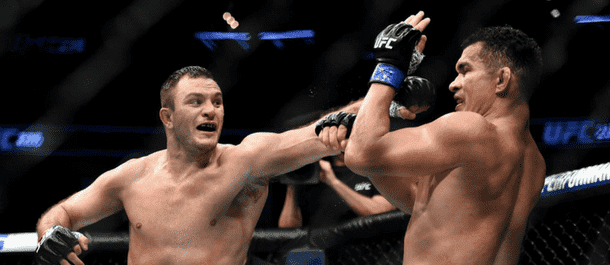 Gian Villante vs. Sam Alvey
Friday, June 1– 10:00 pm (ET) / 2:00am (GMT)
When Gian Villante and Sam Alvey stand toe-to-toe it can end up going one of two extreme ways. It'll either end in a snoozefest as neither fighter lands a heavy game-changing punch, or one of them will connect and finish the other with fascinating power.
Gian Villante might be that guy to land the power shot after now returning to the winning column and snapping a two-fight losing skid. Villante defeated Francimar Barroso at UFC 220 by a narrow split decision and erased memories of losing to Patrick Cummins (just) and Mauricio Rua.
Sam Alvey has incredibly heavy hands and we had all kind of forgotten what happens when he connects on the chin of an opponent. We just hadn't seen it in a long time. In February, Marcin Prachnio made the mistake of lowering his hands against Alvey and paid the ultimate price.
Betting Market and Prediction
Alvey has got a pair of seriously dangerous hands and I'm afraid that Villante is going to walk right into them this weekend.
Bet: Sam Alvey to win -138 at BetOnline
Betting Plays
Best Bets:
Vinc Pichel to win +375 at BetOnline
Walt Harris to win -260 at BetOnline
Jake Ellenberger to win -170 at BetOnline
Julio Arce to win -165 at Bovada
Sam Alvey to win -138 at BetOnline
Gregor Gillespie
UFC Fight Night 131
Vinc Pichel