Demian Maia vs. Colby Covington

Because Demian Maia vs. Colby Covington is one of the many fascinating fights at UFC Fight Night 119, it's easy for its significance to become understated.
This fight is humungous for both Maia and Covington for (almost) the same reason. Covington is quickly climbing the ranks and is hoping to move one step closer towards being within arms reach of the UFC Welterweight Championship. For Maia, he had managed to make it to the octagon with the champion but was unable to snatch the belt from around his waist.
If Maia loses this, chances are he will never get another shot at the championship. A win, however, (and despite how outclassed he was by Woodley), and it's the start of new beginnings for the Brazilian as he looks to work his way back to the top.
Breakdown
With five fights on the main card this weekend, I'll be keeping things relatively simple in these breakdowns.
Colby Covington is an extremely good wrestler with outstanding top pressure and the ability to ground and pound somebody into a TKO victory. He doesn't have a good jiu-jitsu transition game and instead relies on opportunistic moments to jump through an opponents sloppy guard. On the other hand, his takedowns are outstanding and there's no doubting he'll get Demian Maia to the mat.
Once there, though, Covington will need to somehow deal with the best jiu-jitsu practitioner in the UFC today. Maia's guard is close to flawless and he relies on all kinds of sweeps from the bottom position to trouble his opponent. Covington, who prefers to strike at his opponent from top position, will likely open himself up for sweeps or submissions.
Prediction and Betting Guide
The way I see it is that Covington's usual path to victory is also something that Demian Maia can easily exploit and use to defeat him. Look for Maia to trap Covington from underneath him and force a sweep before securing a submission.
Prediction: Demian Maia to win by submission – round one
You can find the best odds for a Demian Maia victory at BetVictor

Rob Font vs. Pedro Munhoz
Rob Font vs. Pedro Munhoz is a battle between two bantamweights who are really only just starting to find their way in the UFC.
After beginning his time with the organization 1-2 with one no contest, Munhoz is riding a three-fight winning streak entering UFC Fight Night 119. Impressive victories against Justin Scoggins and Damian Stasiak after losing a split decision to Jimmie Rivera are Munhoz's claim to fame as he enters this weekend.
Rob Font is now 4-1 in the UFC after putting together two wins. Font had reached one of the top contenders in the division when he fought John Lineker but fell short against the tough Brazilian. Now, he enters this fight after two consecutive stoppages.
Breakdown
Munhoz's striking attack is well-balanced. He moves forward behind the occasional leg kick and teep kick to the body before eventually baiting his opponent into striking. When they do, Munhoz is happy to punish them for it with a crisp counter punch.
Rob Font flows through strikes seamlessly. He'll transition from a kick to a punch and then turn it into a three or four strike combination all while moving towards his opponent. Because of the sheer volume of strikes that he attempts, he eventually lands with enough power to stop the fight.
Prediction and Betting Guide
This is an unbelievably difficult fight to predict. Not only do they have reasonably similar styles and capabilities, but I feel as though their skill levels are matching, too. If I was to lean one way, it'd be Font by TKO in round two, but because this is so tight, I recommend betting the other way.
Prediction: Rob Font by KO/TKO – round two
You can find the best odds for a Pedro Munhoz victory at BetVictor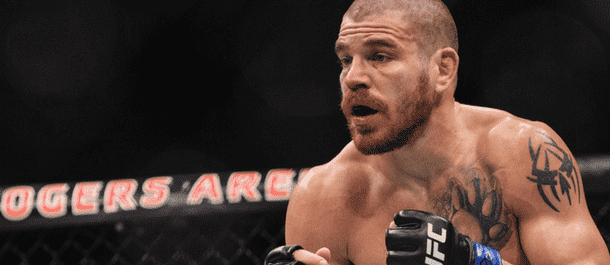 Jim Miller vs. Francisco Trinaldo
Jim Miller sometimes gets labeled as a 'gatekeeper' or lower level competitor in the division. If that's so, why has he shared the octagon with Dustin Poirier and Anthony Pettis in recent outings? He looked fine in these two defeats against high-caliber opponents despite the mending his three-fight winning streak at the time.
Francisco Trinaldo recently had his seven-fight win streak snapped by Kevin Lee at UFC Fight Night 106. Trinaldo had made his way through an abundance of tough opponents, including Chad Laprise and Paul Felder who he defeated at UFC Fight Night 95.
Breakdown
Jim Miller is an incredibly durable fighter who provides a significant challenge for any and all opponents. This will be no different. His versatility as a fighter is likely to cause problems for Thiago Santos.
Trinaldo, on the other hand, is a powerful striker with fairly useful grappling abilities, too. He's like a mini-truck who just wants to run through opponents.
Prediction and Betting Guide
A slight downgrade in the quality of his opponents will make Jim Miller look brand new again at UFC Fight Night 119. I'm expecting him to control most aspects of this fight with Trinaldo.
Prediction: Jim Miller by unanimous decision
You can find the best odds for a Jim Miller victory at BetVictor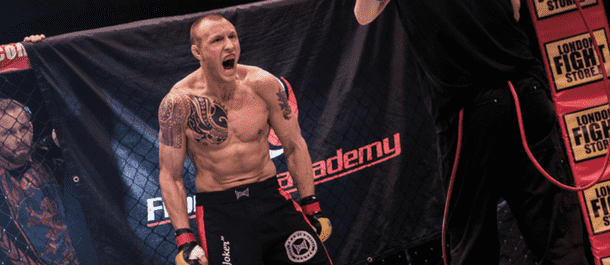 Jack Hermansson vs. Thiago Santos

Jack Hermansson has earned himself a shot with the toughest opponent of his career as he plans to step inside the octagon with Thiago Santos at UFC Fight Night 119.
Hermansson, now 3-1 in the UFC, has recently picked up fast first-round finishes against Alex Nicholson and Brad Scott and earned respect as a fighter who is able to finish fights early.
Thiago Santos has recently overcome one of the strangest two-fight losing streaks of recent history. After looking excellent in four straight outings, Santos was stopped by top middleweight Gegard Mousasi in the first round at UFC 200. Just after, he would lose by first-round submission to UFC newcomer Eric Spicely, who Santos was largely expected to dominate. With wins over Jack Marshman and Gerald Meerschaert, Santos is back on track to move up the middleweight rankings.
Breakdown
Thiago Santos' super Muay Thai striking ability is not to be underestimated. While it isn't as precise or perfectly timed as many other fighters on the roster, his strikes are about as powerful as can be.
Hermansson is a boxer, first and foremost. He relies on effective head movement to close the distance and create opportunities inside his opponent's punching range.
This fight will all be decided upon which range they choose to fight at.
Prediction and Betting Guide
If Hermansson can sneak inside Santos' range and unload a series of heavy punches on the Brazilian, the fight will change completely. I'm expecting him to do so.
Prediction: Jack Hermansson by TKO – first round
You can find the best odds for a Jack Hermansson victory at Bet365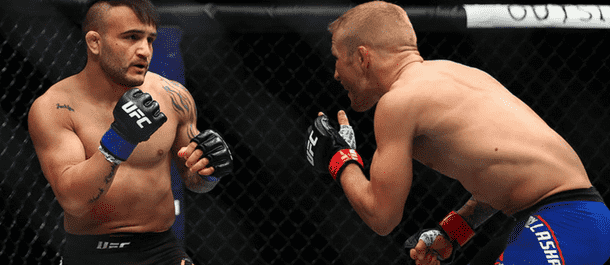 John Lineker vs. Marlon Vera

John Lineker vs. Marlon Vera is a 'Fight of the Night' contender, that's for sure. Lineker, who has been near the top of the division for a while now, was recently outclassed by T.J. Dillashaw just shortly after he scored a decision victory against John Dodson.
Marlon Vera, on the other hand, has been fighting his way up the ladder and won't take this opportunity against a higher- ranked opponent for granted. Vera defeated Brad Pickett before also submitting Brian Kelleher in the first round to earn his spot in this fight against Lineker.
Breakdown
Lineker is a tough opponent for anybody in the division. Even T.J. Dillashaw, who displayed fluid movement and striking techniques which are qualities of all standout bantamweight contenders, was forced to pay attention to Lineker's every move.
Lineker's game plan is simple; he wants to walk you down before trapping you against the cage and uncorking vicious combinations of punches. He'll attack the body first before coming up high with hooks. If you dare to swing with Lineker, you're in trouble.
Prediction and Betting Guide
I don't know if Vera has the ability to stick and move quite like T.J. Dillashaw did. So, it's going to come down to whether or not he decides to (stupidly) trade with Lineker. Either way, both of these guys are finishers and it could end early.
Prediction: John Lineker by KO/TKO – round two
You can find the best odds for Total Rounds – Under 1.5 at Bet365
Best Bets
Demian Maia vs. Colby Covington
Demian Maia to Win
Saturday, 22nd October – 12:00 am (ET) / 04:00am (GMT)
Odds: 2.10Bet €100 to win €21011/10Bet £100 to win £210+110Bet $100 to win $2101.10Bet HK$100 to win HK$2101.10Bet Rp100 to win Rp210-0.9091Bet RM100 to win RM210 – BetVictor
Rob Font vs. Pedro Munhoz
Pedro Munhoz to Win
Saturday, 21st October – 11:30 pm (ET) / 03:30am (GMT)
Odds: 2.63Bet €100 to win €263163/100Bet £100 to win £263+163Bet $100 to win $2631.63Bet HK$100 to win HK$2631.63Bet Rp100 to win Rp263-0.6135Bet RM100 to win RM263 – BetVictor
Jim Miller vs. Francisco Trinaldo
Jim Miller to Win
Saturday, 21st October – 11:00 pm (ET) / 03:00am (GMT)
Odds: 2.50Bet €100 to win €2503/2Bet £100 to win £250+150Bet $100 to win $2501.50Bet HK$100 to win HK$2501.50Bet Rp100 to win Rp250-0.6667Bet RM100 to win RM250 – BetVictor
Jack Hermansson vs. Thiago Santos
Jack Hermansson to Win
Saturday, 21st October – 10:30 pm (ET) / 02:30am (GMT)
Odds: 1.73Bet €100 to win €17373/100Bet £100 to win £173-137Bet $100 to win $1730.73Bet HK$100 to win HK$173-1.37Bet Rp100 to win Rp1730.7300Bet RM100 to win RM173 – Bet365
John Lineker vs. Marlon Vera
Total Rounds – Under 1.5
Saturday, 21st October – 10:00 pm (ET) / 02:00am (GMT)
Odds: 2.40Bet €100 to win €2407/5Bet £100 to win £240+140Bet $100 to win $2401.40Bet HK$100 to win HK$2401.40Bet Rp100 to win Rp240-0.7143Bet RM100 to win RM240 – Bet365
Colby Covington
Demian Maia
UFC Fight Night 119