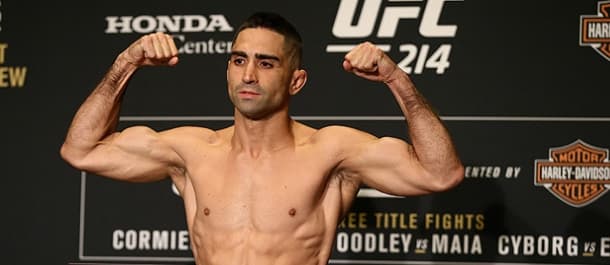 The UFC travels to Argentina for the very first time this weekend with a relatively lackluster card.
While that might impact the average fight fan, it certainly hasn't stopped us from uncovering value picks across the entire main card. In many ways, the less attention that a fight card gets, the better it is for sports bettors as Las Vegas are less inclined to perfect their lines.
The main event is an entertaining bout between the gritty Neil Magny and heavy-handed Santiago Ponzinibbio. We've already covered this fight in full detail and you can find our main event betting guide here.
Let's jump right ahead and start breaking down all of the action here in this six-fight main card at UFC Fight Night 140.
We found that the best odds for this event were at Bovada, Mybookie, and BetOnline.
Ricardo Lamas vs. Darren Elkins
Saturday, November 17 – 11:45 pm (ET) / 3:45am (GMT)
Two talented featherweight fighters are scheduled to compete in UFC Fight Night 140's co-main event in Argentina.
Ricardo Lamas (#13) will be looking to reclimb the UFC's featherweight rankings with a win over Darren Elkins (#14).
Darren Elkins had been making his way through a list of featherweight contenders and no one was really taking notice of his work. Of course, we'll always remember that Elkins was on the losing side of his fights for almost the entire duration before managing to secure a comeback victory on multiple occasions, but he was still winning nonetheless.
That grit, determination, and an insane ability to take punishment and keep coming back is one of Elkins best attributes.
But he'll likely need more than just that to get past Lamas this weekend.
"The Bully" is on a two-fight skid but it seems like nothing to be too concerned about. He was rocked by a stunning punch from Josh Emmett back at UFC on FOX 26 and then lost a split decision to Mirsad Bektic earlier this year.
Despite this, on a good night, Lamas can match it with some of the best in the featherweight division. If he sticks to a decent gameplan, there's no way that Elkins moves past him on Saturday.
Bet on Ricardo Lamas to win: 1.56Bet €100 to win €15614/25Bet £100 to win £156-179Bet $100 to win $1560.56Bet HK$100 to win HK$156-1.79Bet Rp100 to win Rp1560.5600Bet RM100 to win RM156 at BetOnline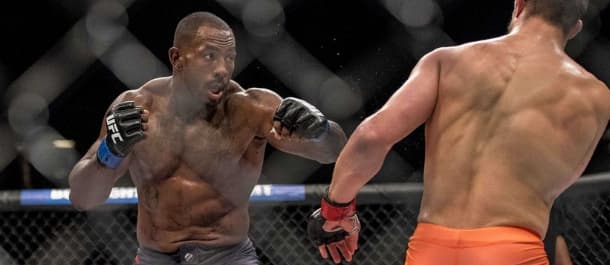 Khalil Rountree Jr. vs. Johnny Walker
Saturday, November 17 – 11:30 pm (ET) / 3:30am (GMT)
Not long after scoring the biggest knockout (and win) of his career, Khalil Rountree Jr. finds himself in a fight with a UFC newcomer.
Johnny Walker will be making his first walk to the UFC's octagon this weekend after impressing on Dana White's Tuesday Night Contender Series.
It's no secret that Khalil Rountree Jr. packs tremendous power into his punches. In fact, it is almost score the KO or lose when it comes to Rountree's gameplan. Now 7-2 in his career, Rountree is on a three-fight winning streak thanks to three brilliant first-round knockouts. His last was a shocking 96-second finish of striking legend Gokhan Saki in July.
At 14-3 as a professional, Johnny Walker has finally earned his call to the UFC. He does so after compiling a superb six-fight winning streak. He earned his call-up after defeating Luis Henrique da Silva in a three-round bout in August in a fight that saw both of the big guys become greatly fatigued in the third and final round.
Walker seems to be the more well-rounded of the two fighters. Rountree can bang, but he has a tendency to give up on the mat and be steamrolled by a better grappler. This could be the case against the Walker, who seems very strong for the division but does lack the wrestling technique to potentially secure the takedown.
Rountree will be going after the first-round knockout. If he doesn't get it, he's in for a long night. We're going to back him to land his hands, though, as Walker tends to track straight backward and Rountree will be able to slide forward and land his bombs.
Bet on Khalil Rountree Jr. to win: 1.57Bet €100 to win €15757/100Bet £100 to win £157-175Bet $100 to win $1570.57Bet HK$100 to win HK$157-1.75Bet Rp100 to win Rp1570.5700Bet RM100 to win RM157 at BetOnline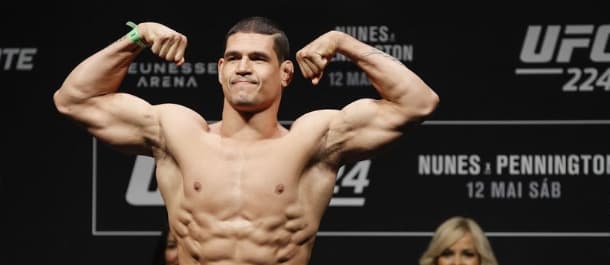 Cezar Ferreira vs. Ian Heinisch
Saturday, November 17 – 11:00 pm (ET) / 3:00am (GMT)
Another UFC newcomer will make his first walk to the cage on Saturday as Ian Heinisch has now earned entry to the UFC.
The odds reflect what we're all thinking: Cezar Ferreira is a difficult ask for someone making their UFC debut on short notice.
But let's break this one down.
Ian Heinisch enters with an 11-1 record and has won all of his last three fights, including his KO/TKO victory against Justin Sumter at Dana White's Tuesday Night Contender Series in July.
Our tape study found that Heinisch is a little reckless and will bounce around outside of range before eventually bursting forward with speed and launching a right hand at his opponent. It seems to have found the desired results in his career so far, but it's going to be hard to land this punch against top-level competition.
We're counting on Cezar Ferreira to outwork his opponent and either score a submission win or a decision win in Argentina.
Bet on Cezar Ferreira to win: 1.57Bet €100 to win €15757/100Bet £100 to win £157-175Bet $100 to win $1570.57Bet HK$100 to win HK$157-1.75Bet Rp100 to win Rp1570.5700Bet RM100 to win RM157 at BetOnline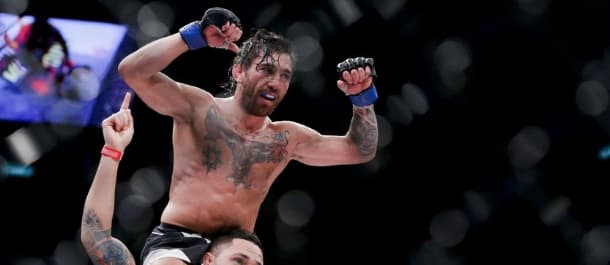 Guido Cannetti vs. Marlon Vera
Saturday, November 17 – 10:30 pm (ET) / 2:30am (GMT)
Guido Cannetti and Marlon Vera recently bounced back from defeat and will now find themselves battling to make it two wins in a row when they enter the cage at UFC Fight Night 140.
After he was kept away from the sport for two years following a failed drug test, Guido Cannetti has since returned to fight twice so far this year. He first met Kyung Ho Kang at UFC Fight Night 124 in January – in which he lost by triangle choke – and then would later score a decision victory over Diego Rivas. He's now lost four of his last six fights.
Marlon Vera returned to form with a second-round stoppage over Wuliji Buren at UFC 227. That win helped move him back to the win column following two consecutive defeats. It seems like the Vera train has lost its wheels after his spectacular performances against Brad Pickett and Brian Kelleher in 2017.
Realistically, both of these guys don't inspire much confidence in a sports bettor. In fights like these, it's best to back the underdog. There's great value on Cannetti right now.
Bet on Guido Cannetti to win: 3.70Bet €100 to win €37027/10Bet £100 to win £370+270Bet $100 to win $3702.70Bet HK$100 to win HK$3702.70Bet Rp100 to win Rp370-0.3704Bet RM100 to win RM370 at BetOnline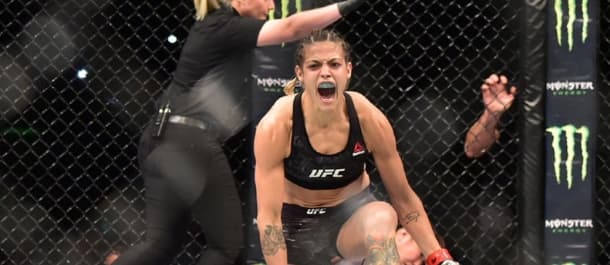 Cynthia Calvillo vs. Poliana Botelho
Saturday, November 17 – 10:00 pm (ET) / 2:00am (GMT)
Cynthia Calvillo was on quite the run but it's all gone downhill since losing to Carla Esparza and then being found guilty of a violation by USADA. She'll be looking to erase those memories by defeating the strong Poliana Botelho in what is one of the better fights on this main card.
Calvillo started her career by going 6-0 through her first six fights as a professional. Once arriving in the UFC she managed to defeat Manda Cooper, Pearl Gonzalez and then Joanne Calderwood. Although admittedly, the Calderwood win was far from impressive, the other two submission victories were very nice indeed.
And then there's Poliana Botelho, who has scored five consecutive victories and is 2-0 in the UFC so far. In her most recent fight, Botelho ruined Syuri Kondo with a body kick and punches to win the fight in only 33 seconds.
Calvillo is skilled and has a couple of ways to win, most likely being to win by submission. However, it's hard to see how she's going to throw the stronger opponent around and secure a dominant position on the mat.
We're expecting Botelho to be too good in this contest.
Bet on Poliana Botelho to win: 1.67Bet €100 to win €16767/100Bet £100 to win £167-149Bet $100 to win $1670.67Bet HK$100 to win HK$167-1.49Bet Rp100 to win Rp1670.6700Bet RM100 to win RM167 at Mybookie
Best Bets for UFC Fight Night 140
Here are all the best bets for UFC Fight Night 140 this weekend.
If you're not signed up to BetOnline already, we suggest you do so because of their brilliant odds for MMA!
Khalil Rountree
Poliana Botelho
Ricardo Lamas
UFC Fight Night 140