The UFC kick-starts their 2018 campaign with an exciting UFC Fight Night show. The UFC's return to St. Louis, Missouri, marks the 124th airing of the UFC Fight Night branded event and will feature a main event battle between Jeremy Stephens and Doo Ho Choi. The main card is also rounded out with three other fascinating battles for both the casual and hardcore MMA fans alike.
You can find the best odds for this main event at BetOnline.
Jeremy Stephens
Record: 26-14
Height: 5'9″ (176cm)
Reach: 71.0″ (180cm)
Unfortunately for Jeremy Stephens, many of today's fans aren't aware of his legitimacy in the UFC's featherweight division and instead are familiar with him because of Conor McGregor's antics. Yes, that's right, Stephens is the 'who the fook is that guy?', guy.
But anyone who has been following Stephens through his career is fully aware of the power and precision that Stephens brings to the table. His calculated approach to fighting was best shown in his most recent contest with Gilbert Melendez, a bout in which Stephens continually punished the legs of Melendez until they were severely diminished. The win snapped a two-fight losing streak to Stephens that included a relatively stunning decision loss to Renato Carneiro at UFC on FOX 24.
Doo Ho Choi
Record: 14-2
Height: 5'9″ (176cm)
Reach: 70.0″ (178cm)
Standing across from Stephens is another fighter who is not most renowned for a winning performance inside the UFC's Octagon. Instead, "The Korean Superboy" Doo Ho Choi is best regarded for his involvement in the spectacular back-and-forth war with Cub Swanson that occurred in December of 2016.
Choi, who is actually one of the hardest-hitters in the featherweight division, stepped inside the cage with Swanson that night on the back of three first-round knockout victories. Swanson proved to be the first in a very long time that could take Choi's power and keep on coming forward.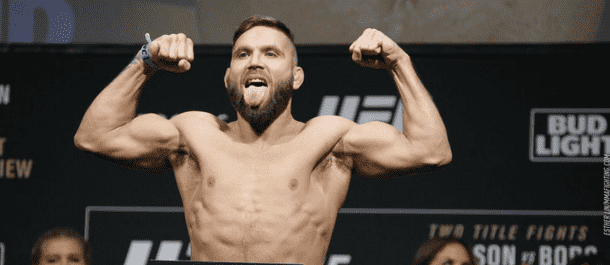 Fight Breakdown
Many people remember Stephens' efforts against Gilbert Melendez as a dominant performance from start to finish. While Stephens executed his strategy perfectly – by smashing the lead leg of Melendez until he could walk no more – Melendez still had good moments through the contest. Stephens' leg kicks worked against Melendez mostly because his opponent has historically stayed very heavy on his front leg.
Stephens' power is what separates him from many of the other punchers in the division. However, his striking defense has been poor in his most recent outings. Even Melendez, who was working on one leg after round one, landed some clean shots on Stephens, particularly when pressing forward.
Standing across from Jeremy Stephens is a fighter who is at his very best when moving forward. "The Korean Superboy" gradually inches forward before launching precise combinations of punches that rarely miss their intended target. Choi's strikes aren't just precise, though, they're also extremely powerful for the featherweight division.
Choi's tactical striking inside the pocket failed against the unorthodox approach of Cub Swanson, but Jeremy Stephens is much more traditional than Swanson and this will allow Choi to gather his timing and range quite early in the fight.
In particular, Choi's darting left jab will frustrate Stephens as he connects cleanly and then skips outside of range before Stephens will be able to counter.
The only hope for Stephens is if he can use relentless forward pressure that puts Choi on his back foot for every moment in the fight. That's more difficult than it sounds, though, because Choi measures distance very well.
Prediction and Betting Guide
This should be Choi's fight to lose. He should connect more cleanly and more often than Stephens over the course of the five rounds. The only question that remains is whether Stephens can take Choi's best shots and keep coming forward – historically speaking, he should be able to.
Prediction: Doo Ho Choi by unanimous decision
Best Bet
Jeremy Stephens vs. Doo Ho Choi
Doo Ho Choi to Win
Sunday, January 14 – 11:30 pm (ET) / 4:30am (GMT)
Odds: 1.65Bet €100 to win €16513/20Bet £100 to win £165-154Bet $100 to win $1650.65Bet HK$100 to win HK$165-1.54Bet Rp100 to win Rp1650.6500Bet RM100 to win RM165 – BetOnline
Doo Ho Choi
Jeremy Stephens
UFC Fight Night 124