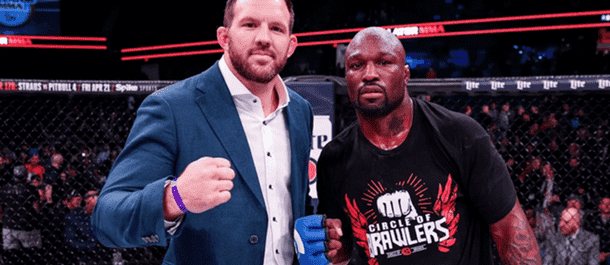 Saturday, May 12 – 11:00 pm (ET) / 3:00am (GMT)
Ryan Bader and King Mo are set to clash in the main event of Bellator 199. It's not just any main event, though, it's a featured bout in the Bellator Heavyweight Grand Prix.
Bader and King Mo are the last matchup of the tournament's first round and the winner will go on to face Matt Mitrione in the second round.
Ryan Bader is looking for revenge. Not any type of revenge, however. King Mo defeated Bader back when the two were wrestling in college. But now, Bader has evolved into so much more. He's regarded as a top competitor in the light heavyweight division and has defeated four consecutive opponents. His winning streak dates back to the UFC in 2016 when he shattered Ilir Latifi with a devastating knee. After that, he made his way past Antonio Rogerio Nogueira but later ended up signing with Bellator and not renewing with the UFC. Since arriving, he defeated Phil Davis and Linton Vassell in 2017 and now will move up a division to challenge in this fascinating tournament.
Muhammad Lawal is better known as "King Mo," and is a consistently dangerous heavyweight fighter. The last time we saw King Mo was back in March 2017 when he competed against "Rampage" Jackson. Lawal picked up a big win here but has since suffered from multiple injuries that kept him away from competing. There was a stretch between 2014-2015 that Lawal put together seven wins in a row. He defeated all of the best competitors that Bellator and RIZIN could offer him. When he meets Bader this weekend, he'll be up against a true top talent in Bellator, and it's going to be an entertaining war.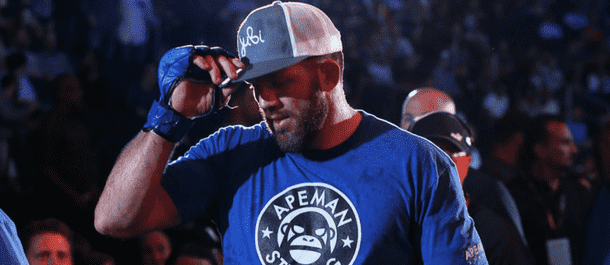 Fight Breakdown
Although renowned for his wrestling ability, Bader's developed into a well-rounded mixed martial artist. Weirdly enough, he's still getting better at the age of 34.
He uses the consistent threat of his wrestling to pressure and overwhelm his opponent. When the fight hits the mat, Bader really kicks into gear and starts ground and pounding his opponent. He finished Vassell on the ground, but has recently picked up wins on the feet, as well – he's truly improving.
Now, it's hard to say that "King Mo" is still improving. Yes, he still fights relatively smart and uses the best pathway to victory. Against "Rampage," who had a 40 lbs weight advantage over Lawal, "King Mo" still managed to ground Jackson and outwork him on the mat. Despite the victory, it wasn't the best performance we've seen from Lawal; that's for sure.
Ryan Bader's cardio will be a factor in this fight. He's got a seemingly endless gas tank and will rely on that to outwork "King Mo" as the fight progresses. "King Mo" is going to have trouble throwing Bader around the cage in the same way that he has done with other opponents. Bader isn't going to have an easy task moving Lawal around, either, but he should be the one controlling the action and dictating where the fight takes place.
Betting Market
The odds are all over the place for this main event. Ryan Bader can be found at 1.44Bet €100 to win €14411/25Bet £100 to win £144-227Bet $100 to win $1440.44Bet HK$100 to win HK$144-2.27Bet Rp100 to win Rp1440.4400Bet RM100 to win RM144 at BetOnline, but stretches all the way out to 1.29Bet €100 to win €12929/100Bet £100 to win £129-345Bet $100 to win $1290.29Bet HK$100 to win HK$129-3.45Bet Rp100 to win Rp1290.2900Bet RM100 to win RM129 with some sites. The best odds you can find for "King Mo" are 3.94Bet €100 to win €394147/50Bet £100 to win £394+294Bet $100 to win $3942.94Bet HK$100 to win HK$3942.94Bet Rp100 to win Rp394-0.3401Bet RM100 to win RM394.
Prediction and Best Bet
Ryan Bader should win this one. He's been on a roll lately and seems to only be improving. Lawal is going to be no easy task, however, and it might take Bader all of the allotted time.
Ryan Bader by unanimous decision
Best Bet: Ryan Bader to win 1.44Bet €100 to win €14411/25Bet £100 to win £144-227Bet $100 to win $1440.44Bet HK$100 to win HK$144-2.27Bet Rp100 to win Rp1440.4400Bet RM100 to win RM144 at BetOnline,
Bellator 199
King Mo
Ryan Bader