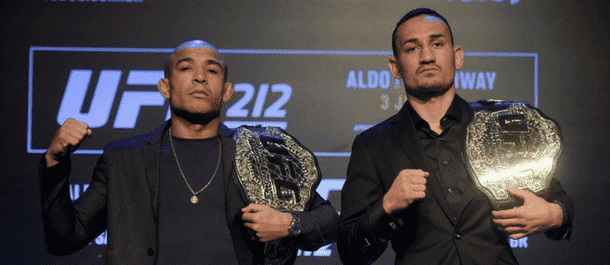 Jose Aldo vs. Max Holloway
Max Holloway finally gets his shot at Jose Aldo and the UFC featherweight title when he enters the octagon at UFC 212 on June 3. The Hawaiian is currently riding an impressive 10-win streak in the division and holds the interim featherweight title after stopping Anthony Pettis at UFC 206. The champion, Jose Aldo, will be fighting to retain the featherweight championship in front of local fans in Rio de Janeiro. Aldo is no stranger to title defences and has successfully defended the featherweight title seven times in his career.
Jose Aldo
Record: 26-2
Height: 5'7″ (170cm)
Reach: 70.0″ (178cm)
Gym: Nova União
There's no doubting that Jose Aldo is one of the best to have ever competed inside the octagon. Aldo has defended the featherweight title from the likes of Frankie Edgar, Chad Mendes and Kenny Florian and has practically dominated all those that have challenged him. Many have tried to take the belt away from the champion, and many have failed.
The 13-second knockout at the hands of Conor McGregor is the only major blemish on the Brazilian's career. McGregor stripped the title from Aldo and then never defended it. The featherweight title has now been passed back to Aldo due to inactivity, and he'll look to consolidate his reign at the top by taking the interim title away from Max Holloway in front of thousands of screaming fans in Rio de Janeiro.
Max Holloway
Record: 17-3
Height: 5'11" (180cm)
Reach: 69.0″ (175cm)
Gym: Gracie Technics

If there's a single athlete out there who poses a significant threat to Jose Aldo's championship, it's Max Holloway. Max Holloway won the interim title at UFC 206 in convincing fashion against one of the best strikers across all of mixed martial arts, Anthony Pettis. Holloway, just 25-years-old, doesn't just want to be the undisputed featherweight champion of the UFC, Holloway wants to have an 'undisputed career'. To do so, he must defeat the man that he claims has been avoiding him for years now in hostile territory in Brazil.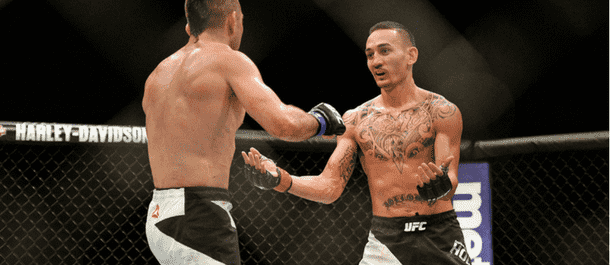 The Breakdown
Jose Aldo's game is a mixture of exceptional takedown defence, damaging leg kicks and Muay-Thai striking, and elite footwork and evasiveness. Aldo's ground game is top-class too, but it's easy to forget that because his outstanding takedown defence (92%) ensures that fights remain standing.
Max Holloway is a lethal striker with outstanding footwork. He floats around the octagon, bouncing in and out of range managing to seamlessly tie in his movement with flurries of punches. Like Aldo, Holloway also has excellent takedown defence and a strong clinch game.
Both of these fighters want their fights to remain on the feet, and it's clear this is where they are most damaging. Both fighters, also, rely heavily on their counter-striking ability. As such, this entire fight is going to be won or lost in the split second close-range exchanges between the two fighters as they enter the striking range.
I suspect Aldo will be the one sitting back, waiting for Holloway to initiate the combat. When he does, Aldo has many ways to punish an opponent who comes forward. Most notably, the extremely powerful leg kicks from the champion will cut Holloway down and diminish his brilliant footwork. Anthony Pettis had success striking the legs of Holloway in the first round of their bout at UFC 206, and there's no doubting that Aldo will find a home for his leg kicks at UFC 212.
Holloway's attack is heavily diversified, however, and Aldo can't solely rely on countering with leg kicks and stationary boxing. Holloway enters from different angles and likes to throw punches to both the body and head in combination. The body punches are most significant here as Aldo will occasionally plant his feet and trade shots in return. When he does, he relies on his head movement as an escapism and that means the body remains a motionless target. In fact, Aldo may not have an answer for Holloway's sophisticated attacking strategies and fast footwork if he chooses to sit back and wait. This may require a strategic shift from Aldo, particularly having to become the aggressor and moving Holloway backwards.
While it remains uncertain as to how these exchanges will play out until minutes after Bruce Buffer says "IT'S TIME", we can be confident in one aspect of the fight heading in. These two defensive masterminds will incorporate a calculated approach to their striking and their may extensive periods of waiting as each fighter waits for counter-striking opportunities.
This is one tightly contested bout between two extremely talented technical strikers – it's going to be a blast!
Betting Strategy
This fight is about as even as it gets. Holloway has a realistic chance of dethroning the champion in Brazil, and it could happen via either stoppage or decision.
I recommend playing Max Holloway to win at 2.27Bet €100 to win €227127/100Bet £100 to win £227+127Bet $100 to win $2271.27Bet HK$100 to win HK$2271.27Bet Rp100 to win Rp227-0.7874Bet RM100 to win RM227
Best Bet
Jose Aldo vs. Max Holloway
Max Holloway to Win
Sunday 4th June, 05:00 GMT
Odds: 2.27Bet €100 to win €227127/100Bet £100 to win £227+127Bet $100 to win $2271.27Bet HK$100 to win HK$2271.27Bet Rp100 to win Rp227-0.7874Bet RM100 to win RM227 – Marathon
Jose Aldo
Max Holloway
MMA
UFC
UFC 212