Joanna Jedrzejczyk vs. Rose Namajunas

Ronda Rousey fans look away now; Joanna Jedrzejczyk is the best female mixed martial artist the world has ever seen. A decisive win against Rose Namajunas will only cement her name in the history books of the UFC.
Just think about her legacy right now. She's a dominant champion who is one of the best strikers in any division (male or female) in the UFC. She's undefeated after 14 wins and has made relatively easy work of all of her opponents. Claudia Gadelha nearly bested her, but Jedrzejczyk is extremely tough to actually defeat.
Rose Namajunas enters this UFC Women's Strawweight Championship after winning a fight with Michelle Waterson in commanding fashion. It's when you think about this a little deeper that you understand just how good Joanna is, though. The winner of Michelle Waterson vs. Rose Namajunas was always going to be the next title contender considering that Joanna had already defeated Jessica Andrade, Claudia Gadelha and Karolina Kowalkiewicz, the three next best in the division. Namajunas has previously lost to Kowalkiewicz, who fights in a similar way to Joanna, just nowhere near as good.
Breakdown
It's clear that no one in the women's strawweight division is able to stand toe-to-toe with Joanna Jedrzejczyk and beat her that way. The answer seems to be getting her to the mat and working her over with grappling. While the answer is clear, it's an unanswered puzzle as to how to get her there and keep her there. Claudia Gadelha had some success, but Joanna has since improved her scrambling and ability to return to her feet dramatically.
Rose Namajunas brings an interesting submission game and a fearless striking approach to this fight. She's unorthodox and that means that she can be tricky and present some troubles for the champion, but it's likely it won't affect the outcome.
Prediction and Betting Guide
It's difficult to see anybody beating Joanna Jedrzejczyk right now. I mean no disrespect to Rose Namajunas because she definitely has somewhat of a chance, everyone does. However, Joanna is on an entirely different level.
Prediction: Joanna Jedrzejczyk by KO/TKO – Round 4
There's no value betting on Joanna Jedrzejczyk in this contest, so I recommend betting on the over 3.5 rounds line as found on Bet365.
You can find the best odds for over 3.5 rounds at Bet365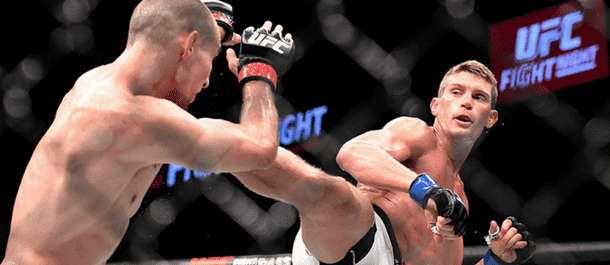 Stephen Thompson vs. Jorge Masvidal
There are plenty of hardcore MMA fans out there claiming that this is the best and most exciting fight to look forward to at UFC 217.
They're not wrong.
Stephen Thompson vs. Jorge Masvidal is going to be an all-out war between two of the division's most dangerous fighters.
After working his way to a title challenge late last year, Stephen Thompson fell short of gaining the title on the grandest scale in UFC history at UFC 205 at Madison Square Garden. He and Tyron Woodley fought to a strange, yet exciting majority draw. He returned not long after to challenge Woodley again in a rematch at UFC 209 and the two battled it out in a snore-fest that saw Woodley leave as the majority decision winner.
Jorge Masvidal has had a strange old run of late. He worked over Ross Pearson, Jake Ellenberger and then Donald Cerrone before falling short to Demian Maia in a split decision. The Maia fight was interesting. Masvidal neutralized Maia's grappling in a way that we hadn't really seen until then but was unable to land any of his own offense. A win over Maia would have put him right in regards to a title shot, yet he narrowly missed out.
Breakdown
While Thompson gets plenty of respect for his karate style and for pushing Tyron Woodley to the limits in two consecutive title challenges, Masvidal gets nowhere near as much respect.
Masvidal's win over Cerrone at UFC on FOX 23 was his greatest in recent memory and while the result itself was impressive it was the way that he did it that was most inspiring. Masvidal, as seems typical of American Top Team fighters, entered the fight with a tremendous gameplan to march forward and not allow Cerrone to settle into the fight. It worked and Masvidal knocked him out.
For Thompson, he's had to battle against an extremely talented wrestler in his last two outings and has been unable to showcase his striking prowess. In fear of a Woodley takedown, Thompson remained limited in what offense he could offer and there's every chance we see a much more lethal approach from Stephen Thompson at UFC 217.
Prediction and Betting Guide
Masvidal has the ability to remove Thompson's safe operating space on the feet (as shown in the Cowboy fight) and also an outstanding grappling ability. While everyone is leaning towards Thompson scoring another impressive victory, there's a huge chance of a Masvidal upset here.
Prediction: Jorge Masvidal (ground and pound) – Round 2
The best bet in this case, though, is taking the under 2.5 rounds in this fight. There's extreme value on this because of Thompson's last two battles with Woodley.
You can find the best odds for under 2.5 rounds at Bet365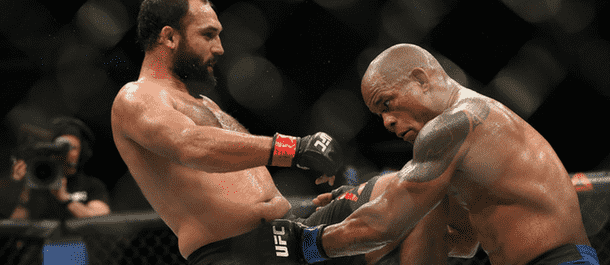 Johny Hendricks vs. Paulo Borrachinha

The story of Johny Hendricks is a strange one indeed. He's taken Georges St-Pierre to the very limits (and arguably beat him), he defeated Robbie Lawler for the UFC Welterweight Championship before losing it to him in the next fight, and now, well, Hendricks is 1-4 in his last five fights.
Much of it is hard to explain. Hendricks continually missed weight and seemed like he didn't care for fighting anymore. When he moved up to middleweight and defeated Hector Lombard, many thought that Hendricks was 'back'. Yet, Tim Boetsch put an end to that narrative rather quickly at UFC Fight Night 112.
Hendricks finds himself in the cage with a young and hungry fighter this time around with Paulo Borrachinha. The 26-year-old has put together an impressive 10 wins in a row to maintain an undefeated record and now will challenge Hendricks on the main card of a pay-per-view. The question is; is he ready?
Breakdown
Paulo Borrachinha is a fast-starting, explosive punching machine. He's a nightmare for opponents who want to settle into a fight. He walks forward and backs opponents into the cage before unloading with vicious strikes. They're not just regular strikes, either, he packs power with wild hooks and damaging kicks to the body.
Hendricks way to win this fight? Survive. If he can make it through the first minutes with Borrachinha and possibly score a takedown, he could do enough to slow Borrachinha down and outwork him as the fight goes on.
Prediction and Betting Guide
As unsurprising as it would be to see Hendricks slow the fight down and outwork Borrachinha in the later rounds, I can't back him after his incredible lack of discipline recently. Borrachinha is determined to win and advance his career, he'll walk Hendricks down in the first round.
Prediction: Paulo Borrachinha by KO/TKO – Round 1
The value for Borrachinha betting isn't there, so we'll take under 1.5 rounds, instead.
You can find the best odds for under 1.5 rounds at Bet365
Best Bets
Joanna Jedrzejczyk vs. Rose Namajunas
Total Rounds – Over 3.5
Saturday, 4th November– 11:00 pm (ET) / 3:00am (GMT)
Odds: 1.57Bet €100 to win €15757/100Bet £100 to win £157-175Bet $100 to win $1570.57Bet HK$100 to win HK$157-1.75Bet Rp100 to win Rp1570.5700Bet RM100 to win RM157 – Bet365
Stephen Thompson vs. Jorge Masvidal
Total Rounds – Under 2.5
Saturday, 4th November– 10:30 pm (ET) / 2:30am (GMT)
Odds: 2.88Bet €100 to win €28847/25Bet £100 to win £288+188Bet $100 to win $2881.88Bet HK$100 to win HK$2881.88Bet Rp100 to win Rp288-0.5319Bet RM100 to win RM288 – Bet365
Johny Hendricks vs. Paulo Borrachinha
Total Rounds – Under 1.5
Saturday, 4th November– 10:00 pm (ET) / 2:00am (GMT)
Odds: 1.91Bet €100 to win €19191/100Bet £100 to win £191-110Bet $100 to win $1910.91Bet HK$100 to win HK$191-1.10Bet Rp100 to win Rp1910.9100Bet RM100 to win RM191 – Bet365
Joanna Jedrzejczyk
Stephen Thompson
UFC 217