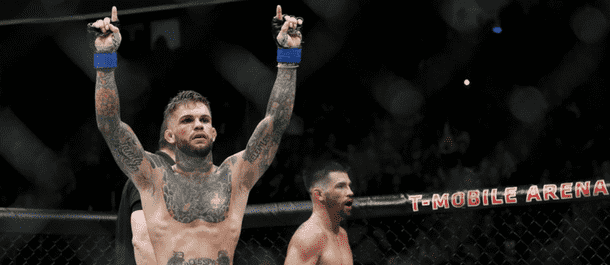 The undefeated UFC bantamweight champion, Cody Garbrandt will attempt to defend his title for the first time against T.J. Dillashaw. Garbrandt and Dillashaw share one of the most heated rivalries in the UFC right now and their bad blood will be settled at UFC 217.
Cody Garbrandt
Record: 11-0
Height: 5'7″ (171cm)
Reach: 65.5″ (166cm)
Odds: 1.62Bet €100 to win €16231/50Bet £100 to win £162-161Bet $100 to win $1620.62Bet HK$100 to win HK$162-1.61Bet Rp100 to win Rp1620.6200Bet RM100 to win RM162
Cody Garbrandt stunned absolutely everybody when he took the UFC Bantamweight Championship away from Dominick Cruz at UFC 207. Cruz was supposed to be outright unstoppable and yet Garbrandt didn't just defeat him, he actually made him look like a rookie. Garbrandt danced around the octagon evading all of Cruz's best shots before flooring him multiple times throughout the contest.
This fight was when we realized that Garbrandt is the real deal and could potentially be a very difficult man to stop at the top of this division.
T.J. Dillashaw
Record: 14-3
Height: 5'7″ (170cm)
Reach: 68.0″ (173cm)
Odds: 2.50Bet €100 to win €2503/2Bet £100 to win £250+150Bet $100 to win $2501.50Bet HK$100 to win HK$2501.50Bet Rp100 to win Rp250-0.6667Bet RM100 to win RM250
After losing the UFC Bantamweight Championship to Dominick Cruz at UFC Fight Night 81, Dillashaw has clawed his way back to another shot at the title. His earlier loss to Cruz was deemed controversial as many believed that Dillashaw had done enough to win the contest.
With wins over Raphael Assuncao and John Lineker in dominant style, Dillashaw has not just arrived back at the top for a chance to reclaim his title but looks to be the best version of the 31-year-old that we've ever seen.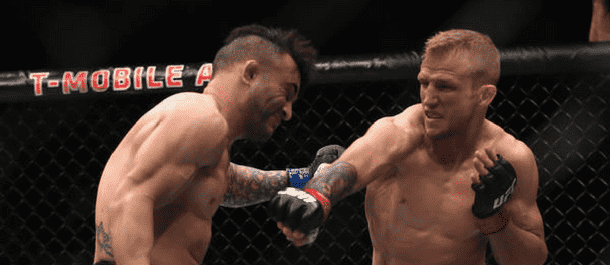 Fight Breakdown
While Bisping vs. GSP sits in the main event slot because of the spectacle of Georges St-Pierre's return to the octagon, it is this fight here that could very well be the most technical and unbelievable physical battle between two fighters this year in MMA.
Cody Garbrandt is an absolutely devastating striker who seemingly always finds a home for his crisp and powerful punches. He carries his boxing experience into the octagon with him and is comfortable staying in the pocket and relying on head movement to evade shots before answering back with a combination of his own. He is precise and effective from an offensive perspective. Defensively, he's hard to touch. Dominick Cruz seemed miles away from him at every exchange as Garbrandt quickly moved in and out of range before punishing Cruz with hard shots.
T.J. Dillashaw is just as incredible offensively and defensively, just in a different way to Garbrandt. Rather than possessing fight-ending power much like Garbrandt seems to pack in his hands, Dillashaw's style is more of a prolonged beatdown of his opponents. It's a tactical and strategic approach to fighting that sees him dismantle his opponents in a relatively simple way. Dillashaw seamlessly combines leg kicks, punches and all sorts of other strikes and movements into his game.
These two share a profound understanding of 'angles'. They never fight in front of an opponent and often move away and outside of their opponent's vision before striking from unique and unorthodox areas.
This fight could be entirely fought standing up as both fighters have an incredible ability to return to their feet after being taken down. The takedowns will be there, but they won't be lasting.
Prediction and Betting Guide
This is one of the most well-matched contests in recent championship history. Cody Garbrandt enters this fight with plenty of hype behind him and his undefeated record sees him as the betting favorite. However, the bookmakers seem to have left a remarkable gap between the two.
It's a value play to take Dillashaw at any time he is an underdog. He is one of the most gifted fighters in the organization across any division. Both fighters are amazing and it's hard to pick a winner, so we'll back the underdog in this one.
T.J. Dillashaw by unanimous decision
Best Bet
Cody Garbrandt vs. T.J. Dillashaw
T.J. Dillashaw to Win
Saturday, 4th November – 11:30 pm (ET) / 3:30am (GMT)
Odds: 2.50Bet €100 to win €2503/2Bet £100 to win £250+150Bet $100 to win $2501.50Bet HK$100 to win HK$2501.50Bet Rp100 to win Rp250-0.6667Bet RM100 to win RM250 – BetVictor
Cody Garbrandt
T.J. Dillashaw
UFC 217