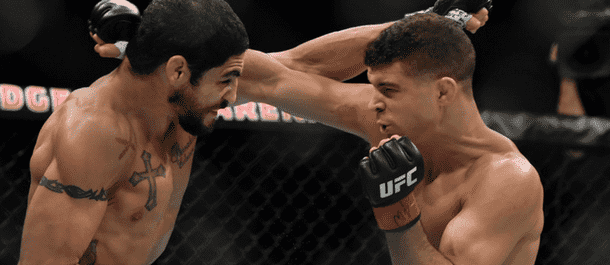 Before we begin, please note that the best odds for UFC Fight Night 120 are available at Bet365 and BetVictor.
Also, make sure to check out our UFC Fight Night 120 main event preview.
Matt Brown vs. Diego Sanchez
The co-main event of UFC Fight Night 120 features two aging athletes on the way out of the sport.
For Matt Brown, his fight with Diego Sanchez in Norfolk, Virginia will be his last. He'll leave the sport with 37 fights to his name, and it's now just a matter of whether he'll leave with 20 wins or 21.
Just as Diego Sanchez was beginning to show something again inside the UFC's octagon, it all went downhill against Al Iaquinta at UFC Fight Night 108. Sanchez was knocked out 1:38 into the first round after he picked up a surprisingly dominant win against Marcin Held at UFC Fight Night 98 last year.
Breakdown
Diego Sanchez is one of the craziest fighters in UFC history. He's wild, relentless and brings non-stop forward momentum to walk through opponent's strikes to land his own.
Well, that's his usual strategy. Against Al Iaquinta, he tried to outstrike him in a technical matchup but paid the price dearly for that mistake.
Matt Brown looks to be a difficult matchup for Sanchez at first considering his length, but Brown has been exceptionally clumsy and slow when a fighter moves inside his range lately.
Prediction and Betting Guide
Diego Sanchez is going to ruin Matt Brown's final night inside the octagon. He'll swarm forward with speed against a lethargic Brown and catch him clean on the chin.
Prediction: Diego Sanchez to win by KO/TKO (punches) – Round 1
You can find the best odds for a Diego Sanchez victory at Bet365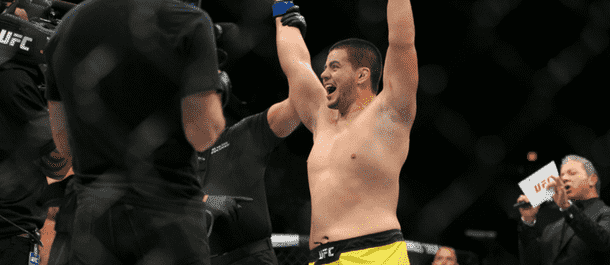 Andrei Arlovski vs. Junior Albini
Speaking of fighters on the way out of the sport, Andrei Arlovski must be close now. He's lost five consecutive fights, and the UFC have now matched him with talented up-and-coming boxer Junior Albini.
Albini made his mark against Timothy Johnson on debut and floored him just 2:51 into round one. He looked mightily impressive, and many were pleasantly surprised by his hand speed and accuracy.
Breakdown
Albini showed surprisingly fast footwork, speed and stopping power in his UFC debut. It was especially surprising considering Albini's natural size. Timothy Johnson is a big heavyweight, and Albini handled his strength and size quite well.
Despite his distinct abilities as a striker, he doesn't come forward with the type of aggression which can make a fighter leave their comfort zone. Instead, he makes fighters pay when they come forward toward him.
Despite losing yet another fight, Arlovski didn't look all that bad against Marcin Tybura. He got stuck underneath Tybura in round one, but somehow managed to survive and work his way back into the fight.
Prediction and Betting Guide
This fight could go a number of ways. Most likely is that Albini methodically picks apart Arlovski with ease, but there's also a chance Arlovski proves to be a difficult test for Albini.
Prediction: Junior Albini by unanimous decision
Instead of betting on Junior Albini, however, we'll bet on this one to last at least two rounds.
You can find the best odds for Total Rounds – Over 1.5 at Bet365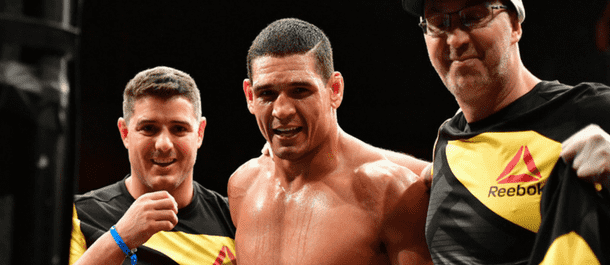 Nate Marquardt vs. Cezar Ferreira

In one of the stranger bouts of the main card, Nate Marquardt will battle Cezar Ferreira in a middleweight contest after both being victims of potential 'home-cooking' on scorecards.
Marquardt has lost four of his last six and enters this with just wins against Tamdan McCrory and C.B. Dollaway in this time. Most recently, he dropped a controversial unanimous decision to Vitor Belfort and also lost a decision to Sam Alvey.
Ferreira recently had his three-fight winning streak snapped by Elias Theodorou at UFC Fight Night 105. With wins over Hermansson, Anthony Smith and Oluwale Bamgbose, it looked like Ferreira was getting things going again.
Breakdown
Ferreira is one of those fighters that have managed to re-invent themselves past the age of 30. He circles well, picks his shots intelligently and has a scarily large frame for the division. Despite one judge scoring his last fight 30-27 for Theodorou, there is a real argument for Ferreira winning the contest.
Like Ferreira, Marquardt was unlucky not to win on the scorecards last time around. He was cool, calm and composed and controlled the majority of the striking exchanges with Belfort but fell short by the time it made it to a decision.
Prediction and Betting Guide
Can Marquardt handle Ferreira's power, timing, and speed? Probably not. This one could be going to the scorecards yet again, but it will be Ferreira who has controlled the majority of the action.
Prediction: Cezar Ferreira by unanimous decision
The best bet in this contest is backing the over 1.5 rounds selection with Bet365.
You can find the best odds for Total Rounds – Over 1.5 at Bet365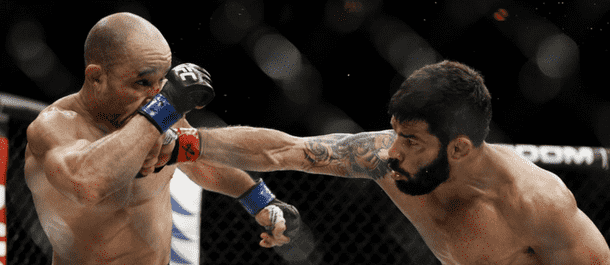 Raphael Assuncao vs. Matthew Lopez

Matthew Lopez finds himself in the most significant spot of his career after scoring wins over Mitch Gagnon and Johnny Eduardo consecutively.
He'll face off with one of the bantamweight division's very best in Raphael Assuncao, who steps in after defeating Marlon Moraes and Aljamain Sterling.
Breakdown
Lopez, a talented wrestler, will need to get Assuncao to the mat to have a chance at winning this contest. On the feet, he's too slow and not dangerous enough to pose any real challenge for Assuncao's crisp striking.
Assuncao recently dealt with the talented wrestler and jiu-jitsu practitioner Aljamain Sterling before coping with Marlon Moraes, too. It's hard to see Assuncao dropping this one against Lopez.
Prediction and Betting Guide
This could very well be the best and most dominant performance of Raphael Assuncao's career. He'll need to be cautious of the takedown, but his slow-paced striking and excellent timing will keep Lopez second-guessing his double leg shots, anyhow. Assuncao normally fights to a decision, but we could see him stop Lopez if his opponent can't secure a takedown early.
Prediction: Raphael Assuncao by KO/TKO – Round 2
You can find the best odds for Total Rounds – Under 2.5 at Bet365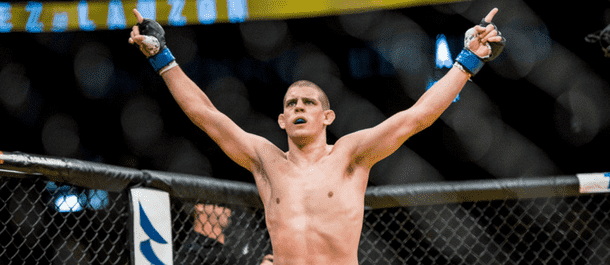 Joe Lauzon vs. Clay Guida

In a contest in which the result provides nothing meaningful in terms of the divisions future, Joe Lauzon and Clay Guida finally do battle inside the UFC's octagon.
Breakdown
Joe Lauzon is a threat anywhere the fight can end up. He's racked up countless bonus awards during his time in the UFC for exciting finishes and involvement in spectacular fights, and this should be no different. On the feet, he should be able to handle Guida's forward pressure, but if it gets down to the mat, he is capable of either scrambling or looking for a submission finish.
Guida's chance to win this fight will come via way of heavy top pressure that Lauzon can't deal with. We've seen it time and time again when a submission focused fighter worries too much about setting up their attacks, and the guy on top just rains down strikes.
Prediction and Betting Guide
Lauzon is much better than his record implies. He should be able to finish Clay Guida in a similar way to how he ridded Diego Sanchez spectacularly at UFC 200.
Prediction: Joe Lauzon by KO/TKO – Round 2
You can find the best odds for a Joe Lauzon victory at BetVictor
Best Bets
Matt Brown vs. Diego Sanchez
Diego Sanchez to Win
Saturday, 11th November– 11:40 pm (ET) / 3:40am (GMT)
Odds: 3.50Bet €100 to win €3505/2Bet £100 to win £350+250Bet $100 to win $3502.50Bet HK$100 to win HK$3502.50Bet Rp100 to win Rp350-0.4000Bet RM100 to win RM350 – Bet365
Andrei Arlovski vs. Junior Albini
Total Rounds – Over 1.5
Saturday, 11th November– 11:20 pm (ET) / 3:20am (GMT)
Odds: 2.10Bet €100 to win €21011/10Bet £100 to win £210+110Bet $100 to win $2101.10Bet HK$100 to win HK$2101.10Bet Rp100 to win Rp210-0.9091Bet RM100 to win RM210 – Bet365
Nate Marquardt vs. Cezar Ferreira
Total Rounds – Over 1.5
Saturday, 11th November– 11:00 pm (ET) / 3:00am (GMT)
Odds: 1.57Bet €100 to win €15757/100Bet £100 to win £157-175Bet $100 to win $1570.57Bet HK$100 to win HK$157-1.75Bet Rp100 to win Rp1570.5700Bet RM100 to win RM157 – Bet365
Raphael Assuncao vs. Matthew Lopez
Total Rounds – Under 2.5
Saturday, 11th November– 10:30 pm (ET) / 2:30am (GMT)
Odds: 2.70Bet €100 to win €27017/10Bet £100 to win £270+170Bet $100 to win $2701.70Bet HK$100 to win HK$2701.70Bet Rp100 to win Rp270-0.5882Bet RM100 to win RM270 – Bet365
Joe Lauzon vs. Clay Guida
Joe Lauzon to Win
Saturday, 11th November– 10:00 pm (ET) / 2:00am (GMT)
Odds: 1.91Bet €100 to win €19191/100Bet £100 to win £191-110Bet $100 to win $1910.91Bet HK$100 to win HK$191-1.10Bet Rp100 to win Rp1910.9100Bet RM100 to win RM191 – BetVictor