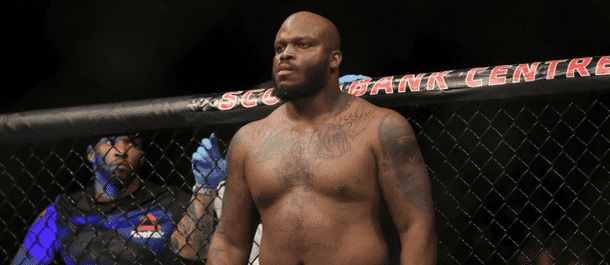 Derrick Lewis vs. Marcin Tybura
Sunday, February 18 – 10:30 pm ET / 3:30 am GMT
Derrick Lewis vs. Marcin Tybura has all the makings of a fascinating heavyweight showdown. It might not be the most entertaining slugfest, or the best display of skills in the division, but these two big guys match up very interestingly with each other.
Derrick Lewis is an almost unbelievable UFC heavyweight. First of all, he's hilarious, has a joyful personality, and is certainly entertaining, but inside the cage, he's a destructive weapon. He casually walks around the cage before eventually deciding to launch his missile-like fists at his opponent in the hope of crushing their head with the force of one punch. He wasn't able to connect on Mark Hunt, and eventually went down in New Zealand in the fourth round in that contest.
Marcin Tybura is right in the mix of being a contender in the division, but an apparent step below the top-level guys. "Tybur" made his way past Viktor Pesta, Luis Henrique, and then Andrei Arlovski all relatively easily, but then his run came to an end when he met Fabricio Werdum in Sydney, Australia. Werdum easily controlled all aspects of the bout and won a clear unanimous decision, bouncing Tybura back out of the title race for the time being.
Betting Market and Prediction
The bookmakers aren't giving Derrick Lewis much of a chance against the typically silky-smooth striker in Marcin Tybura. Well, in fact, the bookmakers actually had this one as a reasonably close contest with Lewis at 2.05Bet €100 to win €20521/20Bet £100 to win £205+105Bet $100 to win $2051.05Bet HK$100 to win HK$2051.05Bet Rp100 to win Rp205-0.9524Bet RM100 to win RM205 but lots of money has come in for Tybura and he has since shifted out to 2.30Bet €100 to win €23013/10Bet £100 to win £230+130Bet $100 to win $2301.30Bet HK$100 to win HK$2301.30Bet Rp100 to win Rp230-0.7692Bet RM100 to win RM230 at Bovada.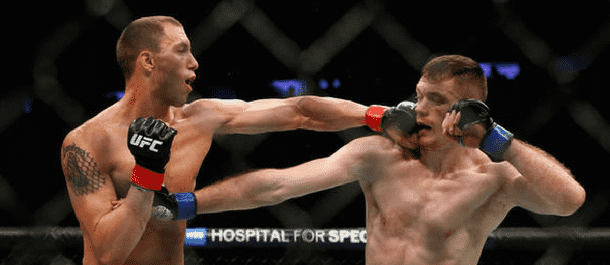 James Vick vs. Francisco Trinaldo
Sunday, February 18 – 10:00 pm ET / 3:00 am GMT
Two talented and ferocious fighters will meet each other on the main card of UFC Fight Night 126 in Austin, Texas, when James Vick and Francisco Trinaldo clash.
James Vick just doesn't get the appreciation that he deserves. It's hard to work out why. The guy is a potential star and has been cruising past everyone that the UFC puts in front of him. He's now 12-1 as a professional and his only loss has been to Beneil Dariush. He's 8-1 in the UFC to date and most recently picked up an impressive win over Joe Duffy at UFC 217. Now, he's furious that he's not featured in the main event of this bout in Texas – considering he is "The Texecutioner" after all.
Francisco Trinaldo is yet another guy that doesn't seem to get the promotion or attention that he should. The Brazilian won seven fights in a row, including big wins over Yancy Medeiros and Paul Felder, before dropping a fight to Kevin Lee at UFC Fight Night 106. He's since bounced back with a win over Jim Miller and now will battle Vick in a significant matchup for the lightweight division. Looking back on the fight with Kevin Lee, Trinaldo was ever-so-close to winning that fight in the first round, he just couldn't finish it in time.
Betting Market and Prediction
James Vick deserves to be the favorite against the majority of the UFC's lightweights and he is a significant betting favorite in this matchup with Trinaldo. However, it begs the question as to whether there is any value in betting on him? Trinaldo is no slouch and might be a good underdog bet for those who are looking to bet on a side in this contest.
I recommend a different approach in this one, though, and feel that the Total Rounds – Under 2.5 market represents excellent value for bettors. You can find this bet for 2.35Bet €100 to win €23527/20Bet £100 to win £235+135Bet $100 to win $2351.35Bet HK$100 to win HK$2351.35Bet Rp100 to win Rp235-0.7407Bet RM100 to win RM235 at BetOnline.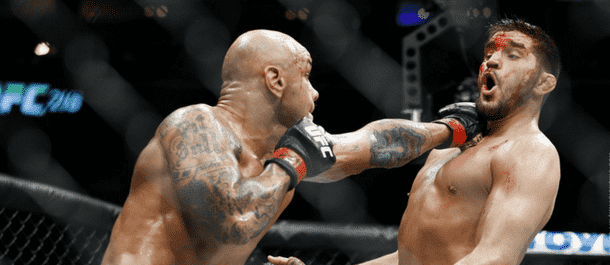 Thiago Alves vs. Curtis Millender
Sunday, February 18 – 9:30 pm ET / 2:30 am GMT
Thiago Alves will meet UFC newcomer Curtis Millender at UFC Fight Night 126 this weekend.
Thiago Alves has been experiencing somewhat of a mild slump lately as he has lost two of his last three bouts. He dropped a contest to Carlos Condit way back at UFC Fight Night 67 before returning to action and losing to Jim Miller at UFC 205. Since then, though, he scored a unanimous decision win against Patrick Cote and now looks to make it two in a row this weekend.
Curtis Millender has made his way to the UFC after an impressive seven-fight winning streak through Bellator, LFA, and other promotions. After winning two of his main event matchups with LFA and picking up two consecutive KO/TKO finishes, Millender is certainly stepping into the Octagon with some form behind him.
Betting Market and Prediction
Curtis Millender is certainly in a winnable matchup here against Thiago Alves. He's got great striking capabilities and Alves will certainly give him plenty of opportunities to work his game. However, Alves is experienced inside the Octagon and will most likely do enough in this fight to score a narrow decision victory.
You can find Alves to win at odds of 1.63Bet €100 to win €16363/100Bet £100 to win £163-159Bet $100 to win $1630.63Bet HK$100 to win HK$163-1.59Bet Rp100 to win Rp1630.6300Bet RM100 to win RM163 at BetOnline.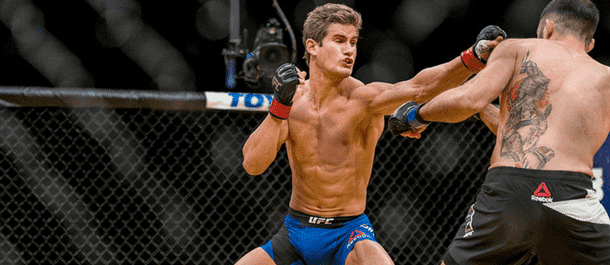 Sage Northcutt vs. Thibault Gouti
Sunday, February 18 – 9:00 pm ET / 2:00 am GMT
"Super" Sage Northcutt will look to make it two in a row when he meets Thibault Gouti at UFC Fight Night 126.
Sage Northcutt entered the UFC as a 19-year-old with plenty of talent. Now, he's really starting to put everything together in the organization. He is still the subject of criticism and negative comments considering his game isn't completely well-rounded yet, but that's to be expected of someone so young and inexperienced. What's most impressive, is how Northcutt has changed training camp and is now working with Team Alpha Male. He looked superb in his last contest with Michael Quinones and picked up a dominant victory behind a more aggressive approach and some of his typically brilliant kicks.
Thibault Gouti was surely on the UFC's chopping block but survived when he picked up a surprise victory against Andrew Holbrook. Gouti had lost all three of his first contests with the UFC, but the Holbrook record injected some new life into his career. This fight with Northcutt could still very well be a do-or-die for Gouti, however.
Betting Market and Prediction
There's no question about it, Sage Northcutt deserves to be a significant betting favorite in this contest. He showed major improvements last time around and I'm entirely expecting him to come out here and finish Gouti with his new aggressive and confident gameplan from Team Alpha Male.
Bet on Northcutt to win at odds of 1.59Bet €100 to win €15959/100Bet £100 to win £159-169Bet $100 to win $1590.59Bet HK$100 to win HK$159-1.69Bet Rp100 to win Rp1590.5900Bet RM100 to win RM159 at BetOnline.
Betting Plays
Derrick Lewis vs. Marcin Tybura
Derrick Lewis to win: 2.30Bet €100 to win €23013/10Bet £100 to win £230+130Bet $100 to win $2301.30Bet HK$100 to win HK$2301.30Bet Rp100 to win Rp230-0.7692Bet RM100 to win RM230 at Bovada
James Vick vs. Francisco Trinaldo
Total Rounds – Under 2.5: 2.35Bet €100 to win €23527/20Bet £100 to win £235+135Bet $100 to win $2351.35Bet HK$100 to win HK$2351.35Bet Rp100 to win Rp235-0.7407Bet RM100 to win RM235 at BetOnline
Thiago Alves vs. Curtis Millender
Thiago Alves to win: 1.63Bet €100 to win €16363/100Bet £100 to win £163-159Bet $100 to win $1630.63Bet HK$100 to win HK$163-1.59Bet Rp100 to win Rp1630.6300Bet RM100 to win RM163 at BetOnline
Sage Northcutt vs. Thibault Gouti
Sage Northcutt to win: 1.59Bet €100 to win €15959/100Bet £100 to win £159-169Bet $100 to win $1590.59Bet HK$100 to win HK$159-1.69Bet Rp100 to win Rp1590.5900Bet RM100 to win RM159 at BetOnline
Derrick Lewis
Marcin Tybura
UFC Fight Night 126