Anton Berzin vs Kennedy Nzechukwu
The purpose of the Dana White Tuesday Night Contender Series is to put the most exciting and talented prospects in front of the eyes of MMA fans worldwide. Ideally, if they perform in an entertaining manner, they will go on to be signed by the UFC. For this reason, it seems strange that the UFC would pit two grappling focused fighters against each other in this headline bout.
Anton Berzin (5-1) has been around MMA since 2010 and previously competed on The Ultimate Fighter Season 19 in 2013. Berzin came up short against Patrick Walsh on episode seven of the series. Since then, Berzin took an extended break before returning in 2016 and has now won two fights via way of stoppage.
Kennedy Nzechukwu is potentially one of the most 'raw' talents to feature on Dana White's Contender Series so far. At just 2-0, Nzechukwu is relatively new to the sport. A fight with Anton Berzin will be the toughest test to date for the 25-year-old. Nzechukwu has an extremely unorthodox fighting style and constantly paws at his opponent with his lead southpaw right hook. Strangely, the right hook resembles more of a slap than a punch. He relies on his strength in wrestling and in the clinch to outwork his opponents.
Prediction
This is the type of fight in which I can't see the winner being awarded a UFC contract. If Berzin wins, it will be because he manages to somehow submit Nzechukwu on the mat after a big takedown from his opponent. If Nzechukwu wins, it's either through ground and pound in the later rounds or he out-grappled him for a decision. Berzin is the more well-rounded fighter and the odds will reflect that. I'll be taking a punt on the 2-0 Nzechukwu to come through and score a relatively uneventful decision victory after pinning Berzin to the cage and/or mat.
Kennedy Nzechukwu to win is 3.10Bet €100 to win €31021/10Bet £100 to win £310+210Bet $100 to win $3102.10Bet HK$100 to win HK$3102.10Bet Rp100 to win Rp310-0.4762Bet RM100 to win RM310 at Betway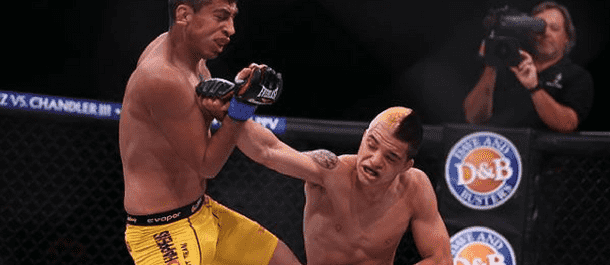 Steve Peterson vs Benito Lopez
23-year-old undefeated Benito Lopez will meet the 15-5 Steven Peterson in a bantamweight matchup at Contender Series 7. Lopez will enter the TUF Gym on Tuesday night with three straight first-round KO/TKO wins in King of the Cage. Lopez fights out of Urijah Faber's Team Alpha Male and seems to be the real deal. His striking is UFC quality but also possesses some nasty choking ability, as well.
Steven Peterson recently picked up a win at LFA 16 against Ryan Hollis and re-entered the win column after his six-fight winning streak was snapped by Leandro Higo at LFA 1. Higo was the man to take Peterson's recently won LFA bantamweight championship away from him after Peterson won it in June 2016. Peterson is an aggressive fighter with plenty of snap in his strikes.
Prediction
This one should be a very exciting battle. Lopez and Peterson pack huge power for the bantamweight division and can easily turn a fight at any given moment. While Peterson enters this one with plenty of experience and versatility, it's hard to back against Lopez right now. I've got Lopez winning this fight against Peterson and signing a contract with the UFC shortly after.
Benito Lopez to win is 1.95Bet €100 to win €19519/20Bet £100 to win £195-105Bet $100 to win $1950.95Bet HK$100 to win HK$195-1.05Bet Rp100 to win Rp1950.9500Bet RM100 to win RM195 at Unibet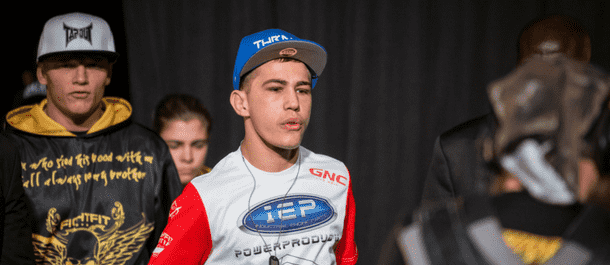 Joby Sanchez vs JP Buys
Joby Sanchez (10-2) returns for his second shot in Dana White's Tuesday Night Contender Series. He featured on Dana White's Contender Series 1 and won a unanimous decision against Manny Vazquez. Sanchez impressively won rounds two and three after being dropped in the first round by his lengthy opponent. It was a difficult fight for Sanchez to stand-out in, and he was unable to impress Dana White enough for a contract at the time.
JP Buys steps in with a 4-1 record with all five of his contests not making it to the judge's scorecards, win or lose. Buys is an experienced and highly-skilled wrestler who has transitioned into mixed martial arts and now trains out of Team Alpha Male along with earlier mentioned Benito Lopez. Buys recently avenged his earlier loss to Baldwin Mdlalose and ended up submitting him in just two minutes and five seconds in their rematch in October 2016. The win not only represented overcoming an earlier obstacle in his career but it showed signs of significant improvement and composure from Buys.
Prediction
Sanchez vs Buys will prove to be another extremely close contest at the Contender Series. Buys' only loss was partly due to overconfidence as he dropped down into a leg lock attempt and gave up position. He's now learned to remain focused throughout fights and he'll need to do so against Joby Sanchez and his wealth of experience. Sanchez is a tough fighter, but I think that Buys is going to make it all the way to the scorecards for the first time in his career and scrape a narrow decision victory against Sanchez.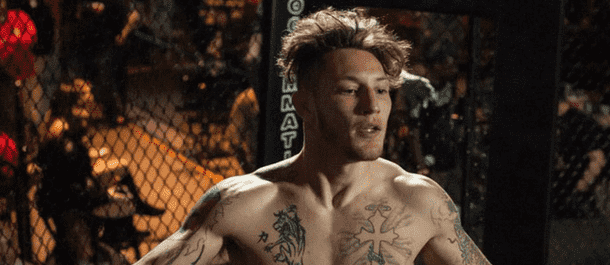 Mark Cherico vs Mike Santiago
Mark Cherico and Mike Santiago step inside the TUF Gym for Contender Series 7 with a combined 41 professional fights between them. It's a little unusual for a fight on the contender series to feature two such experienced fighters, but it represents a huge opportunity for both of these fighters. Both guys have been giving it their all for ten years now and making the UFC is the ultimate prize in each of their eyes.
Mark Cherico is a BJJ brown-belt with an impressive 11-1 record. Cherico's only defeat came at the hands of current UFC fighter, Brian Kelleher way back in 2014. Since then, he's continued to improve his game and now brings intense wrestling, top-pressure and nasty ground and pound with him into the cage.
Like Cherico, Santiago is also a Brazilian Jiu-Jitsu brown belt. Santiago has a 20-9 professional record but has recently won his last ten fights. The change of fortunes for Santiago can largely be attributed to his jiu-jitsu training. He went from losing seven of his fights via submission, to now winning eight of his last ten via submission.
Prediction
Mark Cherico is a tough ask for any opponent but I believe Mike Santiago has started to put it all together and will be the better man come Tuesday Night at the TUF Gym in Las Vegas. I've got Santiago winning this one in the second round.
Mike Santiago to win is 2.10Bet €100 to win €21011/10Bet £100 to win £210+110Bet $100 to win $2101.10Bet HK$100 to win HK$2101.10Bet Rp100 to win Rp210-0.9091Bet RM100 to win RM210 at Unibet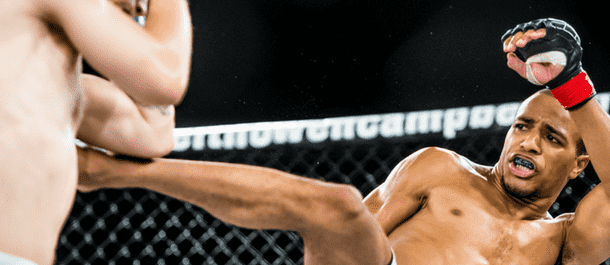 Nick Urso vs Jordan Espinosa
Nick Urso and Jordan Espinosa get a second opportunity to throw down when they meet at Contender Series 7. The two previously met at Jackson's MMA Series 17 in a fight that was called a no-contest due to Urso illegally striking the back of Espinosa's head. It proved to be a controversial decision by the referee and one that cost Urso a potential victory as he was looking to close off the fight with Espinosa. Because of this fight, the two fighters still despise each other, more so in Urso's case and they will have a chance to let it all go on Tuesday night.
Prediction
Jordan Espinosa is an explosive and very fast fighter with excellent wrestling ability. Nick Urso, as we saw at Jackson's MMA Series 17, can do his damage on the feet and will be looking to challenge Espinosa across all aspects of mixed martial arts. I've got Espinosa winning this one, but not quite doing enough to secure a contract with the UFC.
Jordan Espinosa to win is 3.00Bet €100 to win €3002/1Bet £100 to win £300+200Bet $100 to win $3002.00Bet HK$100 to win HK$3002.00Bet Rp100 to win Rp300-0.5000Bet RM100 to win RM300 at Unibet
Best Bets
Anton Berzin vs Kennedy Nzechukwu
Kennedy Nzechukwu to win
Tuesday 22nd August – 10:00 pm (ET) / 2:00am GMT
Odds: 3.10Bet €100 to win €31021/10Bet £100 to win £310+210Bet $100 to win $3102.10Bet HK$100 to win HK$3102.10Bet Rp100 to win Rp310-0.4762Bet RM100 to win RM310 – Betway
Steve Peterson vs Benito Lopez
Benito Lopez to win
Tuesday 22nd August – 9:30 pm (ET) / 1:30am GMT
Odds: 1.95Bet €100 to win €19519/20Bet £100 to win £195-105Bet $100 to win $1950.95Bet HK$100 to win HK$195-1.05Bet Rp100 to win Rp1950.9500Bet RM100 to win RM195 – Unibet
Joby Sanchez vs JP Buys
Odds haven't been released
Tuesday 22nd August – 9:00 pm (ET) / 1:00am GMT
Mark Cherico vs Mike Santiago
Mike Santiago to win
Tuesday 22nd August – 8:30 pm (ET) / 12:30am GMT
Odds: 2.10Bet €100 to win €21011/10Bet £100 to win £210+110Bet $100 to win $2101.10Bet HK$100 to win HK$2101.10Bet Rp100 to win Rp210-0.9091Bet RM100 to win RM210 – Unibet
Nick Urso vs Jordan Espinosa
Jordan Espinosa to win
Tuesday 22nd August – 8:00 pm (ET) / 12:00am GMT
Odds: 3.00Bet €100 to win €3002/1Bet £100 to win £300+200Bet $100 to win $3002.00Bet HK$100 to win HK$3002.00Bet Rp100 to win Rp300-0.5000Bet RM100 to win RM300 – Unibet