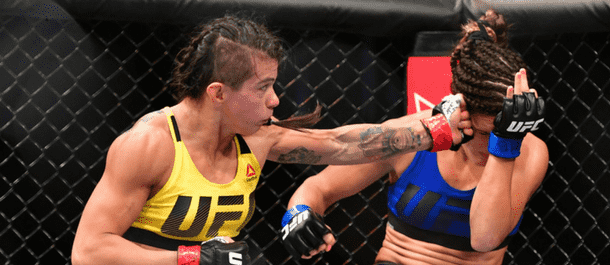 Claudia Gadelha vs. Karolina Kowalkiewicz
Claudia Gadelha vs. Karolina Kowalkiewicz is a battle of two elite women's strawweight fighters who have only ever lost to one person alone, current champion Joanna Jedrzejczyk.
Both Gadelha and Kowalkiewicz are desperately trying to earn another shot at Jedrzejczyk and the UFC women's strawweight title and their quest to do so begins this weekend at UFC 212.
Claudia Gadelha
Record: 14-2
Height: 5'3″ (160cm)
Reach: 63.5″ (161cm)
Gym: Kimura Nova Uniao
There's no doubting the fact that Gadelha would be the current champion of the division if it weren't for Joanna Jedrzejczyk. To date, Gadelha has dominated every other opponent that has stepped inside the octagon with her. She does this through a combination of strength and technical wrestling that no other opponent seems to have an answer for. Gadelha believes she is at the top of the division when it comes to wrestling and jiu-jitsu:
"I'm sure I'm the best wrestler in the division and I've got the best ground game in the division."
Gadelha is one of the best three-round fighters in the organisation and would already hold the women's strawweight title if her championship bout against Joanna Jedrzejczyk was three rounds instead of five. Gadelha won the first two rounds across all judges scorecards before fatigue kicked in and Joanna poured on enough strikes to win rounds three, four and five. Many argue that Gadelha won the first bout against Jedrzejczyk, too, and MMA Decisions recorded twelve of fourteen media scores for Gadelha.
Gadelha's most recent appearance inside the octagon was at UFC Fight Night 100 back in November in which she shutout Cortney Casey with a 30-27 (x3) scorecard.
Karolina Kowalkiewicz
Record: 10-1
Height: 5'3″ (160cm)
Reach: 64.0″ (163cm)
Gym: Shark Łódź
Karolina Kowalkiewicz entered her fight against Joanna Jedrzejczyk on a three-fight win streak on the back of outstanding performances against Rose Namajunas, Heather Clark and Randa Markos. Karolina pushed Joanna for the entire five rounds and briefly stunned the champion with a right hand in the fourth round before losing a 49-46 decision.
The main takeaway from Karolina's shot at the title is what we already knew – Kowalkiewicz is extremely tough. She kept moving forwards despite being beaten up every time she engaged with the champion. By the end of the fight, Kowalkiewicz was on the losing side of a 171-50 strike tally against one of the best strikers in the game right now.
This time, Kowalkiewicz faces a fighter on the opposite end of the spectrum, a pure wrestler and grappler. As for dealing with Gadelha's wrestling, Kowalkiewicz's coach, Lukasz Zaborowski believes "it's not something we haven't seen before" before later stating that he thinks "Karolina will submit Claudia".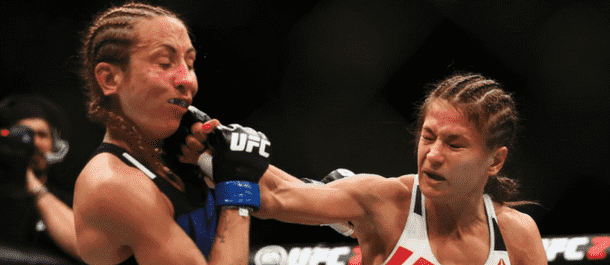 The Breakdown
I'm expecting the fight to closely resemble Gadelha vs. Jedrzejczyk, a classic striker vs. grappler match-up.
Gadelha will be trying to get Kowalkiewicz down to the mat and do damage there while limiting the attack of her opponent. Kowalkiewicz wants this fight to remain standing so that she can try and light Gadelha up with accurate striking. We saw the damage she inflicted on Joanna in the fourth round, and there's every chance she could do the same to Gadelha.
This fight, a co-main event with no title on the line, is a three-round affair and therefore favours Gadelha who should control large portions of the fight. Gadelha's stand-up game has significantly improved over the past year, too, and I'm even expecting her to have some success when trading shots with Karolina before setting up her takedowns.
I think that Gadelha will be too much for Kowalkiewicz to handle over the course of just three rounds and repeated takedowns will not only sap the energy of her opponent but also subtract valuable minutes from the clock in which Kowalkiewicz can use to inflict damage on the Brazilian.
Betting Strategy
Claudia Gadelha is a clear favourite in the eyes of the bookmakers at just 1.37Bet €100 to win €13737/100Bet £100 to win £137-270Bet $100 to win $1370.37Bet HK$100 to win HK$137-2.70Bet Rp100 to win Rp1370.3700Bet RM100 to win RM137. Karolina Kowalkiewicz is a moderate underdog with odds of 3.60Bet €100 to win €36013/5Bet £100 to win £360+260Bet $100 to win $3602.60Bet HK$100 to win HK$3602.60Bet Rp100 to win Rp360-0.3846Bet RM100 to win RM360.
While I am predicting Gadelha to win this one via the way of submission, my betting strategy is focused on Gadelha winning before this one makes it to the judges because that's where the money lies.
Gadelha is a submission machine and is a real chance to make Kowalkiewicz tap. I'll be taking the odds of 8.00Bet €100 to win €8007/1Bet £100 to win £800+700Bet $100 to win $8007.00Bet HK$100 to win HK$8007.00Bet Rp100 to win Rp800-0.1429Bet RM100 to win RM800, for Claudia Gadelha to win by submission.
Best Bet
Claudia Gadelha vs. Karolina Kowalkiewicz
Claudia Gadelha to win via Submission
Sunday 4th June, 04:30 GMT
Odds: 8.00Bet €100 to win €8007/1Bet £100 to win £800+700Bet $100 to win $8007.00Bet HK$100 to win HK$8007.00Bet Rp100 to win Rp800-0.1429Bet RM100 to win RM800 – Stan James
Claudia Gadelha
Karolina Kowalkiewicz
MMA
UFC
UFC 212