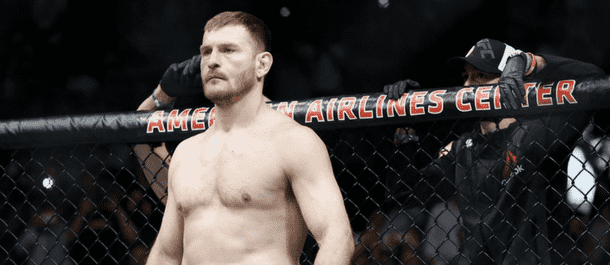 The UFC has coined the main event showdown between Stipe Miocic and Francis Ngannou at UFC 220 as a battle for "The Baddest Man on the Planet".
Miocic, the current UFC heavyweight champion, will defend his title against the seemingly unstoppable Ngannou. For many fans around the world, this is the most anticipated heavyweight mixed martial arts bout in a very long time.
You can find the best odds for this main event at BetOnline.
Stipe Miocic
Record: 17-2
Height: 6'4″ (194cm)
Reach: 80.0″ (203cm)
As strange as it may seem, Stipe Miocic is somewhat of a forgotten man in the build-up to UFC 220.
Now, that doesn't make much sense considering he is one of the most dominant heavyweight champions in the history of the sport, but he has taken a backseat while the UFC's marketing machine is hyping up his opponent. In fact, a win over Ngannou would mean that Miocic breaks the record for title defenses after having successfully defended the belt twice already.
Miocic took the strap from Fabricio Werdum at UFC 198 after flooring him with a series of punches in the first round. The champion then followed up his efforts with a first-round victory against Alistair Overeem and Junior dos Santos to make it five wins in a row – all against some of the best talent that the UFC's heavyweight division has to offer.
Francis Ngannou
Record: 11-1
Height: 6'4″ (193cm)
Reach: 83.0″ (211cm)
There is just one challenger remaining, however, and that's Francis Ngannou.
Ngannou might just be the toughest test of Miocic's to date, which is crazy when considering the history of the opponents that he has faced in the past. But there's just something about the way Ngannou blatantly destructs the head of his opponent that makes this such a scary matchup for anybody in the heavyweight division.
While some people are claiming Ngannou's path to the top has been fast-tracked, it isn't quite as it seems. Ngannou has actually dominated all of his six opponents inside the octagon and it seems as if he is only getting better every time we see him.
If you haven't seen it by now, Ngannou earned his date with Miocic after nearly taking the head off Alistair Overeem's shoulders with a powerful left hand.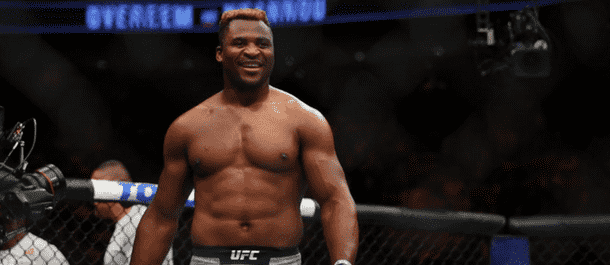 Fight Breakdown
Before Francis Ngannou's fight with Alistair Overeem, we had many questions regarding his ability. Was he capable of landing on such a talented striker? Can he take a punch? What happens if the fight hits the mat?
Funnily enough, many of these questions are still unanswered because Ngannou smashed Overeem in just under two minutes.
Miocic is much the same every time we see him. He endures some of his opponent's best punches before connecting with his own fists and ending the fight. The Croatian crushed Werdum with a heavy punch while tracking backward. After that, he survived an Overeem onslaught before ground and pounding his head into the canvas. It was his persistent forward movement that confused the challenger at UFC 203 and never allowed Overeem to settle into the fight. Miocic used the same forward pressure to smother Junior dos Santos and disallow him from planting his feet.
The question seems, then, will Miocic's forward movement be effective against Francis Ngannou?
But, there's also another thing to consider. Overeem and dos Santos, two elite strikers, were forced to fight differently against Miocic in respect for his power, and even Werdum had a 'brain-fart', so can Miocic force Ngannou to change his approach?
Probably not.
See, Francis Ngannou has a significant size and strength advantage in this contest – but most importantly, he also has some of the most powerful hands that anyone has ever seen come through the division in a long time.
Overeem attempted to mix it up and come forward at Ngannou, but Ngannou controlled the clinch before exchanging with Overeem in the middle of the octagon. The finishing touch is memorable not just for his explosive left hand, but also the reaction speed displayed through the combination. He baited out an Overeem right hand before slipping just out of range and then answering with devastating shots of his own.
There's no stopping Francis Ngannou, for now anyway.
Prediction and Betting Guide
It's going to take an unstoppable wrestler to take Francis Ngannou down to the mat and keep him there. Stipe Miocic isn't that guy. He's dangerous, and definitely capable of tagging Ngannou, but "The Predator" will score an impressive victory over Miocic at UFC 220.
Francis Ngannou by KO/TKO (punches) – round one
Best Bet
Stipe Miocic vs. Francis Ngannou
Francis Ngannou to Win
Saturday, January 20 – 11:50 pm (ET) / 4:50am (GMT)
Odds: 1.56Bet €100 to win €15614/25Bet £100 to win £156-179Bet $100 to win $1560.56Bet HK$100 to win HK$156-1.79Bet Rp100 to win Rp1560.5600Bet RM100 to win RM156 – BetOnline
Francis Ngannou
Stipe Miocic
UFC 220