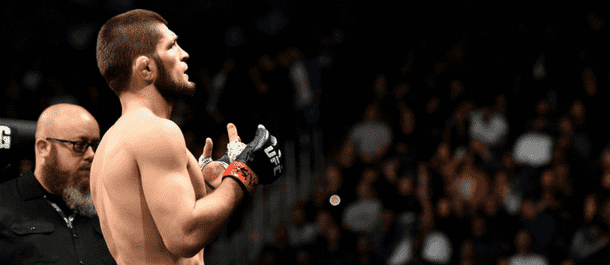 UFC 223 – Brooklyn, New York – Sunday, April 8 – 12:30 am (ET) / 4:30am (GMT)
You can find the best odds for UFC 223 at BetOnline.
Max Holloway will step in on just six days notice to compete against one of the most feared fighters in all of the UFC. Actually, Khabib Nurmagomedov might be the most feared mixed martial artist in the world.
When Holloway, the UFC's featherweight champion, discovered that Tony Ferguson was injured he jumped at the chance to step inside the Octagon with the undefeated Russian. The thing is, though, Holloway will be competing at lightweight for the first time in his career (155 lbs) as he steps up from his usual featherweight weight class (145 lbs).
As a featherweight, Holloway has been spectacular for as long as we can remember. He is undefeated since 2013 and has since put together 12 victories. His dominant run was even topped off with two spectacular performances against the greatest featherweight of all-time, Jose Aldo.
If Holloway can do the near-impossible and top Nurmagomedov at UFC 223, he'll go down in the history books forever.
Khabib Nurmagomedov is one of the most talented grapplers in the world.
Hailing from Russia, Nurmagomedov uses his exceptional sambo techniques to take down his opponent, pin them to the mat, and then hammer fists into their face and body. This doesn't just happen for one or two minutes per round, either. We'll often see Khabib pounding away at the face of his opponent with massive hammer fists for 10-12 minutes of a 15-minute contest.
This one is scheduled for 25 minutes, and the winner will walk home with the UFC Lightweight Championship. Yes, that's the same title that Conor McGregor currently has. When these two touch gloves inside the Octagon this weekend, the UFC will officially strip McGregor of his title due to inactivity.
This fight has everything, but does Max Holloway stand a chance against Khabib Nurmagomedov?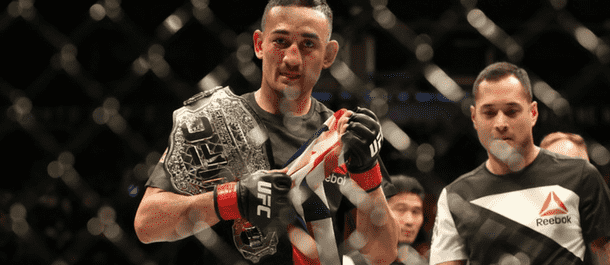 Fight Breakdown
There are so many factors in-play as we approach this UFC 223 main event.
Firstly, we are completely unsure as to the condition of Max Holloway. He was scheduled to fight Frankie Edgar last month but was forced to withdraw due to an injury. His medical suspension ended just two weeks ago, and now he's getting into the cage with the ferocious Nurmagomedov? It's certainly brave.
For this breakdown, let's assume that Holloway is at 90-100% health and that he will be suitably prepared for Nurmagomedov.
The particular aspects of Holloway's game that make him so dangerous are his awareness, precision boxing, and high-volume output. In reality, it's hard to narrow the champ's skills just down to three major factors, but these are what makes him especially tricky inside the Octagon.
At the start of the contest, he floats around while waiting to get a read on his opponent. With confidence in his hands, he stands in boxing range. As he starts to loosen up during the fight, he begins picking up the pace and working over his opponent with clinical boxing upstairs and downstairs.
Holloway might have success on the feet against Khabib, but it will be for a limited time only. See, Nurmagomedov is anything but typical while standing up. He will stand in front of an opponent and throw awkward punches, like his weird shovel-uppercut, and keep his chin high. Occasionally, he'll storm forward with pressure or crazy strikes much like a flying knee to back his opponent to the cage. Once there, that's when he does all of his best work. He'll pin one arm before repeatedly hammering home strikes until the fight is stopped. No one seems able to get back on their feet after a Khabib takedown.
The thing that stands out above all else in this fight, though, is that Holloway has a major problem of backing into the cage and not offering up an angle when he is in trouble. With Khabib's forward pressure, Holloway might give up position against the cage (as he was comfortable doing against Jeremy Stephens and recently against Aldo), this spells disaster against Nurmagomedov, however.
If Holloway were matched with another 'technical' striker, I'd back him all day – even against Conor McGregor. But he's against Nurmagomedov's awkward stand-up game and a near-unstoppable ground game.
A tough fight for the Hawaiian.
Betting Market
The bookmakers agree.
Khabib Nurmagomedov opened up as a 1.20Bet €100 to win €1201/5Bet £100 to win £120-500Bet $100 to win $1200.20Bet HK$100 to win HK$120-5.00Bet Rp100 to win Rp1200.2000Bet RM100 to win RM120 favorite and has remained close to that opening position after a day of action. Max Holloway is currently a 4.65Bet €100 to win €46573/20Bet £100 to win £465+365Bet $100 to win $4653.65Bet HK$100 to win HK$4653.65Bet Rp100 to win Rp465-0.2740Bet RM100 to win RM465 underdog. It's an unusual spot for the champion to be a significant underdog, but the short notice, weight, and lack of preparation are all taken into account here.
Betting Play
There's no mucking around when it comes to betting on the UFC 223 main event. Holloway's undoubtedly talented, but he is up against a monstrous opponent this time out.
Currently, there are no proposition bets available. We'll come back and update this article when more markets are released.
For now, however, stick with betting on Khabib Nurmagomedov to win at -500.
Recommended Bet: Khabib Nurmagomedov to win 1.20Bet €100 to win €1201/5Bet £100 to win £120-500Bet $100 to win $1200.20Bet HK$100 to win HK$120-5.00Bet Rp100 to win Rp1200.2000Bet RM100 to win RM120 at BetOnline
Khabib Nurmagomedov
Max Holloway
UFC 223