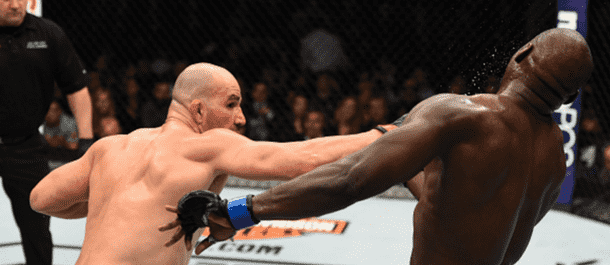 Glover Teixeira vs. Corey Anderson
Sunday, July 22 – 4:00 pm (ET) / 8:00 pm (GMT)
The co-main event for UFC Fight Night 134 is a light heavyweight clash between heavy-hitting Glover Teixeira and Corey Anderson.
Glover Teixeira is certainly getting on in age, but he's still a legitimate threat to anyone in the light heavyweight division. At the age of 38, Teixeira has been inside the cage with many of the light heavyweight division's best fighters. Unfortunately for the Brazilian, he is yet to score a major win against a top-tier fighter and it seems that every time he gets close to the top of the division he falls down.
Corey Anderson is a somewhat rare example of a light heavyweight fighter under the age of 30 who is doing great work in the division. Much like Teixeira, Anderson has been stuck in a bubble and has struggled to break free from the mid-to-low end of the UFC's rankings. He's recently picked up a unanimous decision victory over Patrick Cummins, which certainly helps his confidence after losing to Ovince Saint Preux.
Betting Market and Prediction
Teixeira is still terrifying. He knows how to finish opponents with his fists or can grind them out and take them the distance, as he did with Jared Cannonier. He hits like a truck and has the type of power that can put people away with ease. What's lacking, though, is the speed that is required to tag an opponent. Gustafsson ran circles around him and made him look like a fool for five rounds before finishing him.
Anderson has the footwork and speed to cause some troubles for Teixeira, but is it enough to get the victory? We're not sure. Teixeira is the safer bet here on all accounts.
Betting on Teixeira will net you odds of 1.50 at 888Sport. Whereas a bet on Anderson can get you odds of +165 at BetOnline.
Bet: Glover Teixeira to win 1.50 at 888Sport
Vitor Miranda vs. Abu Azaitar
Sunday, July 22 – 3:30 pm (ET) / 7:30 pm (GMT)
In a matchup between two tough middleweight fighters, Vitor Miranda will go to war with Abu Azaitar.
Vitor Miranda hasn't clocked many miles inside the cage as a professional mixed martial artist, which is strange for someone at the age of 40. With 'only' 18 fights under his belt at this stage, Miranda is hoping to turn a two-fight losing streak around that includes defeats to Marvin Vettori and Chris Camozzi via decision.
Abu Azaitar will make his first appearance inside the UFC's Octagon at UFC Fight Night 134. The dynamic German mixed martial artist gained entry to the UFC after an eight-win streak that was most recently topped with big wins against opponents in WSOF.
Betting Market and Prediction
Vitor Miranda is a skillful fighter who is capable of finishing fights. Before his recent two-fight skid he scored three consecutive KO/TKO victories. Azaitar is an animal inside the cage and is ruthless as well as aggressive. It will be a question of whether he can find ways to land his powerful hands on the chin of Miranda, who has many unusual techniques in his arsenal.
The favorite for this contest is Abu Azaitar, who can be found for 1.53 at 888Sport.
Vitor Miranda provides excellent value for those who value UFC experience, and he has odds of +141 at BetOnline.
Bet: Vitor Miranda to win +141 at BetOnline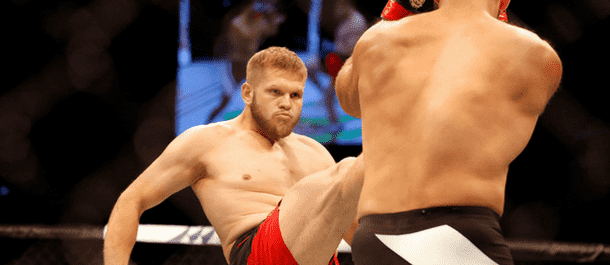 Marcin Tybura vs. Stefan Struve
Sunday, July 22 – 3:00 pm (ET) / 7:00 pm (GMT)
Marcin Tybura vs. Stefan Struve is an excellent heavyweight battle that will take place at UFC Fight Night 134.
Marcin Tybura was considered a promising heavyweight fighter not that long ago. He might still be, but a lot of his momentum has been drained after successive defeats to Derrick Lewis and Fabricio Werdum. His three-fight winning streak has since come to an end, but a memorable victory over Stefan Struve will generate some new excitement for this heavyweight from Poland.
Stefan Struve was also experiencing a minor career resurgence before falling short in his last two fights. More than ever before, Struve was starting to show a glimpse of awareness regarding his length and range and was managing to keep fighters away from him and stay out of danger. However, losses to Alexander Volkov and a new version of Andrei Arlovski have knocked him down in the UFC's rankings.
Betting Market and Prediction
There's not much love for Stefan Struve, who will enter this fight as a +205 underdog at BetOnline. On the other hand, Tybura is the man expected to win this one and is currently 1.40 over at 888Sport.
For this one, Struve represents some decent value for bettors and is a tempting selection. We have Tybura to win, but the odds shouldn't be this far apart. Struve is a value play here.
Bet: Stefan Struve to win +205 at BetOnline
Nasrat Haqparast vs. Marc Diakiese
Sunday, July 22 – 2:30 pm (ET) / 6:30 pm (GMT)
And before that is a brilliant lightweight fight between two rising stars, Nasrat Haqparast and Marc Diakiese.
Nasrat Haqprast could be one of the most underrated fighters in the lightweight division. The German fighter has been working with Tristar for a while now and has developed a well-rounded game to go with his excellent footwork and precise striking. His UFC debut didn't go his way, but it was a close contest with Marcin Held, who is a proven veteran of MMA with many accolades.
Marc Diakiese is probably the flashier of the two fighters and has drawn plenty of attention for that reason alone. With his unique haircut and superb techniques, Diakiese has become a popular prospect. Unfortunately for him, though, Diakiese has dropped his last two fights against other up-and-coming fighters in the category. He was submitted by Dan Hooker in his last fight and lost a decision to Drakkar Klose before that.
Betting Market and Prediction
Diakiese is the man favored to win this lightweight bout and is currently sitting at -200 at BetOnline. Against him, is the underdog Haqparast at odds of +185 at Bovada.
Bet: Nasrat Haqparast to win +185 at Bovada
Danny Roberts vs. David Zawada
Sunday, July 22 – 2:00 pm (ET) / 6:00 pm (GMT)
David Zawada will step in on short notice and replace Alan Jouban in a fight with Danny Roberts.
Danny Roberts, known as "Hot Chocolate", has accumulated a 15-3 record during his career but most recently has been swapping wins and losses since 2016. He lost to Mike Perry at UFC 204 via last round KO/TKO, and then was defeated by Nordine Taleb at UFC on FOX 26 in the first round. But now, his confidence should be back up and running after finishing Oliver Enkamp in the first round at UFC Fight Night 127.
David Zawada will be making his UFC debut this weekend and could potentially make a run through the division if all goes well against Danny Roberts. At the age of 27, and on a five-fight winning streak, Zawada has shown various ways to finish opponents. He's known as a brawler, and his heavy hands could cause problems for Roberts if he lands clean.
Betting Market and Prediction
Despite entering this fight without much preparation, Zawada is a real chance of upsetting Roberts in Germany. At the moment, Zawada's odds are +300 with Bovada. As for "Hot Chocolate" he's now at -320 with BetOnline.
Bet: David Zawada to win +300 at Bovada
Betting Plays
Best Bets:
Glover Teixeira to win 1.50 at 888Sport
Vitor Miranda to win +141 at BetOnline
Stefan Struve to win +205 at BetOnline
Nasrat Haqparast to win +185 at Bovada
David Zawada to win -320 at BetOnline
Corey Anderson
Glover Teixeira
UFC Fight Night 134