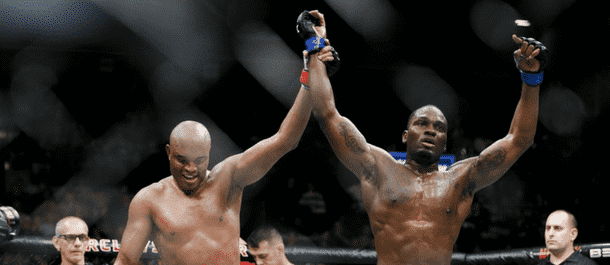 In the main event of UFC on FOX 27, Ronaldo "Jacare" Souza will return to the UFC's octagon to battle the rising Derek Brunson. This matchup between two contenders in the middleweight division will headline the organization's return to Charlotte and top the bill of a four-fight main card.
You can find the best odds for this main event at BetOnline and BetVictor.
Ronaldo "Jacare" Souza
Record: 24-5
Height: 6'0″ (183cm)
Reach: 74.0″ (188cm)
Ronaldo "Jacare" Souza has long been regarded as one of the most terrifying grapplers in the UFC's middleweight division, but that claim has lost some steam since his last appearance in the octagon.
Souza stepped in as a moderate betting favorite against Aussie Robert Whittaker and his grappling proved no match for the excellent defensive wrestling of Whittaker. Whittaker would eventually defeat Souza and end his two-fight winning streak and now he finds himself in a place of much-needed redemption against an opponent that he has previously defeated way back in 2012.
Derek Brunson
Record: 18-5
Height: 6'1″ (186cm)
Reach: 78.0″ (198cm)
Derek Brunson has made massive strides since losing to Souza in Strikeforce in 2012. At the time, Brunson was a wild striker who relied on his ability to smash opponents with his heavy hands. Interestingly, not much has changed. Brunson still headhunts and looks to end the fight early but now, more than ever before, he has become increasingly patient – an attribute that he wishes he had back when he first met Souza.
After losing to Robert Whittaker in Australia and then dropping a strange split decision to Anderson Silva at UFC 208, Brunson has bounced back with two consecutive first-round KO/TKO victories against Daniel Kelly and Lyoto Machida.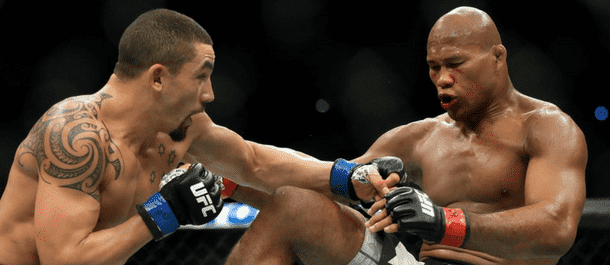 Fight Breakdown
Souza, a former Strikeforce middleweight champion, will be instantly looking to get this fight to the mat despite his previous success on the feet with Brunson. Right now, Brunson is too dangerous for seemingly anyone to hang out with while standing up.
The question for this fight is whether or not Souza will have immediate success with his takedowns. All early indications point toward Brunson's wrestling being a significant hurdle "Jacare". Recently, Brunson has developed his striking to a point in which he is not just powerful, but also very efficient and exceptional at counter striking. For Souza, a fighter who likes to walk forward and occasionally attempt a wild strike himself, Brunson might just be able to clip him and end the fight.
Souza showed in his last fight against Whittaker that without the threat of the takedown – which Whittaker had stuffed repeatedly – his striking was no longer dangerous. See, Whittaker had confidence in attempting any kind of strikes, including high kicks, because he was overwhelmingly convinced that he could work back to his feet if required.
While it's hard to know how Brunson's wrestling compares to Whittaker, he is regarded as having superb defensive wrestling ability. This might be the X-factor in this fight with Souza, as, like Whittaker, Brunson might disrupt the early flow of "Jacare" and then begin searching for the 'one-and-done' shot to end the night.
Prediction and Betting Guide
While the bookmakers are seemingly expecting this one to last a couple of rounds, at least, I'm more inclined to believe that this fight will finish inside the first two rounds.
Simply, if Brunson lands on Souza, it will likely be stunning enough to end the fight. And if we find out that Brunson can't defend the takedowns or grappling threat from Souza, he might just find himself unable to defend against the submissions or crafty back takes from "Jacare".
Either way, it should end early.
Derek Brunson by KO/TKO (punches) – round one
As such, there are two 'best bets' for this fight.
Best Bets
Ronaldo Souza vs. Derek Brunson
Saturday, January 27 – 9:30 pm (ET) / 2:30am (GMT)
Derek Brunson to Win
Odds: 2.34Bet €100 to win €23467/50Bet £100 to win £234+134Bet $100 to win $2341.34Bet HK$100 to win HK$2341.34Bet Rp100 to win Rp234-0.7463Bet RM100 to win RM234 – BetOnline
Total Rounds – Under 1.5
Odds: 2.00Bet €100 to win €2001/1Bet £100 to win £200+100Bet $100 to win $2001.00Bet HK$100 to win HK$2001.00Bet Rp100 to win Rp2001.0000Bet RM100 to win RM200 – BetVictor
Derek Brunson
Ronaldo Souza
UFC on FOX 27