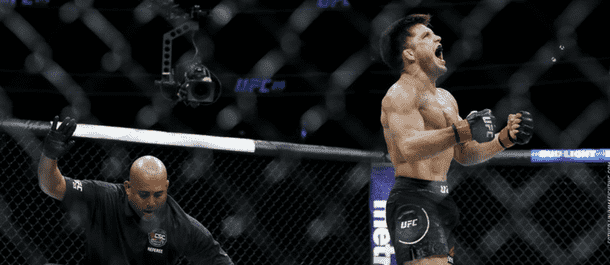 Henry Cejudo vs. Sergio Pettis

The new and improved Henry Cejudo will face Sergio Pettis at UFC 218 in a battle between two top flyweight contenders in the UFC.
Cejudo enters this contest after destroying Wilson Reis in incredible style. The Olympic gold-medallist took the center of the octagon with a completely unexpected karate stance and used his lightning-fast hands to tag Reis with precision and power. Knockouts are difficult for any flyweight, but Cejudo tagged Reis with such force that it sent him straight to the canvas.
Pettis has long been trying to make his way through the flyweight division to reach the top and earn a shot at Demetrious Johnson. He's now been considered a prospect for too long and his win against Brandon Moreno now puts him in a position to challenge for the UFC Bantamweight Championship if he can defeat Cejudo.
Breakdown
Both of these martial artists are improving significantly every time that we see them step inside the octagon. For Pettis, his hands have developed to a point in which he can easily handle his opponents with his boxing alone. His timing and hand speed sees him often rely on sitting back and waiting for the best opportunities to strike.
Cejudo, on the other hand, entered mixed martial arts with incredible wrestling accolades. But now, his striking is to be feared. It's important to note that while his beatdown of Wilson Reis was impressive, Reis is predominantly a grappler.
It will be interesting to see how effective Cejudo's striking is against one of the better strikers in the division in Pettis.
Prediction and Betting Guide
While Pettis fights to win, Cejudo fights to destroy. Cejudo has been on a mission to earn another shot at Demetrious Johnson and get his revenge ever since he lost to him in the first round of UFC 197. That continues at UFC 218 and he might just be the third person to defeat (and finish) Sergio Pettis.
Prediction: Henry Cejudo by KO/TKO – Round 3
You can find the best odds for Henry Cejudo to win at BetOnline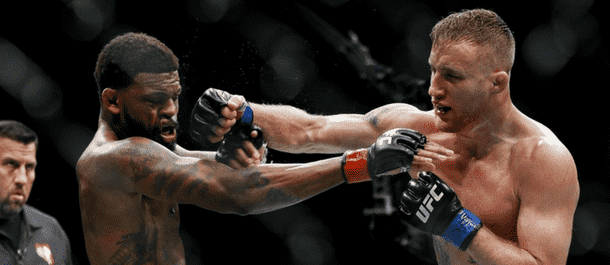 Eddie Alvarez vs. Justin Gaethje
Eddie Alvarez vs. Justin Gaethje is sure to be violence at its very best.
Undefeated after 18 fights, Justin Gaethje entered the UFC in July and won a thrilling contest with Michael Johnson at The Ultimate Fighter 25 Finale. The fight was back-and-forth, like many of Gaethje's, but ultimately saw him come out on top as his relentless pressure and heavy leg kicks overpowered Johnson.
Alvarez returns to the octagon for the first time since his involvement in an unusual, but equally entertaining, bout with Dustin Poirier at UFC 211. After being rocked by Poirier, Alvarez managed to regain his feet and connected with a series of punches that changed the course of the fight completely. He grounded Poirier before dishing out an entirely illegal knee that caused an end to the contest.
Breakdown
Justin Gaethje is one of the strangest fighters to analyze in all of mixed martial arts – but that's what makes him so fun to watch.
He's crazy, wild, relentless, and fights with pure aggression. He doesn't take a step back and is willing to be involved in firefights. What's strange about all of this, however, is that he has somehow managed to keep a clean record through 18 fights. Michael Johnson caught him with hard shots at times, but Gaethje managed to stay composed. Johnson's hands are excellent, and possibly even better than Alvarez's, which leaves me with plenty of confidence to back Gaethje in this contest.
For many of us, the image that we see of Eddie Alvarez inside our minds is him being on the end of that brutal one-sided beatdown from Conor McGregor at UFC 205. Alvarez didn't have a chance against the hands of McGregor and ended up eating vicious shots to the face for the entirety of the bout. But, it's important to remember that Alvarez only recently knocked out the seemingly unstoppable Rafael Dos Anjos at UFC Fight Night 90 just after defeating Anthony Pettis via split decision.
Prediction and Betting Guide
While Gaethje doesn't fight with the same technical prowess that McGregor has, he is going to be able to walk through all of Alvarez's best shots while putting money in the bank with his devastating leg kicks.
As tough as each of these fighters are, they're both willing to put their chin at risk, which makes the length of this contest so much harder to predict.
Prediction: Justin Gaethje by KO/TKO – Round 3
You can find the best odds for a Justin Gaethje victory at BetOnline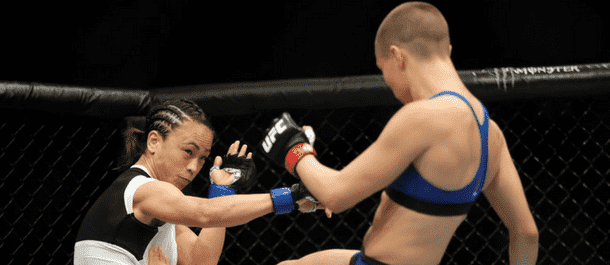 Michelle Waterson vs. Tecia Torres

Two fighters with different trajectories will collide at UFC 218 when Michelle Waterson meets Tecia Torres in a strawweight bout.
Waterson steps in after being submitted by Rose Namajunas in April this year. Unfortunately for Waterson, this also meant that she lost out on a chance to challenge Joanna Jedrzejczyk for the UFC Strawweight Championship. Instead, Namajunas went on to challenge the champion and dethroned her in stunning fashion.
While Tecia Torres doesn't have the same 'name-power' as Waterson, Andrade, or Gadelha in the list of contenders, she has been tearing her way through everybody not named Rose Namajunas. With consecutive wins over Bec Rawlings and Juliana Lima, Torres has put herself in a prime opportunity to position herself right underneath the very best in the division.
Breakdown
If there's one thing that concerns me about Michelle Waterson, it's her lack of aggression. While she is incredibly technical, as we saw in the contest with Paige VanZant at UFC on FOX 22, she doesn't have the 'fire' inside of her that can take her game to a whole new level.
Tecia Torres is an opponent that requires you to be completely 'switched on' for. She fights with an incredible level of intensity, shooting in and out with fast footwork to land her strikes or attempting to take her opponent down to the mat and outwork them there.
Against Lima, Torres had trouble implementing her own game on the mat but was actually winning the stand-up convincingly.
Prediction and Betting Guide
This won't happen against Michelle Waterson and she will need to find a way to get this one down the mat in order to win. While she might just do this, there's also a big chance that Waterson pieces her up with effective strikes.
Prediction: Michelle Waterson by KO/TKO – Round 1
You can find the best odds for Michelle Waterson to win at Bet365
Best Bets
Henry Cejudo vs. Sergio Pettis
Henry Cejudo to win
Saturday, 2 December – 11:00 pm (ET) / 4:00 am (GMT)
Odds: 1.43Bet €100 to win €14343/100Bet £100 to win £143-233Bet $100 to win $1430.43Bet HK$100 to win HK$143-2.33Bet Rp100 to win Rp1430.4300Bet RM100 to win RM143 – BetOnline
Eddie Alvarez vs. Justin Gaethje
Justin Gaethje to win
Saturday, 2 December – 10:30 pm (ET) / 3:30 am (GMT)
Odds: 1.57Bet €100 to win €15757/100Bet £100 to win £157-175Bet $100 to win $1570.57Bet HK$100 to win HK$157-1.75Bet Rp100 to win Rp1570.5700Bet RM100 to win RM157 – BetOnline
Michelle Waterson vs. Tecia Torres
Michelle Waterson to win
Saturday, 2 December – 10:00 pm (ET) / 3:00 am (GMT)
Odds: 2.60Bet €100 to win €2608/5Bet £100 to win £260+160Bet $100 to win $2601.60Bet HK$100 to win HK$2601.60Bet Rp100 to win Rp260-0.6250Bet RM100 to win RM260 – Bet365