Carlos Condit vs. Alex Oliveira
Saturday, April 14 – 9:00 pm ET / 1:00 am GMT
If there has ever been an appropriate way to lead-in to what should be an incredibly violent main event at UFC on FOX 29, this is it. Carlos Condit will be facing Alex Oliveira in what should be a high-intensity co-main event. Condit was originally supposed to face Matt Brown, but an injury last week has deemed him unable to compete. Oliveira steps up to the plate with just one week of preparation for Condit.
Carlos Condit is searching for his first win since May 2015 when he enters the UFC's Octagon this weekend. On that day, Condit scored a big KO/TKO victory over Thiago Alves at UFC Fight Night 67. That win allowed Condit to shoot into title contention, but he fell marginally short against Robbie Lawler in January 2016. After that, he was submitted by Demian Maia in the first round at UFC on FOX 21. That loss there was a game-changer and sent Condit back to the drawing board. He returned to mixed martial arts action at UFC 219 in December but lost a unanimous decision to Neil Magny.
Alex Oliveira is a certified badass. The Brazilian "Cowboy" recently had his five-fight undefeated streak broken at UFC 218 when he was stopped by Yancy Medeiros. That run, however, included a strange 'no contest' against Tim Means, that Oliveira was clearly losing. Oliveira did bounce back in a big way though when he shut down Means in an immediate rematch three months later. The Medeiros fight was a true slugfest and one of the very best fights of 2017. You can expect the same at UFC on FOX 29.
Betting Market and Prediction
Even with the short-notice call-up, Oliveira is regarded as a moderate betting favorite in this matchup with Condit. Oliveira can be found at odds of 1.50Bet €100 to win €1501/2Bet £100 to win £150-200Bet $100 to win $1500.50Bet HK$100 to win HK$150-2.00Bet Rp100 to win Rp1500.5000Bet RM100 to win RM150 and Condit is currently sitting at 2.90Bet €100 to win €29019/10Bet £100 to win £290+190Bet $100 to win $2901.90Bet HK$100 to win HK$2901.90Bet Rp100 to win Rp290-0.5263Bet RM100 to win RM290.
Oliveira is truly a dangerous fight for Condit and his high-pace makes it difficult. He also isn't the type to show respect to an opponent of Condit's caliber, he'll walk forward and throw hands.
Prediction: Oliveira to win inside the distance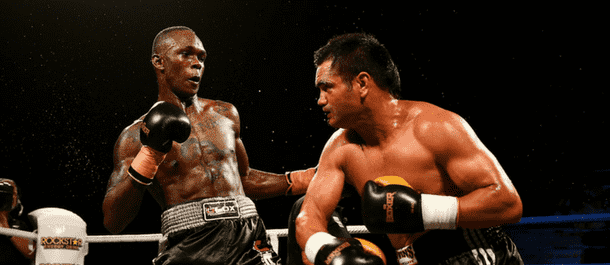 Marvin Vettori vs. Israel Adesanya
Saturday, April 14 – 8:30 pm ET / 12:30 am GMT
The Israel Adesanya hype train is at full-steam as we approach UFC on FOX 29. He'll step into the cage with Italian prospect Marvin Vettori in what is sure to be an exciting battle.
Marvin Vettori has already fought four times since arriving in the UFC in August 2016. He debuted succcesfully when he met Alberto Uda at UFC 202 and won the fight via submission in the first round. Since then, Vettori has had mixed results. He lost to Antonio Carlos Junior, before winning against Vitor Miranda, and then a majority draw with Omari Akhmedov. Vettori represents a true test for Adesanya, and it's going to be a very intriguing clash of styles.
Israel Adesanya is the rising star of the middleweight division right now. With an abundance of experience in kickboxing and boxing, Adesanya has finally made his way to the UFC. His striking seems to be on an entirely different level to the majority of the guys in the division. Adesanya has a type of 'flow' about him that other fighters strive for and he is completely confident in his striking ability. He picked apart Rob Wilkinson in his UFC debut and will now look to make it two in a row against Vettori.
Betting Market and Prediction
Israel Adesanya is the expected favorite at 1.42Bet €100 to win €14221/50Bet £100 to win £142-238Bet $100 to win $1420.42Bet HK$100 to win HK$142-2.38Bet Rp100 to win Rp1420.4200Bet RM100 to win RM142 and Marvin Vettori is currently at 3.05Bet €100 to win €30541/20Bet £100 to win £305+205Bet $100 to win $3052.05Bet HK$100 to win HK$3052.05Bet Rp100 to win Rp305-0.4878Bet RM100 to win RM305.
Where Adesanya is a silky smooth striker with perfect precision and timing, Vettori is a low-level striker with many defensive flaws. It's tough to see how Vettori wins here against the brilliant offensive onslaught that will be incoming. He does have a brilliant chin, though, so it will be a task for Adesanya to put him away.
Prediction: Adesanya to win by decision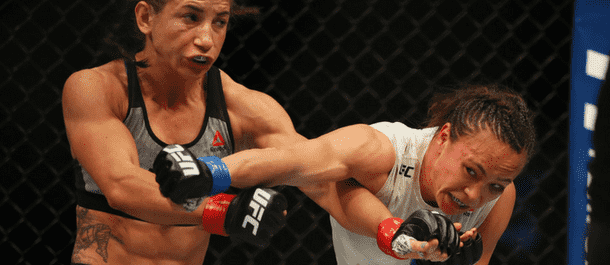 Michelle Waterson vs. Cortney Casey
Saturday, April 14 – 8:00 pm ET / 12:00 am GMT
To get the main card started, Michelle Waterson will battle with Cortney Casey in a strawweight clash.
Michelle Waterson will look to get back on track against Cortney Casey here at UFC on FOX 29. Waterson, who arrived in the UFC in July 2015, won her first two fights in the promotion. She picked up big wins over Angela Magana and Paige VanZant to announce herself as a true contender in the division. However, her recognition as a top-ranked competitor came to a sudden end when she lost to Rose Namajunas and Tecia Torres consecutively. Waterson has now lost two consecutive fights and she is in desperate need of a victory. Fortunately, she's in a winnable matchup here with Casey.
Cortney Casey is no walkover in the division. In fact, she probably best represents the 'middle of the pack' in the women's strawweight division. Casey also made her UFC debut in July 2015 but has since competed seven times with the organization to mixed results. Her wins have come against Randa Markos, Christina Stanciu, and Jessica Aguilar. Most recently, she has been defeated by Claudia Gadelha and then lost to Felice Herrig by split decision. With Herrig clawing her way up the rankings at the moment, that split decision marks Casey as a tough contender in the division.
Betting Market and Prediction
Going into this one, Cortney Casey is the favorite in this contest and can be found at odds of 1.83Bet €100 to win €18383/100Bet £100 to win £183-120Bet $100 to win $1830.83Bet HK$100 to win HK$183-1.20Bet Rp100 to win Rp1830.8300Bet RM100 to win RM183. Waterson is the underdog here after her two consecutive defeats and is good value at 2.06Bet €100 to win €20653/50Bet £100 to win £206+106Bet $100 to win $2061.06Bet HK$100 to win HK$2061.06Bet Rp100 to win Rp206-0.9434Bet RM100 to win RM206.
Casey gets a little wild with her striking at times. She'll move back in a straight line and throw all kinds of crazy looping punches and hooks. This is incredibly different to the technical striking ability of Waterson, who is from a karate background. It will make for an interesting matchup, but Waterson should be the better fighter on the night.
Prediction: Michelle Waterson to win by decision
Betting Plays
Best Bets:
Alex Oliveira to win 1.50Bet €100 to win €1501/2Bet £100 to win £150-200Bet $100 to win $1500.50Bet HK$100 to win HK$150-2.00Bet Rp100 to win Rp1500.5000Bet RM100 to win RM150 at BetOnline
Israel Adesanya to win 1.41Bet €100 to win €14141/100Bet £100 to win £141-244Bet $100 to win $1410.41Bet HK$100 to win HK$141-2.44Bet Rp100 to win Rp1410.4100Bet RM100 to win RM141 at BetOnline
Michelle Waterson to win
2.06

Bet €100 to win €206
53/50

Bet £100 to win £206
+106

Bet $100 to win $206
1.06

Bet HK$100 to win HK$206
1.06

Bet Rp100 to win Rp206
-0.9434

Bet RM100 to win RM206
at
BetOnline
Israel Adesanya
UFC on FOX 29