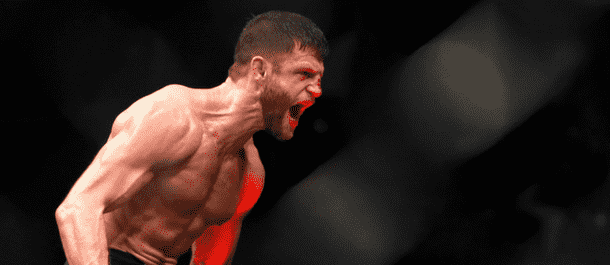 Renato Moicano vs. Calvin Kattar
UFC 223 – Brooklyn, New York – Saturday, April 7 – 11:30 pm (ET) / 3:30pm (GMT)
While this fight certainly won't get as much attention as the main event and co-main event of UFC 223, Renato Moicano vs. Calvin Kattar is going to be an exceptional display of striking power and precision.
As we approach the UFC's pay-per-view in Brooklyn, New York, Moicano sits at #11 in the UFC's featherweight rankings and Kattar currently resides at #13 after two memorable performances so far in his UFC career.
Moicano steps into the cage this weekend after experiencing his first-ever career defeat. At UFC 214, he was submitted by Brian Ortega in the third round. Moicano struggled with Ortega's desired pace early in the contest but began to swing things around. By the third round, he was looking comfortable but made one extremely costly mistake; he took Ortega and his outstanding Brazilian Jiu-Jitsu down to the canvas. It took Ortega less than ten seconds to wrap up the fight-ending guillotine choke.
Across from him, 30-year-old Kattar has enjoyed success in both of his two appearances inside the UFC's Octagon so far. In his first outing, he faced Andre Fili and stormed past him despite being a significant underdog. After that, he was thrown into the spotlight of the UFC 220 main card in January and managed to hand Shane Burgos his first career loss.
The matchup
This is a very intriguing matchup between two fighters who are predominantly focused on punching. Yes, Kattar and Moicano will occasionally mix it up with a kick to the legs or head, but the vast majority of their work is done with their hands. Kattar has a brilliant stinging jab that he flicks out to frustrate and beat down his opponent. Moicano, on the other hand, has exceptional counter striking ability and looks to counter his opponent's strikes with booming right hands.
Betting Market and Prediction
Currently, Calvin Kattar can be found at odds of 1.80Bet €100 to win €1804/5Bet £100 to win £180-125Bet $100 to win $1800.80Bet HK$100 to win HK$180-1.25Bet Rp100 to win Rp1800.8000Bet RM100 to win RM180 with BetOnline.
The best bet for this contest, though, is to take a dip on this one not making the distance. The under 2.5 rounds market is currently paying out 2.90Bet €100 to win €29019/10Bet £100 to win £290+190Bet $100 to win $2901.90Bet HK$100 to win HK$2901.90Bet Rp100 to win Rp290-0.5263Bet RM100 to win RM290 with Bovada.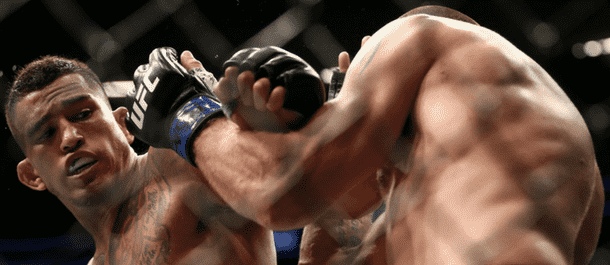 Michael Chiesa vs. Anthony Pettis
UFC 223 – Brooklyn, New York – Saturday, April 7 – 11:00 pm (ET) / 3:00pm (GMT)
Michael Chiesa vs. Anthony Pettis is the type of matchup that could still headline any non-PPV UFC event. These two lightweight fighters bring the heat and are tremendously skilled.
The last time we saw Chiesa was when he was 'submitted' by Kevin Lee at UFC Fight Night 112. As you can recall, referee Mario Yamasaki stepped in and ended the contest before Chiesa had decided to submit. It was a bizarre ending, but it certainly seemed as though the fight was trending in Lee's favor anyhow. After a frenetic opening couple of minutes, Lee took the back of Chiesa and locked up a tight body triangle. It was this body lock that proved to be problematic for Chiesa and he was unable to create separation before Lee attempted the rear-naked choke.
Chiesa will be facing Anthony Pettis, who has experienced mixed results of late. Since March 2015, Pettis has been victorious in just two of his seven outings. Most recently, Pettis was defeated by Dustin Poirier at UFC Fight Night 120. After a back-and-forth opening two rounds, Pettis eventually succumbed to a rib injury that was affecting him. Covered in blood, the defeat marked the continued fall for Pettis who was once a former champion.
These two make for an extremely exciting style of fighting. Chiesa is loose and fluid and likes to get his opponent to the mat before attempting a submission. He's comfortable taking risks and will look for submission opportunities at all costs. Pettis, on the other hand, is still best-known for his 'Showtime Kick' when he jumped off the side of the cage and connected with a devasting kick against Benson Henderson. More recently, he's still had success while standing and was somewhat unlucky not to finish Dustin Poirier with a triangle choke in his last fight.
It's time to find out whether Michael Chiesa is for real or not.
Betting Market and Prediction
Michael Chiesa is currently the betting favorite and you can bet on him to win at odds of 1.74Bet €100 to win €17437/50Bet £100 to win £174-135Bet $100 to win $1740.74Bet HK$100 to win HK$174-1.35Bet Rp100 to win Rp1740.7400Bet RM100 to win RM174 at BetOnline.
I'm expecting Chiesa to bounce back in a big way here at UFC 223 and score a submission victory over Pettis. The preferable option is to take Chiesa to win at those odds detailed above, however.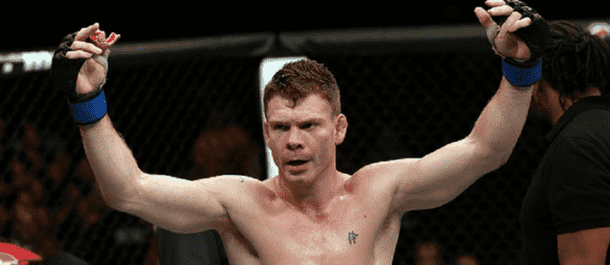 Al Iaquinta vs. Paul Felder
UFC 223 – Brooklyn, New York – Saturday, April 7 – 10:30 pm (ET) / 2:30pm (GMT)
Al Iaquinta vs. Paul Felder is a dream for fight fans.
After a two-year layoff, Iaquinta returned to the UFC's Octagon and stormed past Diego Sanchez in the first round at UFC Fight Night 108. The win marked yet another impressive performance from the 30-year-old and he now is sitting on a five-fight winning streak as we near UFC 223 and his bout with Paul Felder.
While his record might not speak it, Felder is one of the most damaging strikers in the lightweight division. He uses a variety of Muay Thai techniques to smash anyone who stands across from him. Recently, Felder has strung together three wins. It's a return to winning form for "The Irish Dragon," who lost two consecutive fights in 2015. His most recent victory was a big one. Charles Oliveira threw everything that he had at Felder, including about five or six different submissions, but Felder fought through perfectly before finishing the fight with ground and pound.
As long as this one stays standing, it's going to be an exciting way to get the pay-per-view started. Al Iaquinta is renowned for his homing missile of a right hand and Felder is best-known for the severity of his elbow strikes.
Betting Market and Prediction
The bookmakers view this one as close to even. Just days before the event, Iaquinta is sitting as the slightest of betting favorites at 1.87Bet €100 to win €18787/100Bet £100 to win £187-115Bet $100 to win $1870.87Bet HK$100 to win HK$187-1.15Bet Rp100 to win Rp1870.8700Bet RM100 to win RM187. On the other hand, Felder can be found at odds of 1.95Bet €100 to win €19519/20Bet £100 to win £195-105Bet $100 to win $1950.95Bet HK$100 to win HK$195-1.05Bet Rp100 to win Rp1950.9500Bet RM100 to win RM195.
The best play here is to take Al Iaquinta at 1.87Bet €100 to win €18787/100Bet £100 to win £187-115Bet $100 to win $1870.87Bet HK$100 to win HK$187-1.15Bet Rp100 to win Rp1870.8700Bet RM100 to win RM187 with BetOnline
Betting Plays
Best Bets:
Moicano vs. Kattar: Total Rounds – Over 2.5 2.90Bet €100 to win €29019/10Bet £100 to win £290+190Bet $100 to win $2901.90Bet HK$100 to win HK$2901.90Bet Rp100 to win Rp290-0.5263Bet RM100 to win RM290 with Bovada
Michael Chiesa to win: 1.74Bet €100 to win €17437/50Bet £100 to win £174-135Bet $100 to win $1740.74Bet HK$100 to win HK$174-1.35Bet Rp100 to win Rp1740.7400Bet RM100 to win RM174 at BetOnline
Al Iaquinta to win: 1.87Bet €100 to win €18787/100Bet £100 to win £187-115Bet $100 to win $1870.87Bet HK$100 to win HK$187-1.15Bet Rp100 to win Rp1870.8700Bet RM100 to win RM187 with BetOnline
Anthony Pettis
Michael Chiesa
UFC 223