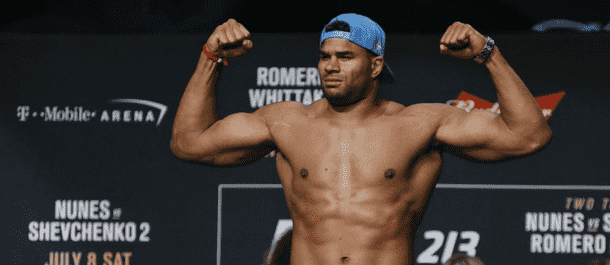 The co-main event at UFC 218 will see the excellent striking of Alistair Overeem tested by the overwhelming power of Francis Ngannou. These two heavyweights could very well be fighting to cement themselves as next in line for a shot at the champion, Stipe Miocic.
Alistair Overeem
Record: 43-15
Height: 6'5″ (196cm)
Reach: 80.0″ (203cm)
It seems like Alistair Overeem has been around forever. With 43 wins to his name, you would be surprised to discover that Overeem has never won gold in the UFC. After working his way through the heavyweight division to earn a shot against Miocic at UFC 203, Overeem eventually fell short in the first round. Many believed Overeem would find it difficult to work his way back to another opportunity to win the UFC Heavyweight Championship, but a win against Francis Ngannou here at UFC 218 could earn him the rights to do so.
Francis Ngannou
Record: 10-1
Height: 6'4″ (193cm)
Reach: 83.0″ (211cm)
Since joining the UFC in December 2015, Ngannou has finished each of his five opponents before the third round. His list of wins is about as impressive as it gets without topping either Miocic, Werdum, or Overeem, and he has recorded victories against Curtis Blaydes and Andrei Arlovski in dominant style. Dana White and the UFC view Ngannou as the UFC's next 'big' star and a win against Alistair Overeem will see one of the most anticipated matchups recent heavyweight history eventuate.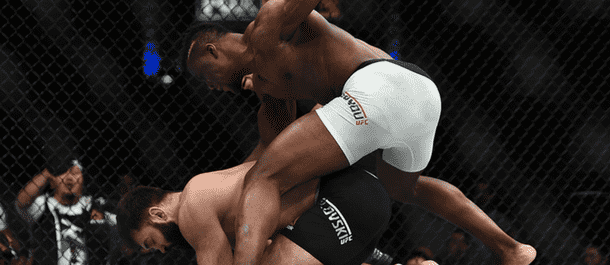 Fight Breakdown
Alistair Overeem is absolutely nasty from long-range and in the clinch. More recently, he has remained extremely patient with his approach to fighting and has compensated for his relatively weak chin by improving his defensive remarkably. He digs heavy kicks into an opponent's body before finishing combinations with punches. If Overeem can do this all day, he is going to win almost every contest. The problem for "The Reem" is when an opponent lands their hands on his fragile chin.
There are many ways for Ngannou to land cleanly on Alistair Overeem. Most noticeable is the opportunity that exists after a lazy kick from Overeem. Ngannou's speed, power, and complete athleticism is unbelievable for someone his size. He has the anticipation to be able to counter over the top of an Overeem kick with a crashing right hand that could end the fight immediately.
We've seen this all too often to not believe it will happen at UFC 218.
Of course, there are questions as to how Ngannou holds up in the third round- but just because we haven't seen him there before doesn't mean he isn't able to perform when it gets there.
As for Overeem's dangerous clinch, Ngannou should be able to use his strength to control and avoid the position.
Prediction and Betting Guide
If Overeem can't finish Ngannou early, it will be a bad ending for Overeem in this contest because Francis Ngannou is going to land a strike. When he does, there's almost no question as to whether Overeem can survive such a powerful blow.
Prediction: Francis Ngannou by KO/TKO – Round 1
As for our recommended bet, Ngannou is a heavy favorite and there isn't much value betting on him to win. Instead, if you select Under 1.5 Rounds at Bet365, you will find much more value.
Best Bet
Alistair Overeem vs. Francis Ngannou
Total Rounds – Under 1.5
Saturday, 2 December – 11:30 pm (ET) / 4:30 am (GMT)
Odds: 1.80Bet €100 to win €1804/5Bet £100 to win £180-125Bet $100 to win $1800.80Bet HK$100 to win HK$180-1.25Bet Rp100 to win Rp1800.8000Bet RM100 to win RM180 – Bet365
Alistair Overeem
Francis Ngannou
UFC 218