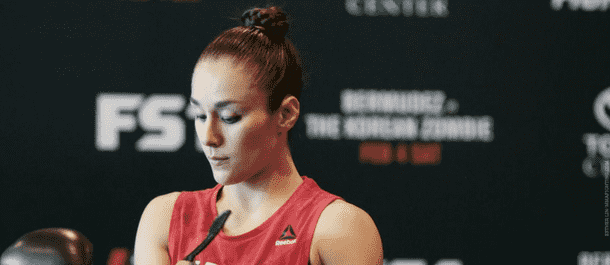 Alexa Grasso vs. Tatiana Suarez
Santiago, Chile – Sunday, May 19 – 12:00 am (ET) / 4:00am (GMT)
The co-main event of the evening here in Chile is a fascinating women's strawweight clash between Alexa Grasso and Tatiana Suarez.
Alexa Grasso was once considered a rising star of the division. However, much of that respect has fatigued since she lost to Felice Herrig and has since battled to a split decision win against Randa Markos. Grasso certainly has loads of potential, but she hasn't shown a killer instinct that is required by the very best martial artists in the UFC. She'll need to bring her A-game if she wants to stop the takedowns of Tatiana Suarez.
Tatiana Suarez has the framework to be a future champion. She's wrestling-focused and will continually take an opponent down to the mat before grinding them out and outworking them down there. Suarez was the winner of the all-female strawweight season of The Ultimate Fighter in 2016 but has only appeared in the UFC's Octagon twice so far.
Betting Market and Prediction
Tatiana Suarez is a massive favorite in this contest and has moved from -110 all the way out to -409. I'd still pick her to win, but this kind of line movement is intimidating for bettors. With Vegas considering the matchup close to even at first, Grasso can now be found at +385 over at BetOnline.
That's tempting, and in fact, I'll recommend taking the value bet in this scenario.
Bet: Alexa Grasso to win +385 at BetOnline
Dominick Reyes vs. Jared Cannonier
Santiago, Chile – Saturday, May 19 – 11:30 am (ET) / 3:30 am (GMT)
Dominick Reyes is a seriously talented up-and-comer and he will battle against Jared Cannonier in a light heavyweight three-round war this weekend at UFC Fight Night 129.
Dominick Reyes has loads of potential in the light heavyweight division. Undefeated in his career, Reyes has stopped his last five opponents in the first round and three of those wins came in less than a minute. He's ferocious, powerful, and slick enough to outmaneuver most opponents. He'll face his toughest test to date when he meets the dangerous Jared Cannonier in Chile.
Jared Cannonier has excellent boxing for the light heavyweight division but has really struggled to get the fight on his own terms recently. Cannonier previously competed in AFC before moving to the UFC where he has had six fights now and he only recently made the move away from his home to go and focus full-time on his fighting career. It's time to see if the move pays off for him.
Betting Market and Prediction
Dominick Reyes opened as the favorite and has maintained his position as a -240 option at Bovada.
He should win, and this makes for one of the very best bets of this event.
Bet: Dominick Reyes to win -240 at Bovada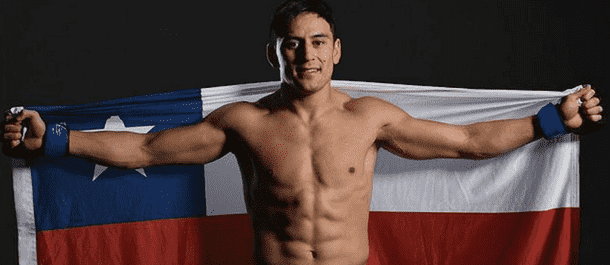 Diego Rivas vs. Guido Cannetti
Santiago, Chile – Saturday, May 19 – 11:00 am (ET) / 3:00 am (GMT)
Diego Rivas vs. Guido Cannetti isn't your typical main-card matchup, but these two will surely engage the crowd in Chile.
Diego Rivas last competed in August 2017 when he met Jose Alberto Quinones and dropped a unanimous decision. The fight stopped a two-fight winning streak for Rivas, who had redeemed himself after losing to Gabriel Benitez on The Ultimate Fighter Latin America Season 1 in May 2014.
Guido Cannetti is the next man up for Rivas and he'll be competing against the local favorite. Cannetti, who is 38-years-old, returned to the cage after his USADA suspension to face Kyung Ho Kang from South Korea. Cannetti failed to get the job done against his opponent, however, and was submitted late in the first round by a slick triangle choke.
Betting Market and Prediction
Both of these guys are not 'good,' by UFC standards, but Rivas is slightly better. Cannetti has been on the decline and won't be able to hang in there with Rivas. I'm expecting a KO/TKO finish.
Bet: Diego Rivas to win -140 at BetOnline
https://www.youtube.com/watch?v=5k7BVmDt9WU
Andrea Lee vs. Veronica Macedo
Santiago, Chile – Saturday, May 19 – 10:30 am (ET) / 2:30 am (GMT)
Andrea Lee will make her UFC debut this weekend when she battles Veronica Macedo.
Andrea Lee has been one of the most consistently great female flyweight fighters in mixed martial arts. Unfortunately, the UFC hasn't always had a flyweight division for their fighters and now that they do, Lee has made the switch over from Invicta FC to compete against the best that the UFC has to offer. Lee is a LFA flyweight champion and is riding a solid streak of wins as she steps into the cage here against Macedo.
Veronica Macedo is definitely off the radar of many fans worldwide considering that she hasn't competed in nearly two years. Macedo made her UFC debut on short notice against Ashlee Evans-Smith and looked good enough to hang in there with Ashlee until the fatigue started to kick in. Macedo clearly couldn't hang in there with Evans-Smith in the final round and was eventually overwhelmed. However, she did show lots of promise for a 22-year-old fighter.
Betting Market and Prediction
Andrea Lee is the favorite here and that makes a lot of sense. She's coming off a successful title defense at LFA and enters in great form. Macedo, on the other hand, hasn't been seen since she last competed nearly two years ago.
But at the time, she was competing in a weight division about where she should really be. With a full camp, a new weight class, and two years of improvement (remember she's only 22-years-old), Macedo might be in a position to score an upset against Andrea Lee here.
I just can't back her to win, though, because Lee's forward pressure will negate the effectiveness of Macedo's kicks.
Bet: Andrea Lee to win -265 at BetOnline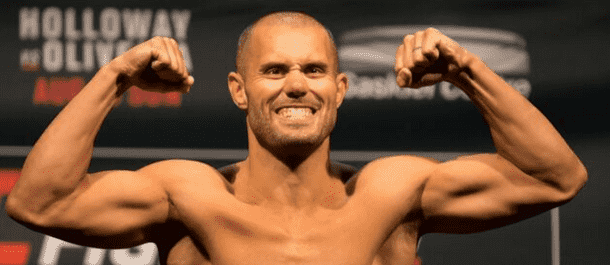 Chad Laprise vs. Vicente Luque
Santiago, Chile – Saturday, May 19 – 10:00 am (ET) / 2:00 am (GMT)
Chad Laprise is riding a wave of momentum as he faces off with Vicente Luque this weekend in Chile.
Chad Laprise suffered back-to-back losses to Franciso Trinaldo and Ross Pearson two years ago and it looked like his career was de-railing. However, he has managed to string together three consecutive KO/TKO victories since then and now looks to be building his career up once again. With a record of 13-2, those two losses were Laprise's only and he now sits at 6-2 in the UFC.
Vicente Luque is another highly-talented fighter in the UFC that you may not be aware of. With three of his last four fights on the European and South American circuit, Luque will now feature on the fight card in Chile. Despite losing to Leon Edwards by unanimous decision, Luque has been on quite the roll himself. He has finished five of his last six fights by way of stoppage – two via KO/TKO and three by way of submission. Luque makes for a dangerous fighter no matter where he ends up.
Betting Market and Prediction
This fight makes for one of the most interesting betting decisions of the night. Laprise is a talented fighter with some big wins to his name but will step in as an underdog to Luque. That's simply because Luque has shown tremendous levels of improvement through his most recent fights.
Bet: Vicente Luque to win -177 at BetOnline
Betting Plays
Best Bets:
I recommend throwing Dominick Reyes together with Kamaru Usman, who will be fighting against Demian Maia in the main event, for a nice accumulator bet this weekend.
Alexa Grasso to win +385 at BetOnline
Dominick Reyes to win -240 at Bovada
Diego Rivas to win -140 at BetOnline
Andrea Lee to win -265 at BetOnline
Vicente Luque to win -177 at BetOnline
Alexa Grasso
Tatiana Suarez
UFC Fight Night 129