Max Holloway and Jose Aldo are set to throw down for a second time at UFC 218 this weekend.
Five months ago now, Holloway stole the UFC Featherweight Championship from Aldo in the third round of their contest in Brazil. Holloway stunned the champion with a brilliant 1-2 combination down the middle before finishing him off just moments later.
Will Aldo get his revenge, or are we truly living in the 'Blessed Era'?
Max Holloway
Record: 18-3
Height: 5'11" (180cm)
Reach: 69.0″ (175cm)
Max "Blessed" Holloway could very well be one of the greatest pound-for-pound fighters in the UFC right now.
His meteoric rise included technical beatdowns of Anthony Pettis, Ricardo Lamas, Jeremy Stephens and Cub Swanson all before he even got to the greatest featherweight of all-time in Aldo.
Holloway is the real deal. He pushes forward at a relentless pace as the fight progresses and causes plenty of panic for opponents. His last loss came way back in 2013 against Conor McGregor at UFC Fight Night 26.
Jose Aldo
Record: 26-3
Height: 5'7″ (170cm)
Reach: 70.0″ (178cm)
Jose Aldo's extended time as the undisputed UFC Featherweight Champion came to a sudden ending at UFC 194 at the hands of Conor McGregor. While that is nearly two years ago now, the effect still lingers.
Aldo was seemingly back to his best in his bout with Frankie Edgar at UFC 200 after decisively picking him apart for five rounds before winning a clear unanimous decision.
He looked just as good in the first round against Holloway as well, but his night ended horribly for all the Brazilians in attendance to witness. He was left helpless on the canvas as a ferocious Holloway gave him a prolonged beatdown.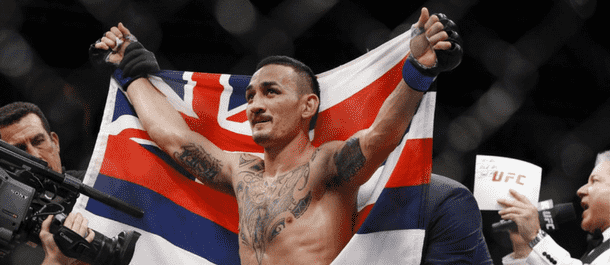 Fight Breakdown
Well, I'm still not sure whether this fight breakdown becomes easier or not now that we have seen these two battle it out before.
The First Time
Because we tend to remember Holloway's destructive efforts in round three, it's easy to forget just how good Jose Aldo looked in round one.
Aldo looked faster, more composed and the quicker of the two fighters. He connected with heavy shots and at one stage looked to have stunned Holloway badly. He landed flush with some strikes, before following through with even heavier hooks and straights but Holloway was able to recover quickly. The first round was all Jose Aldo.
But, Max Holloway seemingly kicked into another gear late in round two. His confidence grew, his hands went down and he started taunting Jose Aldo in the middle of the octagon.
In fact, up until the start of round three, Aldo was controlling almost every exchange. He was up two rounds to nil and Holloway seemed to have no answer for him.
That was until Holloway caught him with a flush 1-2 combination that ended the fight spectacularly.
This time
To keep this as short as possible, I'll point out what could affect the outcome of the rematch:
Aldo's keys to victory:
Go back to his leg kicks, we haven't seen Aldo use these kicks in three fights now.
Not trade with Holloway in the pocket.
Mix things up with takedown attempts to keep Holloway from continually pushing forward with no regard for Aldo's power.
Holloway's keys to victory:
Start faster. He took too long to get going in the first fight and that could cost him this time around.
Walk forward and not be put on the back foot.
Throw combinations and force Aldo to defend.
Prediction and Betting Guide
While I believe that the safer play is to back Max Holloway to score another victory here, the safest play isn't always the best option when it comes to sports betting.
We backed Holloway as the underdog last time, but this time I recommend playing it the other way.
Aldo enters this fight as a significant betting underdog – despite getting the better of Holloway for two of the three rounds!
Jose Aldo by unanimous decision
Best Bet
Max Holloway vs. Jose Aldo
Jose Aldo to Win
Saturday, 2 December – 11:55 pm (ET) / 4:55 am (GMT)
Odds: 3.50Bet €100 to win €3505/2Bet £100 to win £350+250Bet $100 to win $3502.50Bet HK$100 to win HK$3502.50Bet Rp100 to win Rp350-0.4000Bet RM100 to win RM350 – Bet365
Jose Aldo
Max Holloway
UFC 218