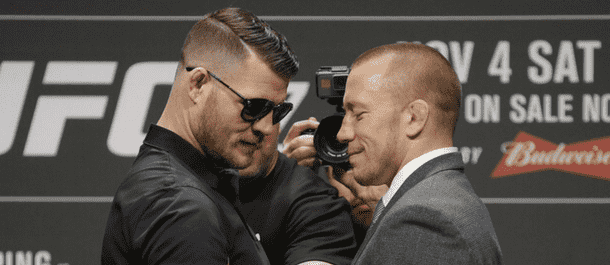 Who would have guessed that Michael Bisping would be defending his UFC Middleweight Championship against Georges St-Pierre in 2017? This fight is the comeback of 'GSP', who is one of the most renowned champions in UFC history. He'll need to get through a fighter who looks to silence all the critics out there.
Michael Bisping
Record: 30-7
Height: 6'1″ (186cm)
Reach: 75.5″ (192cm)
Odds: 1.88Bet €100 to win €18822/25Bet £100 to win £188-114Bet $100 to win $1880.88Bet HK$100 to win HK$188-1.14Bet Rp100 to win Rp1880.8800Bet RM100 to win RM188
Finally, the UFC Middleweight Championship will be defended again. After Bisping somehow defeated Luke Rockhold in a stunning upset at UFC 199, he has since gone on to defeat Dan Henderson and defend his title. After remaining inactive for 12 months, he'll now step back in the octagon and defend it for the second time.
This time, however, Bisping is rejuvenated and has a point to prove. All because an overwhelming majority of MMA fans around the world believe that he isn't even the best fighter in the middleweight division, even though he's the champion. A win over GSP would mark him as the first ever man to defeat Anderson Silva and Georges St-Pierre, two legends of the sport.
Georges St-Pierre
Record: 25-2
Height: 5'11" (180cm)
Reach: 76.0″ (193cm)
Odds: 2.10Bet €100 to win €21011/10Bet £100 to win £210+110Bet $100 to win $2101.10Bet HK$100 to win HK$2101.10Bet Rp100 to win Rp210-0.9091Bet RM100 to win RM210
Many thought that Georges St-Pierre would never come back to the sport. After he left mixed martial arts in 2013 after a controversial split decision with Johny Hendricks, St-Pierre had written his name in history books and left his UFC Welterweight Championship on the floor as he walked out of the organization.
St-Pierre hasn't lost since 2007. Even then, it was the most shocking of upsets as Matt Serra finished him inside the first round and left the world wondering what had happened.
St-Pierre is back and ready to become the fourth-ever two-weight UFC champion.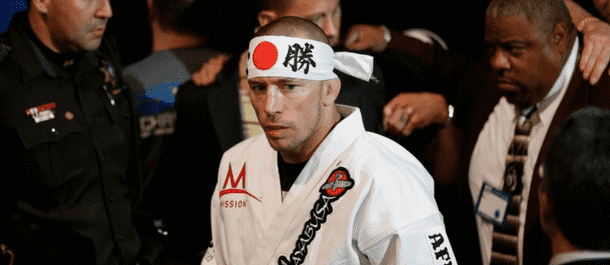 Fight Breakdown
One thing is for certain; we don't know what kind of Georges St-Pierre we will see at UFC 217. He's been away for four years now and had time to develop his abilities as a mixed martial artist. If he hasd improved, in any sense, from when he left the sport, he is going to cause insane difficulty for Michael Bisping this weekend.
The reason? Well, St-Pierre is capable of taking Bisping down to the mat and neutralizing any and all of Bisping's natural advantages. St-Pierre's usual strategy of taking opponents down to the mat before smashing them from top position will be his likely path to victory at UFC 217.
However, there are some reasons to believe this might not be as smooth as he would hope for. Michael Bisping is an excellent scrambler, and although GSP may be able to take Bisping down to the canvas, he may struggle to keep him there for prolonged periods of time. While it's not all glorious technique and style from Bisping, it's more of a display of his determination and will to win.
If Bisping can work back to his feet early and often, it will be difficult for GSP to match his pace there. St-Pierre has brought in Freddie Roach to help improve his boxing abilities, but we're now at the point in which any improvements to GSP's boxing will still see him below the standard of Michael Bisping's kickboxing ability. Standing up with Bisping will prove incredibly dangerous for the Canadian.
While standing, Bisping will need to operate a little differently. He won't be able to march forward with combinations much like he famously caught Luke Rockhold with, because doing so will see him walk straight into a Georges St-Pierre double-leg takedown. Instead, Bisping might need to keep distance and pick GSP apart from range.
Prediction and Betting Guide
It's possible that Georges St-Pierre finds immediate takedowns and starts to work Bisping over on the mat. In fact, this is the most probable outcome. However, the real question will be whether or not GSP can continue at this pace deep into the fight as Bisping continually finds a way to work back to his feet and make this a kickboxing fight. By round three, we'll have a fair idea of how this fight is going to play out, and the chances are that Bisping should steal a narrow decision victory.
Michael Bisping by split decision
Best Bet
Michael Bisping vs. Georges St-Pierre
Michael Bisping to Win
Saturday, 4th November – 11:50 pm (ET) / 3:50am (GMT)
Odds: 2.10Bet €100 to win €21011/10Bet £100 to win £210+110Bet $100 to win $2101.10Bet HK$100 to win HK$2101.10Bet Rp100 to win Rp210-0.9091Bet RM100 to win RM210 – BetVictor
Georges St-Pierre
Michael Bisping
UFC 217