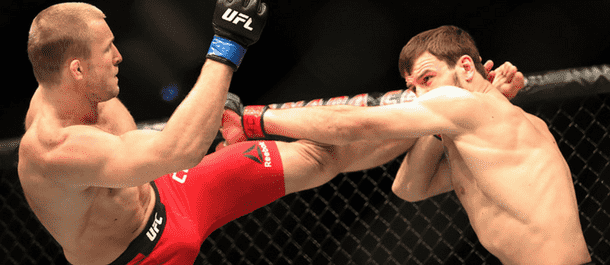 The UFC Fight Night 109 main card is stacked with six exciting fights. We will provide our comprehensive betting guide stretched out over two articles considering there is plenty of action to cover this weekend.
If you haven't already, make sure to check out our detailed preview and betting strategy for the main event between Alexander Gustafsson and Glover Teixeira.
Misha Cirkunov vs. Volkan Oezdemir
Many claim the light heavyweight division to be shallow, but rising talent such as Misha Cirkunov and Volkan Oezdemir will be looking to change perceptions in the co-main event at UFC Fight Night 109.
The UFC rankings are strange, so very strange. Oezdemir is currently ranked as #5 in the light heavyweight division after winning his debut against Ovince St. Preux. Cirkunov is ranked #7 after going 4-0 in the UFC to date.
Misha Cirkunov
Record: 13-2
Height: 6'3″ (191cm)
Reach: 77.0″ (196cm)
Misha Cirkunov isn't a household name in the UFC just yet, but he's well on the way to doing so after stopping all four of his UFC opponents. Cirkunov is undoubtedly an up-and-coming prospect in the UFC, which made it extremely strange to hear that Dana White and Cirkunov had not reached a deal to continue his UFC career back in February. White, three weeks later, then announced that Cirkunov and the UFC were able to come to an agreement.
We successfully backed Misha Cirkunov to defeat the talented Nikita Krylov back in December. It goes without saying that if Cirkunov can finish Volkan Oezdemir at UFC Fight Night 109, he'll be very close to the conversations for a title shot.
Volkan Oezdemir
Record: 13-1
Height: 6'2″ (188cm)
Reach: 75.0″ (191cm)
Volkan Oezdemir successfully debuted in the UFC by scoring a split decision victory against Ovince St. Preux. The win bumped him all the way up to #5 in the official UFC light heavyweight rankings.
"I think I need to prove to the fans that I deserve to be in the top-5″, Oezdemir said in an interview on BJ Penn Radio.
Writing for the #FighterBlogs section of Champions, Oezdemir explains how his training with Luke Rockhold has been the perfect way to prepare for his fight against Misha Cirkunov. Luke Rockhold and Combat Club fighter Linton Vassell both have genius ground games, so Oezdemir's training with these two fighters should help prepare him for Cirkunov's submission game.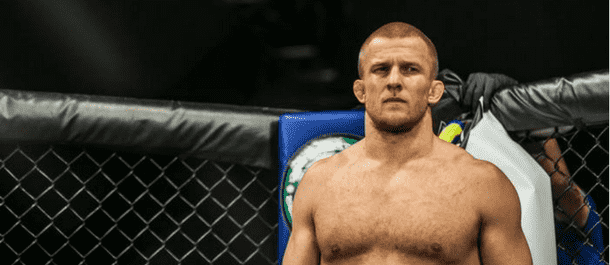 The Breakdown
Volkan Oezdemir believes his stand-up game is better than Cirkunov's. I don't see it that way and instead, I see Oezdemir's striking capabilities playing into the hands of Cirkunov.
Cirkunov is almost like an anti-striker, who is able to time his opponent's kicks and turn them into successful takedowns. Alternatively, he is able to catch kicks and return with punches down the middle. He knocked Krylov down with a counter left hand before strangling him with a tight guillotine.
Oezdemir won the fight against Ovince St. Preux by successfully punishing the legs with inside leg kicks and work in the clinch. Both of these strategies aren't effective against Cirkunov, who has excellent kick defence and high-level judo.
Betting Strategy
I'd be very surprised if Oezdemir makes it to the third round against Cirkunov, who is a proven finisher. The bookmakers agree, with Misha Cirkunov booked as the clear favourite at odds of 1.25Bet €100 to win €1251/4Bet £100 to win £125-400Bet $100 to win $1250.25Bet HK$100 to win HK$125-4.00Bet Rp100 to win Rp1250.2500Bet RM100 to win RM125 .
I'm liking the idea of an alternative bet on Misha Cirkunov to win in Round 2 at 6.00Bet €100 to win €6005/1Bet £100 to win £600+500Bet $100 to win $6005.00Bet HK$100 to win HK$6005.00Bet Rp100 to win Rp600-0.2000Bet RM100 to win RM600 .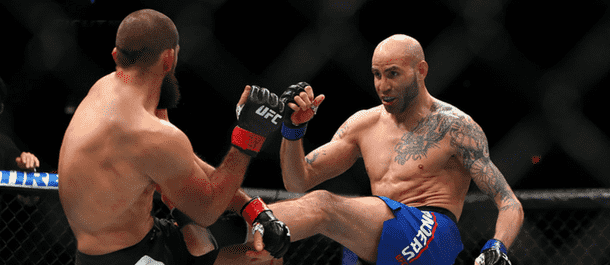 Ben Saunders vs. Peter Sobotta
Ben Saunders' slick Muay-Thai skills and 10th Planet submission game will be matched up against the Brazilian jiu-jitsu black belt of Peter Sobotta in an exciting matchup between these two welterweights.
Ben Saunders
Record: 21-7-2
Height: 6'3″ (190cm)
Reach: 77.5″ (197cm)
Gym: American Top Team
The always exciting Ben Saunders looks to continue the momentum gained from a 29-28 victory against Court McGee at UFC Fight Night 103. Saunders fights out of American Top Team but continually works his submission game at 10th Planet Jiu-Jitsu in California, as well.
Saunders has opted to fly to Sweden ten days early to train at 10th Planet Stockholm and acclimatise to the cold weather. Saunders is now 5-1 in his last six outings with three submission victories in this period.
Peter Sobotta
Record: 16-5-1
Height: 6'0″ (183cm)
Reach: 75.0″ (191cm)
Gym: Planet Eater
Peter Sobotta has scraped together an impressive 8-1 record in his last nine fights and three wins from his four outings in the UFC. Like many of the European fighters in the organisation, Sobotta has never competed in the United States and for this reason remains relatively unknown.
His UFC victories came against Nicolas Dalby, Steven Kennedy and Pawel Pawlak with his lone loss at the hands of Kyle Noke in the Rousey vs. Holm card at UFC 193. Sobotta works an impressive jiu-jitsu game in with his improved stand-up that he has developed over the years of competing as a professional.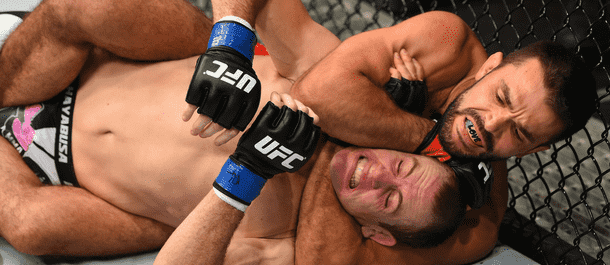 The Breakdown
The key for each of these fighters is control. Saunders will be controlling the stand-up and Sobotta has the heavy top-pressure that could control the fight when it hits the mat.
Saunders is a tall welterweight with excellent range management and an impressive arsenal of Muay-Thai strikes, including sharp elbows and knees. His striking will keep Sobotta wary of shooting in from a distance or engaging in short-range striking exchanges with Saunders.
On the mat, if Sobotta can secure top position, there's every chance that he could keep Saunders' back pinned to the mat and disable his aggressive submission game. Also, while Saunders has an unusual selection of submissions from all positions, it'll be a test to get back to his feet against an accomplished black belt in Brazilian jiu-jitsu.
Putting all of this together and because of the simple fact that every round starts standing up, I think that Saunders will be able to control the majority of the fight with his striking combinations and effective kicks. If it hits the mat, he can either opt to scramble back to his feet or throw up submission attempts.
Betting Strategy
The bookmakers have released this one as a relatively even bout with Saunders coming in at 1.80Bet €100 to win €1804/5Bet £100 to win £180-125Bet $100 to win $1800.80Bet HK$100 to win HK$180-1.25Bet Rp100 to win Rp1800.8000Bet RM100 to win RM180 and Sobotta at 2.00Bet €100 to win €2001/1Bet £100 to win £200+100Bet $100 to win $2001.00Bet HK$100 to win HK$2001.00Bet Rp100 to win Rp2001.0000Bet RM100 to win RM200 .
Selecting Saunders to win at 1.80Bet €100 to win €1804/5Bet £100 to win £180-125Bet $100 to win $1800.80Bet HK$100 to win HK$180-1.25Bet Rp100 to win Rp1800.8000Bet RM100 to win RM180 , provides excellent value. I won't be looking to increase earnings with the method of victory market considering Sobotta's ability to control the fight on the mat for extended periods.
Best Bets
Misha Cirkunov vs. Volkan Oezdemir
Misha Cirkunov to Win in Round 2
Sunday 28th May, 22:30 GMT
Odds: 6.00Bet €100 to win €6005/1Bet £100 to win £600+500Bet $100 to win $6005.00Bet HK$100 to win HK$6005.00Bet Rp100 to win Rp600-0.2000Bet RM100 to win RM600 – Bet365
Ben Saunders vs. Peter Sobotta
Ben Saunders to Win
Sunday 28th May, 22:00 GMT
Odds: 1.80Bet €100 to win €1804/5Bet £100 to win £180-125Bet $100 to win $1800.80Bet HK$100 to win HK$180-1.25Bet Rp100 to win Rp1800.8000Bet RM100 to win RM180 – Bet365
Ben Saunders
Misha Cirkunov
MMA
UFC
UFC Fight Night 109