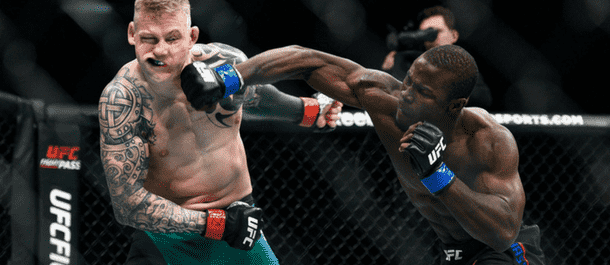 Because the UFC Fight Night 109 main card is loaded up with six big fights this weekend, this article serves as the second part of our main card preview. Part one details the betting strategy for the first two fights of the main card, Misha Cirkunov vs. Volkan Oezdemir and Ben Saunders vs. Peter Sobotta.
If you haven't already, make sure to read our betting preview and best bets for the main event, Alexander Gustafsson vs. Glover Teixeira.
Abdul Razak Alhassan vs. Omari Akhmedov
Omari Akhmedov will be tasked with the challenge of stopping Abdul Razak Alhassan's thunderous seven-fight streak of finishing opponents in 86 seconds or less this weekend at UFC Fight Night 109.
Abdul Razak Alhassan
Record: 7-0
Height: 5'10" (178cm)
Reach: 72.0″ (183cm)
Gym: Team Takedown
Yes, you read that correctly, Abdul Razak Alhassan has finished each of his opponents in less than a minute and a half. While it's one of those crazy statistics you wonder how long it can continue for, there's no doubting how exciting it is. In his UFC debut back at UFC Fight Night 99, Alhassan finished Charlie Ward in just 53 seconds. Let's jump on the bandwagon as 'Judo Thunder' looks to be one of the most promising up-and-coming knockout artists in the organisation.
Omari Akhmedov
Record: 16-4
Height: 6'0″ (183cm)
Reach: 73.0″ (185cm)
Gym: DagFighter
Omari Akhmedov is a veteran with plenty of experience as a professional mixed martial artist, scoring 16 wins from his 20 fights to date. Fighting out of Dagestan, Russia, you can already imagine Akhmedov's fighting style; a mixture of strong takedowns and gritty grappling is the game with some wild strikes thrown in there for good measure, too. His last outing, against Kyle Noke, was his best yet and Akhmedov was able to control Kyle Noke on the mat for long periods.
The Breakdown
Surely, Omari Akhmedov doesn't plan to stand and bang with the proven knockout artist in Abdul Razak Alhassan. If he does, it could spell immediate trouble for the Dagestan fighter. A patient and well-measured approach from Akhmedov could walk Alhassan into the previously unrealised territory of the third minute of a fight.
There are ways for Akhmedov to stall this one and it will begin by keeping his back away from the cage and attempting to take Alhassan down to the mat when he does rush forward.
Alhassan, on the other hand, will have a different idea. His athleticism means he should be able to fend off the takedown attempts of Akhmedov for long enough to land one his of signature knockout punches to the face of his opponent.
Betting Strategy
Abdul Razak Alhassan is a 1.40Bet €100 to win €1402/5Bet £100 to win £140-250Bet $100 to win $1400.40Bet HK$100 to win HK$140-2.50Bet Rp100 to win Rp1400.4000Bet RM100 to win RM140 favourite in the eyes of the bookmakers, and I don't recommend playing that selection.
Instead, if we're looking for a value selection here at UFC Fight Night 109 I'd recommend playing Abdul Razak Alhassan to win in Round 2 at odds of 8.00Bet €100 to win €8007/1Bet £100 to win £800+700Bet $100 to win $8007.00Bet HK$100 to win HK$8007.00Bet Rp100 to win Rp800-0.1429Bet RM100 to win RM800 .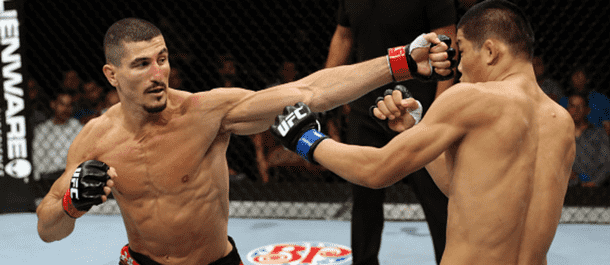 Nordine Taleb vs. Oliver Enkamp
The undefeated 25-year-old Oliver Enkamp steps in on short notice to replace Emil Meek in a bout against Nordine Taleb.
Nordine Taleb
Record: 12-4
Height: 6'3″ (190cm)
Reach: 75.0″ (191cm)
Gym: Tristar Gym
35-year-old Nordine Taleb has struggled to find consistency in the UFC since beginning with three consecutive wins in the promotion. Since then, Taleb has managed a 2-2 record, including a unanimous decision loss in his most recent outing against Santiago Ponzinibbio, despite Taleb beating up the lead leg of Ponzinibbio for the majority of the fight.
Oliver Enkamp
Record: 7-0
Height: Unknown
Reach: Unknown
Gym: Pancrase Gym Sweden
What a way to debut in the UFC! Oliver Enkamp replaces Emil Meek to take on Nordine Taleb in front of his hometown fans in Sweden. The 25-yearr-old has been competing in the Swedish regional scene and has not yet lost as a professional.
The Breakdown
On short notice, we can only assume that Oliver Enkamp will enter this one trying to play to his strengths of karate and aggressive submission grappling on the mat. His stand-up is somewhat slick, and he has a pretty cool bag of tricks including lots of spinning kicks which will undoubtedly be entertaining to watch.
Taleb will try to trade in classic Muay-Thai style and will immediately send back both punches and kicks when Enkamp tries any fancy striking. Taleb also has heavy hands, and if they connect cleanly, it could result in a very sudden ending to Enkamp's debut.
Taleb is the much more composed and experienced fighter in this bout, and it goes without saying that he should be victorious against newcomer Oliver Enkamp.
Betting Strategy
Nordine Taleb opens up as a 1.25Bet €100 to win €1251/4Bet £100 to win £125-400Bet $100 to win $1250.25Bet HK$100 to win HK$125-4.00Bet Rp100 to win Rp1250.2500Bet RM100 to win RM125 favourite, which is no surprise. While Taleb should win, I won't be backing him with odds this short.
In situations like this, it's best to take a look at alternative markets to extract value from the fight. The total rounds market is heavily favoured towards the over 2.5 rounds selection.
I highly recommend taking the opposite side of this and playing the under 2.5 rounds selection with confidence.
Odds: 2.62Bet €100 to win €26281/50Bet £100 to win £262+162Bet $100 to win $2621.62Bet HK$100 to win HK$2621.62Bet Rp100 to win Rp262-0.6173Bet RM100 to win RM262 – PaddyPower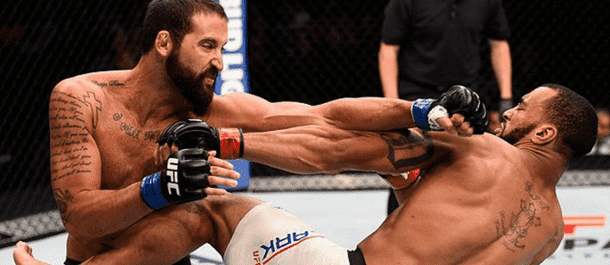 Jack Hermansson vs. Alex Nicholson
Swedish up-and-comer Jack Hermansson gets to fight in Sweden for the first time in his professional career when he takes on Alex Nicholson on the main card of UFC Fight Night 109.
Jack Hermansson
Record: 14-3
Height: 6'1″ (185cm)
Reach: 75.0″ (191cm)
Gym: Frontline Academy
Jack Hermansson is a rising European talent who currently fights out of Norway. He entered the UFC in September 2016 and won a dominant unanimous decision against Scott Askham. His dream start in the UFC ended quickly after when Hermansson tapped to Cezar Ferreira who had secured an arm-triangle in the second round. Now, he'll look to get back on track against the dangerous striker, Alex Nicholson.
Alex Nicholson
Record: 7-3
Height: 6'4″ (193cm)
Reach: 77.5″ (197cm)
Gym: UFC Gym Winter Springs
Alex Nicholson has had a wild start to his UFC career, and it all started when Misha Cirkunov broke Nicholson's jaw in February 2016. At UFC Fight Night 91, Nicholson finished Devin Clark in the first round and returned to the winner's column as a professional. He was then matched against Sam Alvey in November, but despite an impressive opening round, Nicholson lost a unanimous decision to Alvey.
As for the upcoming bout against Jack Hermansson, Nicholson believes that there is no way Hermansson can defeat him: "I think I'm a better, bigger, stronger person anywhere it goes. If he underestimates my ground game, I'm going to choke his ass unconscious."
The Breakdown
Nicholson is a very aggressive head-hunter who always pursues his opponent. He will keep coming forward even after being rocked, and this was on display against Sam Alvey in his most recent fight.
Hermansson likes to throw some heat, also. He'll be able to do so in this one without worrying about being taken down considering that Nicholson has not attempted a single takedown in his UFC career.
I completely expect both of these guys to stand and trade from the opening bell. Nicholson packs a little more power than Hermansson, and I believe he has the capability to remove Hermansson from the octagon before the end of the fifteen minutes.
Betting Strategy
I'm going to be backing Nicholson to finish Hermansson this weekend at UFC Fight Night 109.
I recommend spreading our selection out over two bets, Alex Nicholson to win 2.20Bet €100 to win €2206/5Bet £100 to win £220+120Bet $100 to win $2201.20Bet HK$100 to win HK$2201.20Bet Rp100 to win Rp220-0.8333Bet RM100 to win RM220 at Ladbrokes and the under 2.5 total rounds selection, 2.25Bet €100 to win €2255/4Bet £100 to win £225+125Bet $100 to win $2251.25Bet HK$100 to win HK$2251.25Bet Rp100 to win Rp225-0.8000Bet RM100 to win RM225 at PaddyPower.
Best Bets
Abdul Razak Alhassan vs. Omari Akhmedov
Abdul Razak Alhassan to win in Round 2
Sunday 28th May, 21:30 GMT
Odds: 8.00Bet €100 to win €8007/1Bet £100 to win £800+700Bet $100 to win $8007.00Bet HK$100 to win HK$8007.00Bet Rp100 to win Rp800-0.1429Bet RM100 to win RM800 – SkyBet
Nordine Taleb vs. Oliver Enkamp
Total Rounds – Under 2.5
Sunday 28th May, 21:00 GMT
Odds: 2.62Bet €100 to win €26281/50Bet £100 to win £262+162Bet $100 to win $2621.62Bet HK$100 to win HK$2621.62Bet Rp100 to win Rp262-0.6173Bet RM100 to win RM262 – PaddyPower
Jack Hermansson vs. Alex Nicholson
Alex Nicholson to win
Sunday 28th May, 20:00 GMT
Odds: 2.20Bet €100 to win €2206/5Bet £100 to win £220+120Bet $100 to win $2201.20Bet HK$100 to win HK$2201.20Bet Rp100 to win Rp220-0.8333Bet RM100 to win RM220 – Ladbrokes
Jack Hermansson vs. Alex Nicholson
Total Rounds – Under 2.5
Sunday 28th May, 19:30 GMT
Odds: 2.25Bet €100 to win €2255/4Bet £100 to win £225+125Bet $100 to win $2251.25Bet HK$100 to win HK$2251.25Bet Rp100 to win Rp225-0.8000Bet RM100 to win RM225 – PaddyPower
MMA
UFC
UFC Fight Night 109