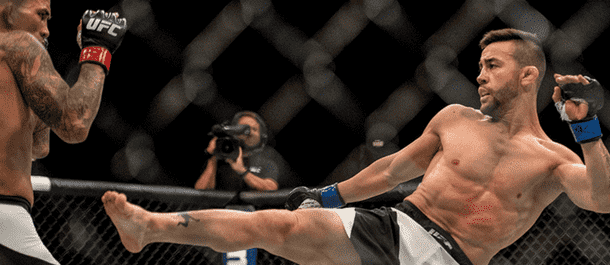 Here is the first of our two previews for the upcoming preliminary bouts at UFC Fight Night 109 this weekend. Make sure to check out our detailed comprehensive betting guide for the main event and all other betting strategies for the upcoming UFC event in Sweden.
Pedro Munhoz vs. Damian Stasiak
Pedro Munhoz enters this fight as the largest favourite of the UFC Fight Night 109 card. He'll be looking to prove that the bookmakers had it correct against Damian Stasiak.
Pedro Munhoz
Record: 13-2
Height: 5'7″ (170cm)
Reach: 65.0″ (165cm)
Gym: Black House MMA
It's been an awkward beginning in the UFC for Munhoz, after being suspended for one year in November 2015. Munhoz tested positive for an "exogenous origin of testosterone metabolites". Pedro lost a close split decision against rising Jimmie Rivera back at UFC Fight Night 77. He has now submitted his last two opponents, Russell Doane and Justin Scoggins, and collected two $50,000 'Performance of the Night' bonuses.
Now, after moving to American Top Team from Kings MMA, Munhoz believes that a win will put him within reach of a title match.
Damian Stasiak
Record: 10-3
Height: 5'8″ (173cm)
Reach: 68.0″ (173cm)
Gym: United Gym
Damian Stasiak, like Pedro Munhoz, is coming off back-to-back submission victories. His most recent finish was a brutal armbar submission of Davey Grant, who elected not to tap and instead have his arm hyperextended. Stasiak is a black-belt in karate and a brown belt in Brazilian jiu-jitsu.
This is Stasiak's last fight on his UFC contract, so he will be looking to on enough of a show so he can earn an opportunity to stay with the UFC. Even better, a win against Pedro Munhoz will ensure he sticks around and gets paid.
The Breakdown
While I don't buy into the idea that Munhoz's odds should be this short, he is the clear favourite in this one.
Munhoz is a talented fighter with an entire pool of ways to win, but it has been his guillotine choke which has finished his last two opponents. When standing, his pressure will ensure that Stasiak can't relax and strike at his own pace.
Stasiak is no walkover, but this is a stylistic problem for him, and he'll have trouble with Munhoz's aggression.
Betting Strategy
Damian Stasiak enters the fight as an 6.20Bet €100 to win €62026/5Bet £100 to win £620+520Bet $100 to win $6205.20Bet HK$100 to win HK$6205.20Bet Rp100 to win Rp620-0.1923Bet RM100 to win RM620 underdog and it's almost tempting to lean his way in a battle of probabilities.
I recommend taking the under 2.5 total rounds selection at
Odds: 2.00Bet €100 to win €2001/1Bet £100 to win £200+100Bet $100 to win $2001.00Bet HK$100 to win HK$2001.00Bet Rp100 to win Rp2001.0000Bet RM100 to win RM200 – Bet365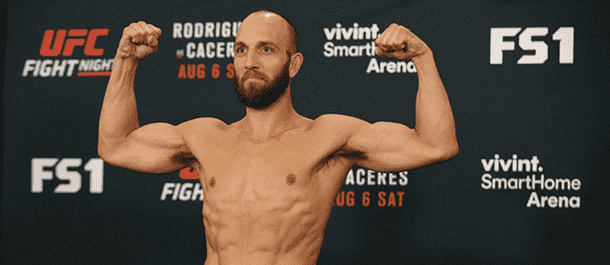 Chris Camozzi vs. Trevor Smith
Chris Camozzi and Trevor Smith will be looking to score another win in the UFC after coming off losses in their previous outings.
Chris Camozzi
Record: 24-12
Height: 6'2″ (188cm)
Reach: 76.5″ (194cm)
Gym: Gumm MMA & Fitness
Chris Camozzi has been around for what feels like forever, debuting in the UFC in 2010. He's currently riding a two-fight losing streak after managing three consecutive wins through 2015-2016. It's tough to see how the UFC would want to keep Camozzi around in the UFC if he manages to lose this one.
Trevor Smith
Record: 14-7
Height: 6'3″ (190cm)
Reach: 75.0″ (191cm)
Gym: Ring Demon Jiu Jitsu
Trevor Smith has also had a lengthy UFC career dating back to 2013. Since joining the organisation, Smith has had eight fights and four wins, yet never has been able to win consecutive fights with the UFC. Trevor Smith has not been able to beat someone in the allotted fifteen minutes inside the octagon, so far. It's a strange blemish on his record after all his victories came via the way of stoppage before the UFC.
The Breakdown
Camozzi will need to keep striking and make Smith think twice about engaging in close-range exchanges and grappling. I can't see Camozzi putting Trevor Smith away in this contest with a single shot, but repeated damage could do the trick.
Trevor Smith, while not being a superstar in any area of the game, is capable of taking Camozzi down to the mat to work his grappling. This will have the effect of not only slowing Camozzi down but allow Smith to hunt for his first UFC stoppage, too.
Betting Strategy
Trevor Smith is a real chance to win this one and I have it a little more even than the bookmakers do.
In this case, take Trevor Smith to win.
Odds: 3.02Bet €100 to win €302101/50Bet £100 to win £302+202Bet $100 to win $3022.02Bet HK$100 to win HK$3022.02Bet Rp100 to win Rp302-0.4950Bet RM100 to win RM302 – Marathon

Reza Madadi vs. Joaquim Silva
Reza 'Mad Dog' Madadi steps in on late notice to take on Joaquim Silva at UFC Fight Night 109.
Reza Madadi
Record: 14-5
Height: 5'11" (180cm)
Reach: 73.0″ (185cm)
Gym: Allstars Training Center
Madadi is replacing Mairbek Taisumov, who has experienced a shoulder injury. 'Mad Dog' has been unable to find consistency in the UFC, going between wins and losses since debuting in 2012. Madadi picked up a major victory against Michael Johnson, submitting him in the third round of a bout in 2013.
Joaquim Silva
Record: 9-0
Height: 5'8″ (173cm)
Reach: 69.0″ (175cm)
Gym: Evolução Thai
Joaquim Silva will boast an impressive 9-0 record as a professional mixed martial artist when he enters the octagon this weekend. We have seen him lose to Glaico Franca in Season 4 of The Ultimate Fighter: Brazil, but it was an exhibition match and doesn't count towards his record.
Since then, Silva has scored two victories in the UFC but none better than his 34-second stoppage of Andrew Holbrook at The Ultimate Fighter 23 Finale. Silva has entered both of his fights in the UFC as an underdog and Silva believes that a win against Madadi will raise the profile of his career.
The Breakdown
Joaquim Silva has dispatched eight of his nine opponents in the first round. He'll be looking to do the same to 'Mad Dog' despite the fact that Madadi has never been stopped in all his nineteen fights as a professional. In Madadi's most recent performance, Joe Duffy lit him up for three rounds but was unable to put Madadi away.
This makes me believe that Joaquim Silva could tread into the unusual waters of the second round this weekend. If so, he may need to adjust his game-plan to outscore Madadi in the eyes of the judges, rather than head-hunting.
Madadi was not able to hold Joe Duffy down for extended periods, but his wrestling capabilities could mean that he stalls Joaquim Silva at times.
Betting Strategy
The bookmakers have gone all-in on Madadi's durability and booked the total rounds betting heavily towards it making the distance.
I'm going to play the other side in the hopes that either fighter can find a way to finish the fight, taking the under 2.5 rounds selection.
Odds: 2.80Bet €100 to win €2809/5Bet £100 to win £280+180Bet $100 to win $2801.80Bet HK$100 to win HK$2801.80Bet Rp100 to win Rp280-0.5556Bet RM100 to win RM280 – Bet365

Nico Musoke vs. Bojan Velickovic
Nico Musoke returns to the cage after 28 months (!!!) to take on the Serbian up-and-comer Bojan Velickovic.
Nico Musoke
Record: 13-4-1
Height: 6'1″ (185cm)
Reach: 75.0″ (191cm)
Gym: Allstars Training Center
Nico Musoke kicked off his UFC career in 2013 with two consecutive wins before losing a unanimous decision to Kelvin Gastelum in 2014. Afterwards, Musoke defeated Alexander Yakovlev before losing to the very tough Albert Tumenov. Musoke has picked a brilliant time to re-enter the octagon in front of his home fans in Sweden.
Bojan Velickovic
Record: 14-4-1
Height: 6'2″ (188cm)
Reach: 76.0″ (193cm)
Gym: Elevation Fight Team
Bojan Velickovic has an amazing skill set but hasn't been able to put it all together in the cage recently. Velickovic fought to a majority draw with Mike Graves back at UFC 201, in which many had scored the bout with him losing 28-29. In a chance to redeem himself against Sultan Aliev, Velickovic lost a split decision after entering the fight as a moderate favourite. Velickovic won the first round by keeping Aliev at a distance and picking his shots but was taken down for long periods in the second and third rounds.
The Breakdown
These two European fighters enter the octagon with almost the same techniques and strategy. Both are lengthy strikers who like to kick and strike from a safe distance. While I am impressed by Velickovic's methods at times, his mentality causes doubt for me. He seems to lack the aggression that is required at times inside the octagon.
I'm expecting a patient fight between these two strategists. If that happens to be the case, the more experienced Nico Musoke should outwork the Serbian or find a way to finish him.
Betting Strategy
Again, the bookmakers are leaning heavily towards this fight going the distance, so I recommend selecting under 2.5 rounds and hoping that Musoke finds a way to end Velickovic's night quickly.
Best Bets
Pedro Munhoz vs. Damian Stasiak
Total Rounds – Under 2.5
Sunday 28th May, 19:00 GMT
Odds: 2.00Bet €100 to win €2001/1Bet £100 to win £200+100Bet $100 to win $2001.00Bet HK$100 to win HK$2001.00Bet Rp100 to win Rp2001.0000Bet RM100 to win RM200 – Bet365
Chris Camozzi vs. Trevor Smith
Trevor Smith to Win
Sunday 28th May, 18:30 GMT
Odds: 3.02Bet €100 to win €302101/50Bet £100 to win £302+202Bet $100 to win $3022.02Bet HK$100 to win HK$3022.02Bet Rp100 to win Rp302-0.4950Bet RM100 to win RM302 – Marathon
Reza Madadi vs. Joaquim Silva
Total Rounds – Under 2.5
Sunday 28th May, 18:00 GMT
Odds: 2.80Bet €100 to win €2809/5Bet £100 to win £280+180Bet $100 to win $2801.80Bet HK$100 to win HK$2801.80Bet Rp100 to win Rp280-0.5556Bet RM100 to win RM280 – Bet365
Nico Musoke vs. Bojan Velickovic
Total Rounds – Under 2.5

Sunday 28th May, 17:30 GMT
Odds:
2.70

Bet €100 to win €270
17/10

Bet £100 to win £270
+170

Bet $100 to win $270
1.70

Bet HK$100 to win HK$270
1.70

Bet Rp100 to win Rp270
-0.5882

Bet RM100 to win RM270
–
Bet365
MMA
UFC
UFC Fight Night 109