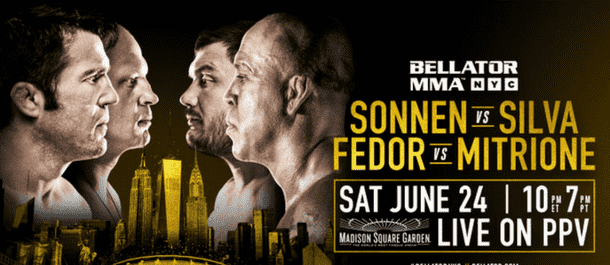 Chael Sonnen vs. Wanderlei Silva
A clash between two veterans with bad blood headlines the biggest pay-per-view in Bellator MMA history at Madison Square Garden.
It's no secret that these two absolutely hate each other. Sonnen was so desperate to fight Wanderlei Silva that he even wanted to fight him before Tito Ortiz. This fight definitely has a personal feel attached to it, which not only adds to the level of entertainment but adds a certain element of potential violence considering how badly these two guys want to hurt each other.
Enough of that, though, let's break down these two veterans!
Chael Sonnen
Record: 28-15-1
Height: 6'1″ (186cm)
Reach: 74.0″ (188cm)
If you were to go off recent performances alone, there's no way on earth you'd be backing Chael Sonnen in this fight. Sonnen hyped the Tito Ortiz fight to an unprecedented level, before going on to lose just 2:03 into the contest due to submission. It sent the MMA world in a craze, with many claiming that the fight was fixed, pointing out that Ortiz 'tapped' Sonnen to let go of his submission attempt. Sonnen, on the other hand, believes that Ortiz legitimately tapped out but the referee didn't see it.
Sonnen has an incredible history in the sport of mixed martial arts. My personal favourite memory is the thriller of a fight against Anderson Silva in which he completely dominated him for four and a half rounds before conceding a submission from out of nowhere, crazy!
Wanderlei Silva
Record: 35-12-1
Height: 5'11" (181cm)
Reach: 74.0″ (188cm)
'The Axe Murderer' Wanderlei Silva is hands-down one of the greatest MMA fighters of all time. When PRIDE finished up, Silva's name was all through the books with records for the most wins, knockouts, title defences and also the longest winning streak in the organisation's history.
Silva hasn't competed since destroying Brian Stann in the UFC back in 2013.

The Breakdown
We've got a classic wrestler and submission artist in Chael Sonnen up against the brutal Muay-Thai striking of Wanderlei Silva.
Chael Sonnen will be in a hurry to get this to the mat and start controlling the Brazilian down in the horizontal aspects. Sonnen locked onto Tito's neck pretty early in their fight but wasn't able to finish. I'm not concerned about that, I'm more so concerned with the few seconds of stand-up before Tito's takedown. Sonnen looked 'flinchy' and didn't look ready to be in there with someone as ferocious as Ortiz. This was most clear when Sonnen gave up mount without much resistance and then tapped early to an Ortiz rear-naked choke.
Wanderlei Silva will want to beat Sonnen up on the feet. He's going to be willing to take any and all of Sonnen's shots if it means he gets to throw one straight back at him. The game plan for Silva? Do as much damage as possible to Chael Sonnen.
I'm expecting Sonnen to be somewhat nervous again and rush in behind some weak strikes. Silva, although slowing, will catch Sonnen with a heavy strike and floor him; I'm even thinking this happens in round one.
I simply can't back Sonnen after what we saw in the Ortiz fight.
Betting Strategy
Wanderlei Silva opened up as the slight underdog in this bout with odds of 2.10Bet €100 to win €21011/10Bet £100 to win £210+110Bet $100 to win $2101.10Bet HK$100 to win HK$2101.10Bet Rp100 to win Rp210-0.9091Bet RM100 to win RM210 .
Since then, the line has seperated further and you can now find odds on Wanderlei Silva to win 2.50Bet €100 to win €2503/2Bet £100 to win £250+150Bet $100 to win $2501.50Bet HK$100 to win HK$2501.50Bet Rp100 to win Rp250-0.6667Bet RM100 to win RM250 at BetVictor.
Best Bet
Chael Sonnen vs. Wanderlei Silva
Wanderlei Silva to Win
Sunday 25th June, 04:30 GMT / 12:30am ET
Odds: 2.50Bet €100 to win €2503/2Bet £100 to win £250+150Bet $100 to win $2501.50Bet HK$100 to win HK$2501.50Bet Rp100 to win Rp250-0.6667Bet RM100 to win RM250 – BetVictor
Bellator
Bellator NYC
Chael Sonnen
MMA
Wanderlei Silva