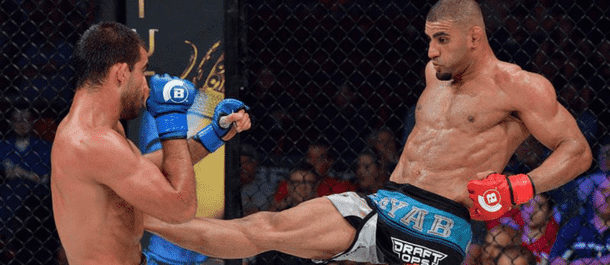 Douglas Lima vs. Lorenz Larkin
Bellator Welterweight Championship
Lorenz Larkin walks straight into Bellator and gets an immediate title shot with one of the best welterweights in the world, Douglas Lima, at Bellator NYC at Madison Square Garden.
If the Bellator NYC main event and co-main event bouts between seasoned veterans don't excite you for whatever reason, then surely this one has to!
Douglas Lima
Record: 28-6
Height: 6'1″ (186cm)
Reach: 71.0″ (180cm)
Douglas Lima is the man to beat in Bellator's deep welterweight division. Paul Daley said of Lima, "I don't think there's a bigger, more athletic, scarier welterweight out there at the moment". It's a fair statement, too. Lima packs all kinds of power into his strikes and is a finishing machine. He chooses to walk down his opponents and chop away at them with leg kicks until they have no choice other than to stand-and-trade with him. If, or when, they do, it's game over.
Lorenz Larkin
Record: 18-5
Height: 5'11" (181cm)
Reach: 72.0″ (183cm)
Lorenz Larkin was quickly moving up the UFC's rankings after scoring wins over Neil Magny and Jorge Masvidal in 2016. Larkin was not impressed with the contract offer from the UFC and instead chose to sign with Bellator. Signing Larkin, along with signing Rory MacDonald, makes Bellator's welterweight division one of the hottest divisions in mixed martial arts.
The Breakdown
Lorenz Larkin is a superb striker who uses excellent technique and swift footwork to close distances and land a diverse range of attacks. Larkin has a clear path to victory in this one; to beat Lima over the course of five rounds. Lima has never won a five-round decision and Larkin has the abilities to turn this into a point-striking contest that lasts the duration.
Douglas Lima will be looking to neutralise the striking of Larkin by closing the distance early and smothering him with his strength and the power of his strikes. Lima will often sit back and wait for his opportunity to land bombs. He sometimes stands flat footed and baits an opponent into striking before countering with either a stiff jab or a monstrous right hand. Larkin will need to be careful and consider the selection of strikes before engaging with Lima, considering his power.
It's likely that Lima will need to finish Larkin in order to claim victory in this fight. I've got Lima finishing Larkin in the second round, despite Larkin looking dangerous at times.
Betting Strategy
When Lima lands a strike, it changes the game completely. I recommend backing Lima to defeat Larkin by KO/TKO, rather than choosing the round.
You can find 4.50Bet €100 to win €4507/2Bet £100 to win £450+350Bet $100 to win $4503.50Bet HK$100 to win HK$4503.50Bet Rp100 to win Rp450-0.2857Bet RM100 to win RM450 odds at BetVictor.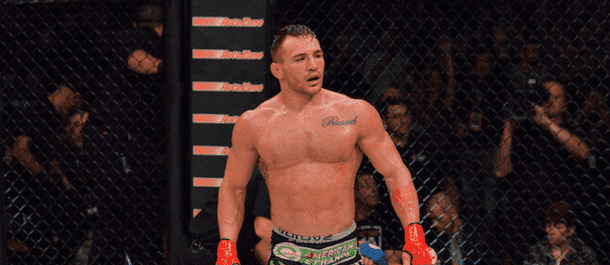 Michael Chandler vs. Brent Primus
Bellator Lightweight Championship
Undefeated Brent Primus can take home the Bellator Lightweight Championship if he manages to defeat Michael Chandler at Bellator NYC.
Michael Chandler
Record: 16-3
Height: 5'8″ (173cm)
Reach: 69.0″ (175cm)
Michael Chandler is pound-for-pound one of the best fighters on Bellator's roster. He jumped onto the scene by defeating Eddie Alvarez in a Bellator Lightweight Championship fight back at Bellator 58 in November 2011. More recently, Chandler is on a four-fight win streak against some of Bellator's top lightweight talent including Benson Henderson and Patricky Freire.
Brent Primus
Record: 7-0
Height: 5'10" (178cm)
Reach: 73.0″ (185cm)
Brent Primus is a man who has never tasted defeat through his mixed martial arts career. Primus has got this far using his grappling and jiu-jitsu skills to control opponents with ease. He began his career with five consecutive stoppages, including four by the way of his favourite submission, the rear-naked choke. Primus has since gone on to win by split decision against Derek Anderson and Gleristone Santos in his two most recent outings.
The Breakdown
Chandler is a brilliant striker and could have his way with Primus on the feet. Primus' striking defence leaves a lot to be desired and Derek Anderson was able to expose some holes in Primus' game.
At the same time, however, Primus showed that he is extremely dangerous on the mat, consistently looking for submissions. His rear-naked choke is quality and that'd be the way for him to defeat Chandler.
I'm backing Chandler in this fight as I believe he is too experienced and well-versed as a fighter for Primus. Chandler should be able to stuff the takedowns of Primus. If Primus rushes in carelessly for a takedown, Chandler will clip him and end the night.
Betting Strategy
Recommend taking Chandler to finish Primus by KO/TKO. Odds are currently best at BetVictor where you can get 1.73Bet €100 to win €17373/100Bet £100 to win £173-137Bet $100 to win $1730.73Bet HK$100 to win HK$173-1.37Bet Rp100 to win Rp1730.7300Bet RM100 to win RM173 .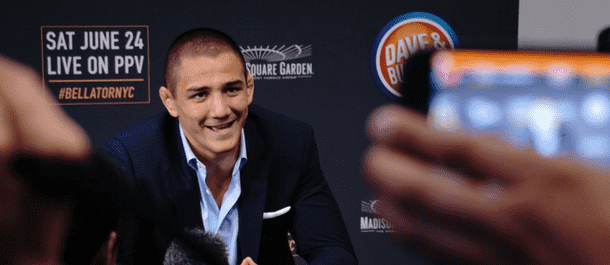 Aaron Pico vs. Zach Freeman
Aaron Pico makes his mixed martial arts debut at Madison Square Garden on the largest pay-per-view in Bellator history. Zach Freeman is tasked with welcoming Pico to Bellator.
Aaron Pico
Record: 0-0
Height: 5'7″ (170cm)
Aaron Pico has long been touted as one of the greatest prospects in mixed martial arts. Bellator signed Pico to their organisation way back in 2014 when Pico was just 17-years-old.
In 2014, Bellator MMA President, Scott Coker stated, "Simply put, Aaron has all the makings of MMA's next great superstar, and to have him here at Bellator MMA is something special.
Pico is an outstanding wrestler. He was almost the first American teenager to qualify for Olympic freestyle wrestling, just narrowly losing in the finals. To add to his grappling skills, he's recently been training with Eddie Bravo at 10th Planet Jiu-Jitsu. On top of all of that, Pico is also a Golden Gloves boxing champion.
Zach Freeman
Record: 8-2
Height: 6'0″ (183cm)
Zach Freeman is comfortable with all of the attention being on Aaron Pico before their bout at Bellator NYC, "At the end of the day, it's a fight. No one is going in there with him, none of the cameras, none of his coaches, it's going to be him by himself".
Freeman has an extensive jiu-jitsu background and some experience in wrestling, as well. He believes that his biggest advantage heading into this fight is on the mat, despite Pico's wrestling excellence.
The Breakdown
This is no easy fight for anyone making their debut in mixed martial arts. But, Aaron Pico is not your regular debut MMA fighter, either.
I see Pico having a huge advantage on the feet, utilising his boxing and takedown defence when required, too. He should be safe to operate standing up, as well, considering how shocking it would be if Freeman was able to take Pico down to the mat.
If Freeman somehow manages to get Pico down on the mat, it's a matter of being able to keep him there and work his jiu-jitsu. There's no doubting that Pico has scrambling ability and will be able to work back to his feet with ease.
It's hard to back against Pico in this one. I think Freeman lasts the distance and Pico claims a decision victory.
Betting Strategy
Considering our prediction, there isn't all that much value on betting Pico's side. Instead, we can look to bet on the fight going the distance with the over 1.5 rounds selection at 32Red.
Best Bets
Douglas Lima vs. Lorenz Larkin
Douglas Lima to win by KO/TKO
Sunday 25th June, 03:30 GMT / Saturday 24th June 11:30pm ET
4.50Bet €100 to win €4507/2Bet £100 to win £450+350Bet $100 to win $4503.50Bet HK$100 to win HK$4503.50Bet Rp100 to win Rp450-0.2857Bet RM100 to win RM450 odds at BetVictor
Michael Chandler vs. Brent Primus
Michael Chandler to win by KO/TKO
Sunday 24th June, 03:00 GMT / Saturday 24th June 11:00pm ET
1.73Bet €100 to win €17373/100Bet £100 to win £173-137Bet $100 to win $1730.73Bet HK$100 to win HK$173-1.37Bet Rp100 to win Rp1730.7300Bet RM100 to win RM173 odds at BetVictor
Aaron Pico vs. Zach Freeman
Total Rounds – Over 1.5
Sunday 24th June, 02:30 GMT / Saturday 24th June 10:30pm ET
1.57Bet €100 to win €15757/100Bet £100 to win £157-175Bet $100 to win $1570.57Bet HK$100 to win HK$157-1.75Bet Rp100 to win Rp1570.5700Bet RM100 to win RM157 odds at 32red
Bellator
Bellator NYC
Douglas Lima
Lorenz Larkin
MMA