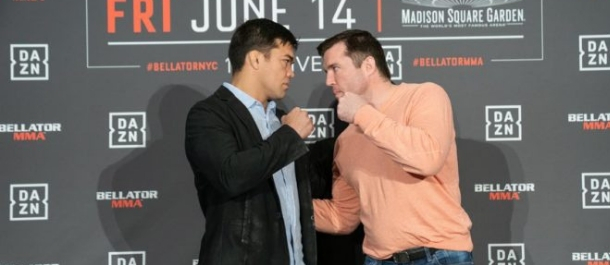 Bellator 222 happens this Friday night in New York City and is set to be the centerpiece of all mixed martial arts events this weekend. With the UFC taking a week off after their spectacular UFC 238 event, Bellator will slide into pole-position with a stacked fight card featuring some rising talent, veterans and proven top-tier competitors in the world of MMA.
The main event will see Rory MacDonald and Neiman Gracie go head-to-head in a welterweight title fight that will determine who advances through to the final stage of the Bellator Welterweight Grand Prix. Read our MacDonald vs. Gracie odds and pick here.
But for now, let's jump into the rest of the six-fight main card, beginning with the battle of two well-known names in mixed martial arts, Lyoto Machida and Chael Sonnen.
Lyoto Machida vs. Chael Sonnen
Friday, June 14 – 11:00 pm (ET) / 3:00am (GMT)
A fight that could have happened many, many years ago, Lyoto Machida and Chael Sonnen will battle in the co-main event of Bellator 222.
Sonnen, who is currently more well-known for being an MMA analyst and not an active fighter on the Bellator roster, will be looking to bounce back after losing to Fedor Emelianenko last year. Sonnen is now 2-2 with Bellator after four fights.
Against him is Lyoto Machida, who got off to a great start with Bellator after joining last year. Machida defeated Rafael Carvalho at Bellator 213 via split decision to extend his winning streak to three.
This one is set to be a fascinating clash of styles. Chael Sonnen's wrestling will test Lyoto Machida's striking, and there's probably no in-between when it comes to this fight.
Machida will be looking to keep his distance, eliminating the opportunity for Sonnen to secure takedowns from the clinch. If he can use his strikes to counter Sonnen's forward movement, there's a fair chance that Sonnen will be completely knocked back to just shooting in for takedowns from a distance and that's not as effective as you'd imagine against Machida.
Sonnen is capable on the feet. He's a good boxer and could probably win rounds against many of the light heavyweight roster if needed. However, against Machida, he's going to be up against the odds for as long as this one remains upright. Expect Sonnen to crash forward and look for that clinch position against Machida.
For as much as Machida's countering ability remains, Sonnen has still shown that he can come forward and change the course of the fight with a few takedowns.
If Sonnen can find the power double-leg takedowns from the outside, it should be an easy night for him against Machida. If not, he'll still have his opportunities inside the clinch. Sonnen's smart enough to know what's up, and he'll surely implement some in-cage changes to work past Machida's tricky striking.
At these odds, it's worth a shot, for sure.
Bet on Chael Sonnen to win: 3.75Bet €100 to win €37511/4Bet £100 to win £375+275Bet $100 to win $3752.75Bet HK$100 to win HK$3752.75Bet Rp100 to win Rp375-0.3636Bet RM100 to win RM375 at BetOnline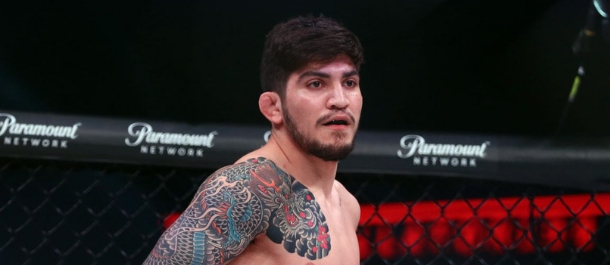 Dillon Danis vs. Max Humphrey
Friday, June 14 – 10:30 pm (ET) / 2:30am (GMT)
In the same way that we had a contrast of styles in the co-main event, Dillon Danis vs. Max Humphrey is somewhat a contrast of personalities.
On one hand, we have Dillon Danis, known for being overly confident and proud. Danis has gained lots of attention from MMA fans because of his loud personality, similar to the way that his training partner, Conor McGregor, rose to fame a few years back. Danis is 1-0 as a professional after he won his debut by a fast toe hold submission early in 2018.
And then there's Max Humphrey, who just wants to fight. He's 3-2 as a pro and has last two of his last three fights. This will be his first fight with Bellator.
Unfortunately for Humphrey, he's going to be up against it in this one. Danis is a world-class grappler with exceptional submission skills. We can't say the same about Danis' striking at this point in time (and probably not for another few years), but he'll likely be evenly matched with Humphrey, who has looked about average in recent bouts.
Expect Danis to test his stand-up with Humphrey for a little while before eventually taking over with takedowns and submission attempts.
Should be an easy win for Dillon Danis.
Bet on Dillon Danis to win: 1.12Bet €100 to win €1123/25Bet £100 to win £112-833Bet $100 to win $1120.12Bet HK$100 to win HK$112-8.33Bet Rp100 to win Rp1120.1200Bet RM100 to win RM112 at BetOnline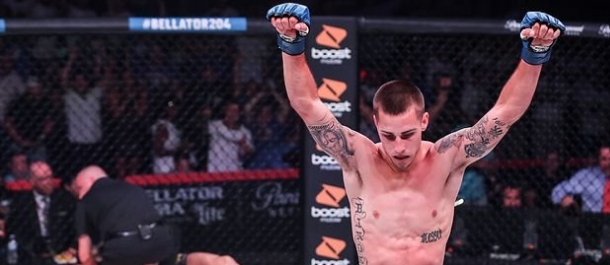 Ricky Bandejas vs. Patrick Mix
Friday, June 14 – 10:00 pm (ET) / 2:00am (GMT)
Ricky Bandejas is riding a wave of popularity after he handed James Gallagher a stunning defeat last year. Typically, when this happens, much of the fighters "hype" is embedded into the odds. In this case, there's a fair chance that Gallagher's ability is overblown after his one incredible knockout win.
He'll be facing Patrick Mix, who holds an undefeated record after ten fights as a pro. Mix will be making his first walk to the Bellator cage this Friday at Bellator 222.
As for the fight itself, it's clear that Bandejas will be wanting this one to remain standing. Mix will be wanting to score takedowns and use his advantages on the ground. But as for determining the actual skill level of Mix, it's quite difficult considering that he has mostly been matched against low-level competition in King of the Cage before joining Bellator.
Bandejas is undoubtedly Mix's toughest opponent to date. He should have the advantages while this one remains standing, but he'll be constantly defending takedowns for as long as it lasts. At 1.87Bet €100 to win €18787/100Bet £100 to win £187-115Bet $100 to win $1870.87Bet HK$100 to win HK$187-1.15Bet Rp100 to win Rp1870.8700Bet RM100 to win RM187 with BetOnline, Bandejas is a great bet here against a relatively untested opponent.
Bet on Ricky Bandejas to win: 1.87Bet €100 to win €18787/100Bet £100 to win £187-115Bet $100 to win $1870.87Bet HK$100 to win HK$187-1.15Bet Rp100 to win Rp1870.8700Bet RM100 to win RM187 at BetOnline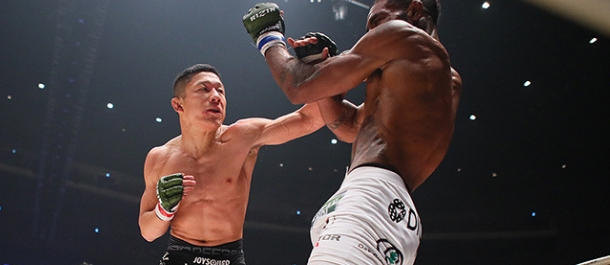 Darrion Caldwell vs. Kyoji Horiguchi
Friday, June 14 – 9:30 pm (ET) / 1:30am (GMT)
It's not the most highly anticipated rematch in the eyes of the casual combat sports fan, but it's one that the hardcore, passionate fans are looking forward to.
Arguably the best Japanese mixed martial artist in history, Kyoji Horiguchi will make his way back to North America to face Darrion Caldwell in a rematch of their recent bout in Japan at RIZIN.
On that night, Caldwell looked to be on his way to a relatively easy decision victory before Horiguchi turned the tables and locked in a guillotine choke in the third round. Horiguchi's submission win is one of the best comeback victories of recent memory (together with Henry Cejudo's beastly performance at UFC 238).
In the first fight, it was all Darrion Caldwell until it wasn't. Caldwell controlled the bout with his wrestling ability, pinning Horiguchi down and disabling him from making an impact.
While it may seem that Caldwell will likely run away with this contest and not make the same significant mistake he made last time, it's difficult to write off Horiguchi's chances. Horiguchi is one of the very best mixed martial artists in the world today. With additional time to prepare for Caldwell's grappling, we're sure that Horiguchi has created some pathways to victory that were otherwise non-existent in that first bout.
This one is shaping up to be a great, competitive fight again, and we're surprised to see that Horiguchi is such a large underdog. Bet accordingly.
Bet on Kyoji Horiguchi to win: 2.50Bet €100 to win €2503/2Bet £100 to win £250+150Bet $100 to win $2501.50Bet HK$100 to win HK$2501.50Bet Rp100 to win Rp250-0.6667Bet RM100 to win RM250 at Mybookie
Best Bets for Bellator 222
BetOnline and Mybookie have the best odds if you're looking to bet on Bellator 222 this weekend!
Bellator 222
Chael Sonnen
Lyoto Machida