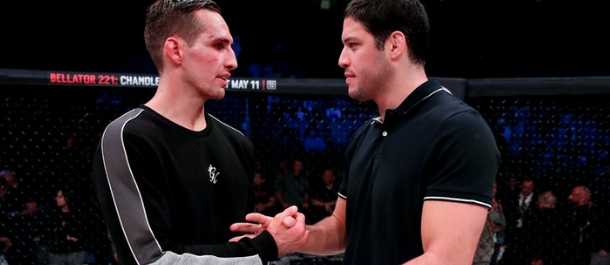 One of the very best Bellator events in recent memory is set to take place this Friday, June 14, at Madison Square Garden, New York. The event is filled with many of the best fighters that the promotion has to offer.
The headline bout of the evening is an important welterweight title fight that also plays as the semifinal stage of the Welterweight Grand Prix. Rory MacDonald's title will be on the line as he faces undefeated Neiman Gracie in the second round of the tournament. The winner of the main event walks away with the title and a spot in the final of the Grand Prix.
We'll stick to breaking down this significant 170-pound bout for you before the weekend so that you can cash in on the best Bellator 222 odds and make the right bets for this event. If you're interested in reading more of our MMA picks and odds, you'll find them here.
It wasn't that long ago when some considered Rory MacDonald to be the best welterweight in the world, regardless of promotion. A former UFC fighter, MacDonald made the switch over to Bellator in 2017 and defeated Paul Daley and Douglas Lima to win the 170-pound title. After losses to Stephen Thompson and Robbie Lawler in the UFC, it left many to wonder how he would fare against other top-flight UFC contenders at the moment such as Kamaru Usman and Colby Covington.
Recently, however, much of MacDonald's hype has faded as he was squashed by the much heavier Gegard Mousasi in a move up to middleweight and then fought to a disappointing majority draw with Jon Fitch after. It wasn't just the in-cage effort, though, it was mostly down to the fact that MacDonald declared afterward: "I don't know if I have that same drive to hurt people anymore." Concerning? Certainly.
He'll need to bring his A-game this weekend against Neiman Gracie. Gracie is undefeated after nine fights as a professional and has seven consecutive wins under the Bellator banner. Carrying the Gracie name with him, Neiman is a talented grappler with excellent Brazilian Jiu-Jitsu ability. Gracie hasn't been just winning his fights but easily submitting his opponent in all but one of them.
Fight Breakdown
Rory MacDonald vs. Neiman Gracie is an interesting bout for a collection of unusual reasons. Whereas we normally stick to picking apart the techniques and physical advantages of either fighter in this breakdown section, this is a fight that may be seriously impacted by MacDonald's declining interest in the sport of mixed martial arts (and dishing out violence).
MacDonald has been in his fair share of wars in the past, and there's no almost no reason for him to continue fighting if his mind isn't right. It's an unfortunate consideration, knowing that MacDonald has brilliant ability as a mixed martial artist.
With his great jab and distance management, MacDonald may be able to keep Neiman Gracie away in the early stages of this contest. He should have a noticeable advantage on the feet, but the disparity between these two fighters' striking is closer than it has ever been before now that Gracie has improved his striking ability over time. The question that lingers over this main event bout is whether MacDonald can keep Neiman away for the entirety of the five rounds. That's unlikely unless he can inflict serious damage in the first or second round.
Gracie brings pace and pressure, but it's nothing that MacDonald hasn't experienced before. Unlike some traditional Brazilian Jiu-Jitsu athletes who have transitioned into MMA, this Gracie has also developed his wrestling ability to a point where he was securing takedowns against Ed Ruth, a highly-regarded wrestler, in his last bout.
On the mat, it's not clear whether Gracie will slice through MacDonald's guard and score an easy submission, but it's also not apparent whether MacDonald has the mentality to hang in there on the mat and keep fighting through adversity for minutes at a time.
From a betting perspective, it's hard to wager on the fighter who is unwilling to dish out the damage and type of violence that is required for him to get across the line in this main event bout.
We may witness a major upset, and we'll be betting on the generous 2.45Bet €100 to win €24529/20Bet £100 to win £245+145Bet $100 to win $2451.45Bet HK$100 to win HK$2451.45Bet Rp100 to win Rp245-0.6897Bet RM100 to win RM245 at BetOnline.
Bellator 222: Rory MacDonald vs. Neiman Gracie
Friday, June 14 – 11:30 pm (ET) / 3:30am (GMT)
Bellator 222
Neiman Gracie
Rory MacDonald