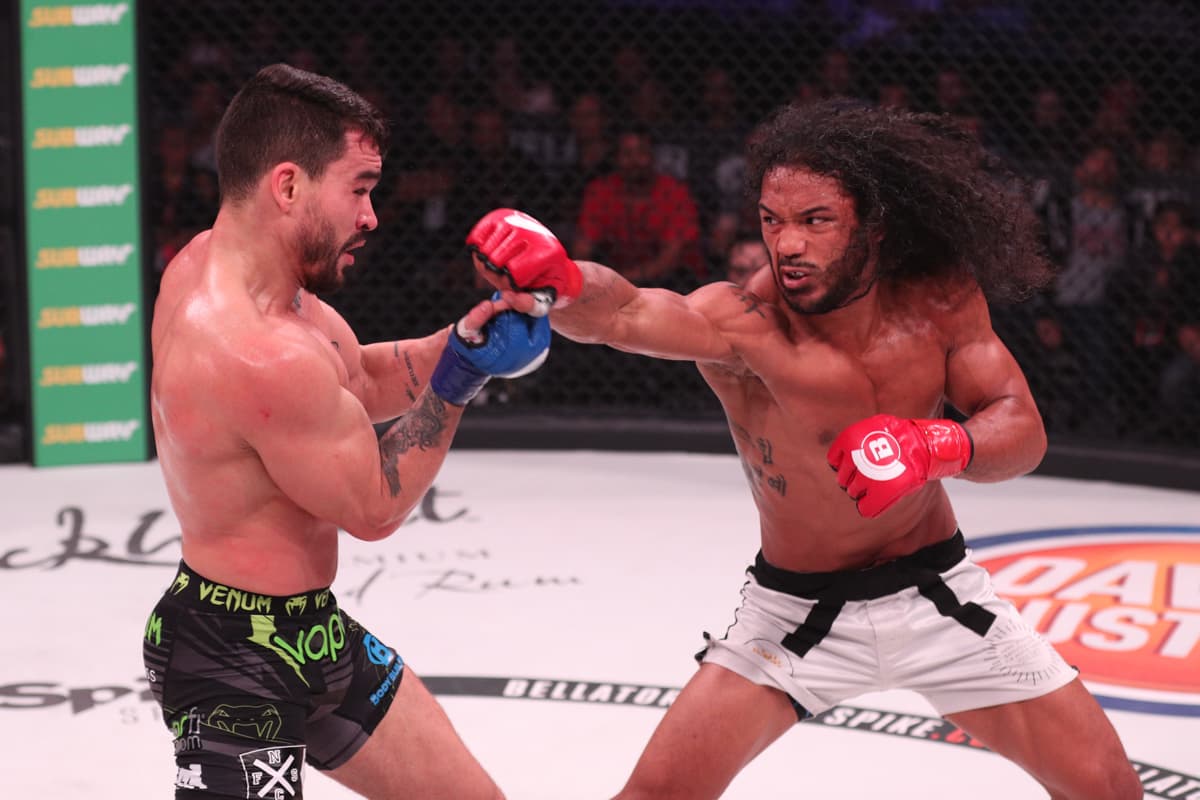 Although everyone is talking about the two superb fights from the Bellator World Heavyweight Grand Prix this weekend, there's still much more to look forward to if you're a fan of mixed martial arts.
In particular, the Bellator 208 main card is packed with many of Bellator's established names and will likely prove to be a very entertaining event.
The main event of Bellator 208 will see Fedor Emelianenko battle Chael Sonnen in an attempt to move forward in the tournament and face the winner of Matt Mitrione vs. Ryan Bader. You can read our breakdown and best bets for Mitrione vs. Bader here. While you're at it, check out our Bellator 207 main card betting guide, as well.
Before you do so, however, you'll want to check out the brilliant betting opportunities we have uncovered on the main card of Bellator 208.
Let's get into it!
Benson Henderson vs. Saad Awad
Saturday, October 13 – 10:30 pm (ET) / 2:30am (GMT)
Bellator 208's co-main event will see fan-favorite Benson Henderson do battle with Saad Awad in a lightweight fight that could see the winner challenging for the title sooner than later.
Benson Henderson has long been competing against the best of the best in the lightweight division in the UFC and Bellator. Back in his UFC days, Henderson worked up major victories against the likes of Frankie Edgar, Nate Diaz, Donald Cerrone, Jorge Masvidal, and many more. So, of course, we were all expecting big things from Henderson when he joined Bellator in 2016. However, Henderson began his time with the promotion by winning just one of his first four fights and has only recently recovered from a two-fight losing streak to score his second win with the promotion. Admittedly, Henderson's opponents have been some of the toughest that Bellator has to offer.
Henderson is now facing the scarily underrated Saad Awad, who enters this fight on an impressive four-fight winning streak. Despite losing to top contenders, such as Brennan Ward and Patricky Freire, whenever he has faced them in Bellator, Awad is a particularly dangerous opponent for any lightweight considering his heavy hands.
Overall, Awad is a little unpolished in the areas that will matter most against Henderson. At close range, Awad can be careless and seemingly acts without a plan. Henderson might punish him early and often before earning an impressive finish.
Bet on Benson Henderson to win of 1.25Bet €100 to win €1251/4Bet £100 to win £125-400Bet $100 to win $1250.25Bet HK$100 to win HK$125-4.00Bet Rp100 to win Rp1250.2500Bet RM100 to win RM125 with BetOnline
Alexander Shlemenko vs. Anatoly Tokov
Saturday, October 13 – 10:00 pm (ET) / 2:00am (GMT)
Alexander Shlemenko, a former Bellator champion, is set to face Anatoly Tokov, who has lost just one of his last 20 fights.
Let's start with Tokov, who has been excellent since joining Bellator in February 2017. Although he has just two wins under the roster during this time, primarily due to an unfortunate ACL injury that kept him sidelined, it's the way he has secured these victories which is so impressive. Most recently, Tokov submitted Vladimir Filipovic inside the first minute at Bellator 200.
Alexander Shlemenko is now desperately looking to overturn a two-fight skid that has seen him lose to Gegard Mousasi at Bellator 185 and then to Bruno Silva at M-1 Challenge earlier this year. To provide evidence that even the greatest of underdogs can win, Shlemenko was a massive 1.12Bet €100 to win €1123/25Bet £100 to win £112-833Bet $100 to win $1120.12Bet HK$100 to win HK$112-8.33Bet Rp100 to win Rp1120.1200Bet RM100 to win RM112 favorite against Silva but still managed to slip up.
There's just something about Shlemenko that didn't look right against Bruno Silva. It could be due to him underestimating his opponent, but there's also the fact he looked increasingly sluggish and less powerful than usual. If Anatoly Tokov can anticipate Shlemenko's patented spinning attacks, he'll be well on his way to defeating the former champion.
Bet on Anatoly Tokov to win of 2.00Bet €100 to win €2001/1Bet £100 to win £200+100Bet $100 to win $2001.00Bet HK$100 to win HK$2001.00Bet Rp100 to win Rp2001.0000Bet RM100 to win RM200 with BetOnline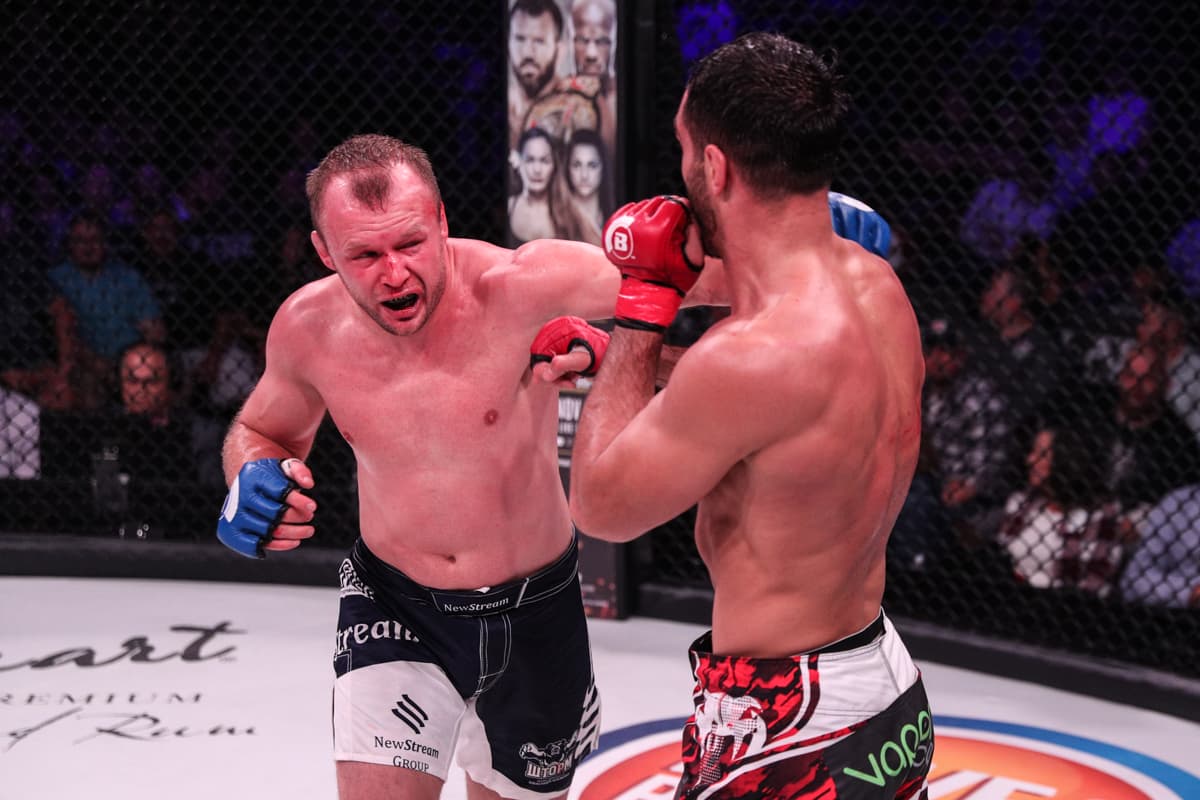 Cheick Kongo vs. Timothy Johnson
Saturday, October 13 – 9:30 pm (ET) / 1:30am (GMT)
Cheick Kongo and Timothy Johnson will compete in what could be an entertaining heavyweight clash between fighters with previous careers in the UFC.
Believe it or not, Cheick Kongo is currently on the longest winning streak of his 17-year career right now. With six consecutive victories to his name, Kongo continues to climb the heavyweight ranks and will be in a prime position to challenge top contenders in the division once the tournament is complete. For now, however, he'll be happy to face another ex-UFC fighter in Timothy Johnson.
It's always bizarre when a fighter alternates wins and losses over an extended period, and that's precisely what happened to Johnson through his seven fights with the UFC. His most significant victory came against Marcin Tybura in 2016, but he managed to drop a decision to Alexander Volkov before being finished by Junior Albini last year.
Timothy Johnson is a decent heavyweight with good size, surprising speed, and adequate defense. In many ways, this should be a close contest and well-matched heavyweight battle, and that's why we're going to take Cheick Kongo at what seems like generous odds from Bovada.
Bet on Cheick Kongo at odds of 2.40Bet €100 to win €2407/5Bet £100 to win £240+140Bet $100 to win $2401.40Bet HK$100 to win HK$2401.40Bet Rp100 to win Rp240-0.7143Bet RM100 to win RM240 with Bovada
Henry Corrales vs. Andy Main
Saturday, October 13 – 9:00 pm (ET) / 1:00am (GMT)
Andy Main will make his Bellator debut this weekend on the main card of Bellator 207 against Henry Corrales.
Corrales has quickly turned his Bellator career around in a big way since transitioning from a three-fight losing streak into a three-fight winning streak that includes victories over recognized talent such as Georgi Karakhanyan, Noad Lahat, and Cody Bollinger. Looking back, his defeats to Patricio Freire, Emmanuel Sanchez, and Daniel Straus are all nothing to be ashamed of.
Since appearing on The Ultimate Fighter Season 12, Main has managed an excellent career through several promotions and now finds himself in an opportunity with one of the 'big two' promotions in the world.
Main has undoubtedly improved over the years, but Corrales is in a completely different league and should outclass Main over three rounds.
Bet on Henry Corrales to win at odds of 1.22Bet €100 to win €12211/50Bet £100 to win £122-455Bet $100 to win $1220.22Bet HK$100 to win HK$122-4.55Bet Rp100 to win Rp1220.2200Bet RM100 to win RM122 with BetOnline
Bellator 208 Betting Guide
After previewing all of the action and analyzing each of the matchups, we've developed a list of best bets for the Bellator 208 main card.
Bellator 208
Benson Henderson
Saad Awad