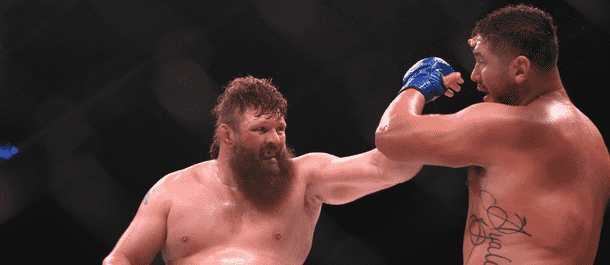 While all of the hype surrounding Bellator 207 is focused upon the main event clash between Matt Mitrione and Ryan Bader, it's worth noting that the rest of the main card is relatively stacked.
Mitrione and Bader will be fighting to advance in the Bellator World Heavyweight Grand Prix, just one day before the other semifinal of Fedor Emelianenko vs. Chael Sonnen.
You can find our detailed breakdown of Matt Mitrione vs. Ryan Bader and our preview and prediction for Fedor Emelianenko vs. Chael Sonnen here.
But before you skip ahead to two of the biggest fights happening this weekend, it's time to review all of the action taking place on the Bellator 207 main card.
Let's get started.
Roy Nelson vs. Sergei Kharitonov
Friday, October 12 – 10:30 pm (ET) / 2:30am (GMT)
If one big-time heavyweight clash wasn't enough to satisfy your fighting desires, a co-main event collision between Roy Nelson and Sergei Kharitonov is sure to please fans of heavyweight action.
Although eliminated from the Bellator World Heavyweight Grand Prix, Nelson has his eyes set on a rubber match with Matt Mitrione sooner than later. Nelson lost a narrow decision to Mitrione in the first round of the tournament and will now ultimately miss out on a chance to become the heavyweight champion, for now. To entice Mitrione into another fight, Nelson is going to have to defeat Kharitonov first.
Sergei Kharitonov will be returning to the Bellator cage for the first time since March 2017 when he defeated Chase Gormley at Bellator 175. Kharitonov hadn't disappeared from competition, however, and has since won three consecutive fights at M-1 Challenge and Russian Cagefighting Championship. It could have been a five-fight winning streak for Kharitonov if his last fight wasn't overturned to a no-decision afterward.
Nelson was outworked by Mitrione while standing, but this shouldn't be an issue against Kharitonov; he'll need to be wary of knockout power, though. Expect a comfortable victory for Nelson here.
Bet on Roy Nelson to win at odds of 1.32Bet €100 to win €1328/25Bet £100 to win £132-313Bet $100 to win $1320.32Bet HK$100 to win HK$132-3.13Bet Rp100 to win Rp1320.3200Bet RM100 to win RM132 with BetOnline
Lorenz Larkin vs. Ion Pascu
Friday, October 12 – 10:00 pm (ET) / 2:00am (GMT)
This hasn't been the smoothest of training camps for Lorenz Larkin.
Well, he hasn't suffered any setbacks, injuries, or had any trouble in his own camp – it's just that he has been preparing for several different opponents. Larkin was first supposed to fight Yaroslav Amosov, but an injury forced Amosov out of the contest. Then, Larkin was preparing for Erick Silva, who had stepped in to replace Amosovo – and then Silva was injured! Finally, it's Ion Pascu who has put his hand up to fight Larkin on six days notice at Bellator 207.
After an impressive stint in the UFC (especially toward the end), Larkin has since struggled to maintain that momentum inside the Bellator cage. Somewhat surprisingly, "The Monsoon" dropped two consecutive fights with Douglas Lima and Paul Daley before eventually returning to winning status with a victory against Fernando Gonzalez in January.
Pascu will be making his second appearance inside the Bellator cage after first losing to prospect Ed Ruth back at Bellator 196 in April. In somewhat of a minor victory, Pascu is the only of Ruth's six opponents to have lasted the distance (and enter the third round). After being defeated in his debut Bellator appearance, he bounced back quickly with a win at BAMMA 35 against Alex Lohore.
This is Lorenz Larkin's opportunity to shine. Although Pascu has the wrestling ability to mother Larkin, it's tough to see him matching up against Larkin's classy striking.
Bet on Lorenz Larkin to win at odds of 1.14Bet €100 to win €1147/50Bet £100 to win £114-714Bet $100 to win $1140.14Bet HK$100 to win HK$114-7.14Bet Rp100 to win Rp1140.1400Bet RM100 to win RM114 with BetOnline
Kevin Ferguson Jr. vs. Corey Browning
Friday, October 12 – 9:30 pm (ET) / 1:30am (GMT)
Kevin Ferguson Jr. will drop down to the lightweight division for the first time in his career.
"Baby Slice," who is the son of the late Kimbo Slice, has gradually moved down weight divisions and is now ready to enter the cage weighing 155 lbs. Ferguson will be competing against Bellator debutant Corey Browning, who is 3-2 after five fights as a professional.
Kevin Ferguson's career didn't start in the same way that many had expected. Thrown into the cage against a fighter with a 0-2 record in his debut, "Baby Slice" was submitted with a guillotine choke three minutes into the second round. But, as a true fighter does, Ferguson has since recovered and made a statement by winning his next three fights via first-round stoppage. Most impressively, he finished Devon Brock in April in just 34 seconds.
Although brought into Bellator on a two-fight losing streak, Corey Browning seems like a relatively good match for Ferguson at this stage of his career. Browning secured three stoppage victories to begin his career but then fell short against slightly more experienced opponents in Apri 2016 and June 2018. He'll undoubtedly be competing on the biggest stage of his career so far when he takes on Ferguson at Bellator 207.
Kevin Ferguson is strong and powerful, but he also has the technical skills to go with it. Expect a dominant performance from "Baby Slice."
Bet on Kevin Ferguson Jr. to win at odds of 1.14Bet €100 to win €1147/50Bet £100 to win £114-714Bet $100 to win $1140.14Bet HK$100 to win HK$114-7.14Bet Rp100 to win Rp1140.1400Bet RM100 to win RM114 with BetOnline
Carrington Banks vs. Mandel Nallo
Friday, October 12 – 9:00 pm (ET) / 1:00am (GMT)
It might not look like it at first glance, but Carrington Banks vs. Mandel Nallo could very well be one of the best fights on the entire main card – especially to those who prefer watching the lighter (and speedier) fighters.
After accumulating an impressive 7-0 undefeated record to start his career, Banks came up short against the talented Adam Piccolotti at Bellator 199 earlier this year. For Banks, a guy who has made a name of outworking other fighters in Bellator, this was a surprising defeat and a considerable upset. Banks was outgunned on the mat, dominated for most of round two, and eventually gave up his neck to his opponent with only 19 seconds remaining in the contest. With two wins against formerly undefeated fighters already, he'll be looking to snap another unbeaten record this weekend and prove 'how good he really is.'
Mandel Nallo couldn't have asked for a more spectacular way to win his Bellator debut. Back at Bellator 189, Nallo finished Alec Williams with a perfect head kick knockout just 18 seconds into the fight. He looked calm, composed, and extremely dangerous and is in a position to make a major statement at Bellator 207 with a win over Carrington Banks.
Mandel Nallo is the most tempting of all betting underdogs here this weekend. Yet, we still can't bring ourselves to side with an underdog here because Carrington Banks is explosive and extremely dangerous across all fronts. Just watch for the right high kick!
Bet on Carrington Banks to win at odds of 1.58Bet €100 to win €15829/50Bet £100 to win £158-172Bet $100 to win $1580.58Bet HK$100 to win HK$158-1.72Bet Rp100 to win Rp1580.5800Bet RM100 to win RM158 with BetOnline
Bellator 207 Betting Guide
We've previewed all of the action, analyzed all of the fights, and we've found a selection of best bets for the upcoming Bellator 207 main card.
Bellator 207
Roy Nelson
Sergei Kharitonov