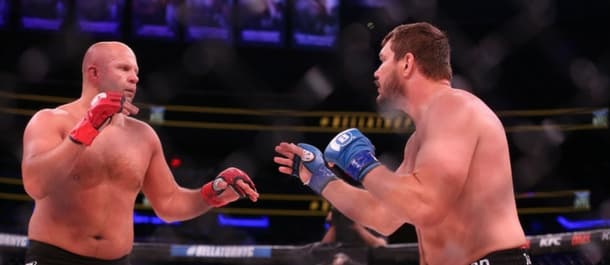 Matt Mitrione and Ryan Bader will square off in the first semifinal of the Bellator Heavyweight World Grand Prix Tournament this weekend at the Mohegan Sun Arena in Uncasville, Connecticut. This heavyweight clash will headline Bellator 207 on Friday, October 12, just one day before the other semifinal matchup between Chael Sonnen and Fedor Emelianenko at Bellator 208.
These two will collide after forming impressive winning streaks during their short time in Bellator. Interestingly, both fighters are undefeated since crossing over from the UFC after a combined total of seven fights.
Matt Mitrione has proven to be quite the revelation since joining Bellator in mid-2016. If it wasn't for the Heavyweight Grand Prix, it's likely he would have already been crowned champion. Mitrione had cemented himself as the top heavyweight over at Bellator with a breathtaking victory over Fedor Emelianenko, but there was never a title available for him to claim. Now, he'll have to make it through Bader and the winner of Sonnen vs. Fedor to wrap that belt over his shoulder.
And then there is Ryan Bader, who is somehow still improving dramatically from fight to fight at the age of 35. Bader parted ways with the UFC on a two-fight winning streak that included the skull-crushing knee that ended Ilir Latifi's night at UFC Fight Night 93. Now, he's the Bellator light heavyweight champion and can become the first-ever simultaneous two-division champion with Bellator if he wins the tournament.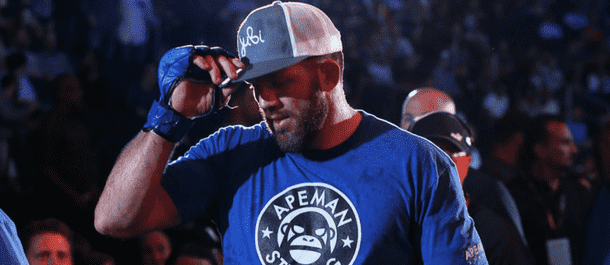 Fight Breakdown
Let's get right into the facts. Matt Mitrione struggled with Roy Nelson's takedowns in the first round of the tournament, and that's saying it politely.
Yes, Mitrione came out on top when the scorecards were read, but he had narrowly avoided a 28-28 draw (as one judge scored the bout). Despite his outstanding stand-up work all throughout the contest, he was seemingly taken down with ease by Nelson and was pinned under the heavyweight for minutes at a time in every round. But since Nelson was relatively inactive from the top position in rounds one and two, Mitrione's striking was more than enough to win each of those rounds.
Before we talk about Bader's wrestling (and how he will use this to dominate Mitrione), it's necessary to discuss Mitrione's striking from that fight with Nelson further.
Never before have we seen such a composed, careful, and precise Mitrione while standing. He was connecting with almost every strike, and they weren't just touching Nelson, but hammering him with close to full power. Round two was a striking masterclass as Mitrione opened up with leg kicks, body punches, head kicks, and unbelievably crisp straight punches down the line. It was never enough to put Nelson away, of course, but it certainly had a huge impact.
So, how is Ryan Bader going to defeat Matt Mitrione at Bellator 207? It will take a world-class wrestling performance from Bader to topple Mitrione and move forward in the tournament, and that's undoubtedly something Bader can manage.
While Mitrione is never advancing toward his opponent and applying pressure that way, he's almost always applying pressure through a high volume of strikes. Alternatively, Bader will be pressing forward and utilizing the threat of his wrestling to overwhelm Mitrione.
It might only take a couple of takedowns for Bader to kick into gear and start ground and pounding Mitrione's head into the mat. And if Mitrione is stuck underneath Bader for minutes at a time, we can only expect Bader's endless cardio to be a significant advantage as the fight progresses.
It's hard to see Ryan Bader losing this one.
Bellator 207: Matt Mitrione vs. Ryan Bader
Friday, October 12 – 11:50 pm (ET) / 3:50am (GMT)
Bellator 207
Matt Mitrione
Ryan Bader