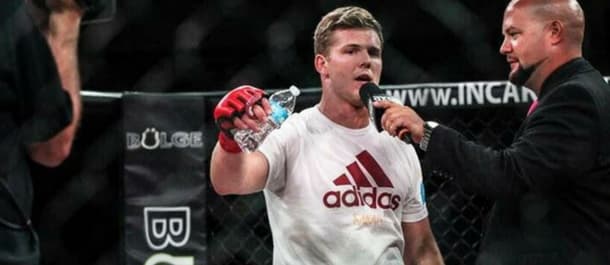 Logan Storley vs. AJ Matthews
Friday, August 17 – 10:00 pm (ET) / 2:00am (GMT)
Undefeated Bellator prospect, Logan Storley (8-0), will face arguably his toughest test to date when he meets A.J. Matthews in the co-main event at Bellator 204.
Now 25-years-old, Logan Storley is starting to shine as one of the most promising talents on Bellator's roster. With his wrestling accolades, he is positioned to make a significant impact in the years to come, much like other successful wrestlers who transitioned to Bellator such as Aaron Pico and Ed Ruth.
Since joining Bellator in July 2017, Storley has since proved victorious in all three of his bouts. In his most recent two fights, Storley's finishing ways were put to an end as he claimed unanimous decision victories over Joaquin Buckley and Matt Secor – his first-ever fights to last the distance.
At Bellator 204, we can be confident that Storley wants to score another finish and put an end to the streak of decisions.
A.J. Matthews will enter the cage on Friday night just after snapping a four-fight losing streak that included a 0-3 start to his return to Bellator. A split decision victory over Kendall Grove in January this year was enough to return to the win column after defeats to Andre Fialho, Hisaki Kato, and Ben Reiter.
Fight Breakdown
It's hard to see A.J. Matthews offering anything that disrupts the usual flow of Logan Storley. Expect to see Storley's usual intensity, forward movement, and hefty top pressure and ground and pound. There might be moments in which Storley experiments standing up for longer than usual. Don't fear, though, because if the plan isn't working out as intended, he and his excellent team of coaches ringside (including Robbie Lawler this weekend) will immediately call for a shift in strategy and take this fight to the mat.
Storley's top pressure is suffocating and there's a fair chance that Matthews doesn't make it to the end of 15 minutes.
Logan Storley vs. AJ Matthews Odds
All throughout the main card, 888Sport are delivering fantastic odds on the betting favorites.
As expected, Logan Storley is a heavy favorite in this co-main event at Bellator 204.
He's currently an 1.14Bet €100 to win €1147/50Bet £100 to win £114-714Bet $100 to win $1140.14Bet HK$100 to win HK$114-7.14Bet Rp100 to win Rp1140.1400Bet RM100 to win RM114 favorite with 888Sport, while the best odds for AJ Matthews are 7.75Bet €100 to win €77527/4Bet £100 to win £775+675Bet $100 to win $7756.75Bet HK$100 to win HK$7756.75Bet Rp100 to win Rp775-0.1481Bet RM100 to win RM775 with BetOnline.
Best Bet
Logan Storley to win 1.14Bet €100 to win €1147/50Bet £100 to win £114-714Bet $100 to win $1140.14Bet HK$100 to win HK$114-7.14Bet Rp100 to win Rp1140.1400Bet RM100 to win RM114 with 888Sport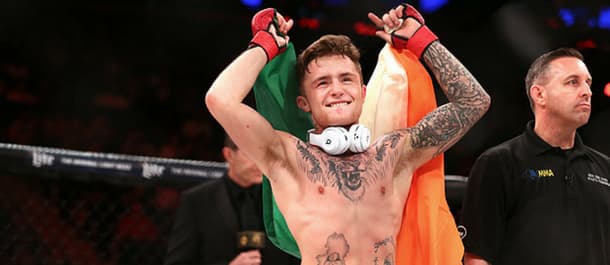 James Gallagher vs. Ricky Bandejas
Friday, August 17 – 9:30 pm (ET) / 1:30am (GMT)
Speaking of rising talent in Bellator's ranks, James Gallagher (7-0) might be one of the very best of them. The 21-year-old, who trains at Straight Blast Gym alongside Conor McGregor and under John Kavanagh, has made an immediate impact since joining Bellator in July 2017. He's also the youngest of all eight competitors on Bellator 204's main card.
Most recently, he scored a significant win against Chinzo Machida at Bellator NYC last year when he picked up an impressive rear-naked choke submission just 2:22 into the first round. That submission was his third consecutive rear-naked choke finish after he had executed the same technique to perfection against Kirill Medvedovski and Anthony Taylor in previous fights. And in fact, all but one of Gallagher's victories have been via choke submission.
He'll return to action after a 'tough run' of injuries and will compete in the bantamweight division for hte first ime in his career after this 419-day layoff.
Ricky Bandejas (10-1) had his hopes set on joining the UFC after becoming the champion of the Cage Fury Fighting Championships (CFFC) bantamweight division. A big win over Askar Askar in a scheduled bout earlier this year could have been enough to slingshot him into consideration, as well, but that fight never eventuated. Now, Bandejas gets a significant opportunity in Bellator as he gets set to enter the promotion for the first time and take on one of the hottest prospects around.
Bandejas will be stepping into this contest with confidence after winning five-straight contests. His last and only loss came against Nick Pace in 2015. Bandejas' record also contains a major win over now-UFC highly-touted bantamweight Merab Dvalishvili. He's no stranger to fierce competition and has regularly been training with the likes of Frankie Edgar, Marlon Moraes, Edson Barboza, and more.
Fight Breakdown
Now, of all underdogs at Bellator 204, I think that Ricky Bandejas has the biggest chance. The guy is talented, packs power in his punches and is relatively well-rounded.
But in saying that he has the biggest chance, it's more reflective of how some of the other underdogs are up against all the odds. Bandejas is a worthy contender against James Gallagher, but I haven't seen anything from Gallagher that makes me think he can be toppled by someone at this level, yet.
Of course, Gallagher will need to be careful of Bandejas' raw stopping power in his hands – as he best displayed at CFFC 69 against Nick Mamalis when he whooped him with a left, right combination that stiffened him out.
For the most part, I don't buy into the hype of Straight Blast Gym, either, and I don't think their 'game planning' will play a major factor as others seem to suggest whenever an SBG member is competing. But I do think that Gallagher's talents will be displayed here at Bellator 204. It will be a fierce battle for both fighters but expect Gallagher to come out on top.
James Gallagher vs. Ricky Bandejas Odds
The odds for this battle are a little tighter than many expected. This leads us to believe there is excellent value by betting on James Gallagher to get the job done against Bandejas at Bellator 204.
Right now, there's a good offer at 888Sport, who have Gallagher at 1.60Bet €100 to win €1603/5Bet £100 to win £160-167Bet $100 to win $1600.60Bet HK$100 to win HK$160-1.67Bet Rp100 to win Rp1600.6000Bet RM100 to win RM160. And for the Bellator newcomer, Ricky Bandejas, you can bet on him over at BetOnline where he is 2.45Bet €100 to win €24529/20Bet £100 to win £245+145Bet $100 to win $2451.45Bet HK$100 to win HK$2451.45Bet Rp100 to win Rp245-0.6897Bet RM100 to win RM245 at the moment.
Best Bet
James Gallagher to win 1.60Bet €100 to win €1603/5Bet £100 to win £160-167Bet $100 to win $1600.60Bet HK$100 to win HK$160-1.67Bet Rp100 to win Rp1600.6000Bet RM100 to win RM160 at 888Sport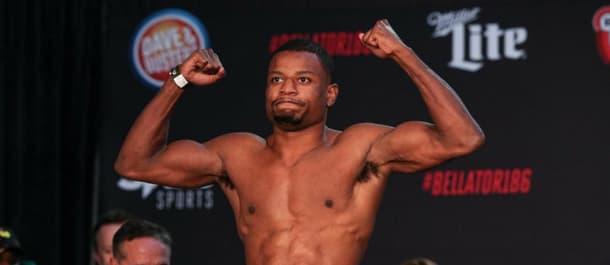 Tywan Claxton vs. Cris Williams
Friday, August 17 – 9:00 pm (ET) / 1:00am (GMT)
To get the main card started, Tywan Claxton will battle with Cris Lencioni in a three-round featherweight bout.
After an impressive 7-0 amateur career, Tywan Claxton (2-0) joined Bellator and has since made his mark by finishing each of his two opponents. Claxton crushed Jonny Bonilla-Bowman with a flying knee just 1:29 into the first round at Bellator 186. Later, he then managed to defeat Jose Perez by ground and pound in the middle of round two at Bellator 194.
Claxton will be competing against Cris Lencioni (4-1), who has split wins and losses in his first two Bellator outings. Much like Claxton, Lencioni enjoyed an extensive amateur career and racked up eight victories – five of which by submission. In fact, only 2 of Lencioni's 13 bouts in his amateur and professional career have lasted the distance.
Note: Cris Lencioni recently changed his name from Cris Williams to honour his grandpa.
Fight Breakdown
Claxton certainly doesn't lack confidence. When he arrived in Bellator last year, he started calling out Aaron Pico to a fight and has attempted to secure that bout ever since. And that flying knee in his debut? Absolutely brutal. With his wrestling ability and a somewhat innovative approach on his feet, Claxton looks to be a dangerous contender in the division.
His creativity might cause problems for Lencioni, who has always looked a little unsure on the feet. His techniques aren't great by any means, but he needs to bait someone into engaging with him on the ground. Against Thomas Lopez, Lencioni wrapped up a brilliant triangle choke and maintained the position for a very long time before eventually submitting Lopez in the first round.
We'll take Claxton in this spot, but we shouldn't be counting out a surprise submission win for Williams, either.
Tywan Claxton vs. Cris Williams Odds
For those looking to be on Tywan Claxton, the best odds available are currently 1.30Bet €100 to win €1303/10Bet £100 to win £130-333Bet $100 to win $1300.30Bet HK$100 to win HK$130-3.33Bet Rp100 to win Rp1300.3000Bet RM100 to win RM130 with BetOnline.
If you're looking to back the underdog, Cris Lencioni, you'll want to take the odds of 1.01Bet €100 to win €1011/100Bet £100 to win £101-10000Bet $100 to win $1010.01Bet HK$100 to win HK$101-100.00Bet Rp100 to win Rp1010.0100Bet RM100 to win RM101 at 888Sport.
Best Bet
Tywan Claxton to win 1.30Bet €100 to win €1303/10Bet £100 to win £130-333Bet $100 to win $1300.30Bet HK$100 to win HK$130-3.33Bet Rp100 to win Rp1300.3000Bet RM100 to win RM130 with BetOnline
Betting Plays
Logan Storley to win 1.14Bet €100 to win €1147/50Bet £100 to win £114-714Bet $100 to win $1140.14Bet HK$100 to win HK$114-7.14Bet Rp100 to win Rp1140.1400Bet RM100 to win RM114 with 888Sport
James Gallagher to win 1.60Bet €100 to win €1603/5Bet £100 to win £160-167Bet $100 to win $1600.60Bet HK$100 to win HK$160-1.67Bet Rp100 to win Rp1600.6000Bet RM100 to win RM160 at 888Sport
Tywan Claxton to win 1.30Bet €100 to win €1303/10Bet £100 to win £130-333Bet $100 to win $1300.30Bet HK$100 to win HK$130-3.33Bet Rp100 to win Rp1300.3000Bet RM100 to win RM130 with BetOnline
Bellator 204
James Gallagher
Logan Storley