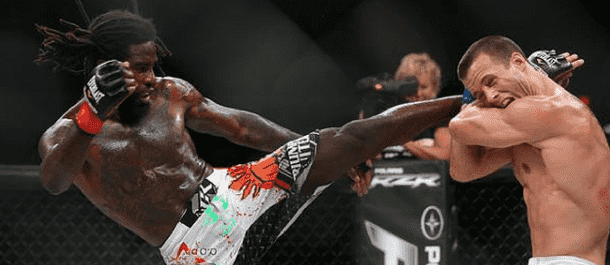 Daniel Straus vs. Emmanuel Sanchez
Bellator 184 Main Card – Featherweight Bout
This fight is all about the narrative. Well, that's a lie because both of these fighters are clearly high-level mixed martial artists, but there is a real story attached to this one.
On one side, you have Daniel Straus who is stepping back into the cage for the first time since losing his title to Patricio Freire at Bellator 178. On the other, it's Emmanuel Sanchez who is making a rapid climb through the ranks to reach a position to one day challenge for the title.
After defeating Patricio Freire to win the title in November 2015, he would have the championship taken away from him in their rematch just one fight later. Both fights provided memorable moments; the first as an entertaining scrap between both fighters and the second would be remembered only for Freire's impressive submission finish.
Emmanuel Sanchez is on a two-fight win streak and a win over Daniel Straus would put him nearly in range of challenging for the Bellator featherweight championship. Sanchez may not have competed against the same standard of martial artists that Straus as, but that's only because he's had to work his way up here. Now that he's here, it's going to be interesting to see how Sanchez hangs with Straus.
Breakdown
This is a difficult fight to break down because both fighters do a lot of the same things inside the Bellator cage. Sanchez is creative in his approach to striking and mixes it up with spinning attacks and unique angles. He'll also remain fluent through his striking combinations as he walks forward with perfect balance and is always ready to throw down.
Straus is much the same in that he isn't the most traditional of strikers. He also has the advantage that he often likes to get the fight to the mat in difficult times. Straus is battle tested and has been in there with the best guys that Bellator's featherweight division has to offer. 'MMA math', for that reason, would suggest that Straus is the more capable of the two, but it's never that simple.
Prediction and Betting Guide
Out with the old and in with the new. Emmanuel Sanchez has what it takes to surprise Bellator fans this weekend with a win over Daniel Straus.
Prediction: Emannuel Sanchez by split decision
You can find the best odds for Emmanual Sanchez to win at Bet365
Pat Curran vs. John Teixeira
Bellator 184 Main Card – Featherweight Bout
Pat Curran, a two-time Bellator champion, returns to the cage this weekend for the first time since May 2016. The last time we saw Pat Curran was in a bout against Georgi Karakhanyan, in which he won a unanimous decision and made it two-straight victories. After being scheduled to fight John Teixeira at Bellator 167 last year, Curran was forced to withdraw due to injury. Now, the two get their opportunity to stand toe-to-toe finally, almost eleven months later.
30-year-old Brazilian John "Macapa" Teixeira had his undefeated run of five years snapped by Daniel Weichel at Bellator 177 by split decision. Unfortunately for "Macapa", it was thought to have slowed his chances of getting in range of a title shot. But actually, a victory against Pat Curran would push him right up the rankings.
Breakdown
Could there be a worse opponent to step inside the cage with after a 500+ day layoff? If Curran wanted to get the hang of things again slowly, it's not going to happen against "Macapa". Teixeira brings the heat early and often. He'll keep the pressure on Curran and it's going to take 1-2 devastating shots for him to respect him enough to slow down.
It's not just the start, though. Curran fights with a slow pace and likes to pick away at opponents. If he fights too patiently against "Macapa", he'll find himself having to come from behind on the judge's scorecards.
Prediction and Betting Guide
As much as "Macapa" is a tough test for Curran on return, there's no doubting that Curran is going to land some clean, hard and straight shots on the face of Teixeira as he moves forward. I'm expecting Curran to lose the first round before winning the second and third rounds.
Prediction: Pat Curran by split decision
You can find the best odds for Pat Curran to win at Betway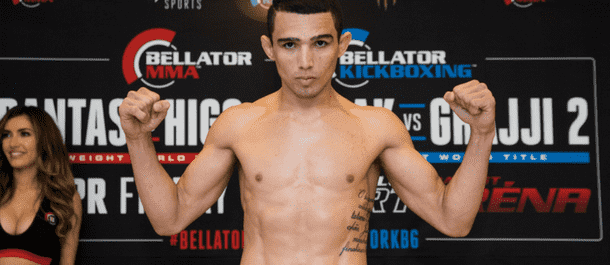 Leandro Higo vs. Joe Taimanglo

Bellator 184 Main Card – Bantamweight Bout
Bellator picked up Leandro Higo last year from Legacy Fighting Alliance and he entered Bellator's bantamweight division as one of the best talents in the world. Despite losing against Eduardo Dantas in his Bellator debut, Leandro Higo is still very much a top bantamweight across any promotion. If anything, it just adds to how good Eduardo Dantas is and doesn't take anything away from Higo.
Joe "The Juggernaut" Taimanglo had his four-fight winning streak snapped by Darrion Caldwell at Bellator 167 in December last year. As mentioned in our preview for the Bellator 184 main event, Taimanglo picked up a shocking victory against Caldwell before losing the rematch.
Breakdown
Leandro Higo is a super slick grappler. If you want evidence, just watch this first round against Joey Miolla to see his elite grappling on display. On the mat, he's consistently looking for submission opportunities or a chance to pass the guard using superb movements such as x-guard or butterfly sweeps.
Grit, grind, and determination are all qualities of Taimanglo. He caught Caldwell with a choke out of sheer desperation and relentless work ethic. In the rematch, he was still going at him deep into the final minutes and came close to securing another choke but it wasn't enough this time around. Against Higo, though, you can be certain that the choke isn't there for the taking.
Prediction and Betting Guide
Taimanglo hasn't been submitted since 2009 but this one has a Higo submission victory written all over it. Picking the submission is difficult because Higo can really do it all. It will also be difficult to finish Taimanglo, who only ever comes forward with the heart to keep going. Higo is top-quality, though, and will find a way to win at Bellator 184 before the 15 minutes are up.
Prediction: Leandro Higo by submission
You can find the best odds for Leandro Higo to win at Bet365
Best Bets
Daniel Straus vs. Emmanuel Sanchez
Emmanuel Sanchez to Win
Friday, 6th October – 11:00 pm (ET) / 3:00am (GMT)
Odds: 2.50Bet €100 to win €2503/2Bet £100 to win £250+150Bet $100 to win $2501.50Bet HK$100 to win HK$2501.50Bet Rp100 to win Rp250-0.6667Bet RM100 to win RM250 at Bet365
Pat Curran vs. John Teixeira
Pat Curran to Win
Friday, 6th October – 10:30 pm (ET) / 2:30am (GMT)
Odds: 1.62Bet €100 to win €16231/50Bet £100 to win £162-161Bet $100 to win $1620.62Bet HK$100 to win HK$162-1.61Bet Rp100 to win Rp1620.6200Bet RM100 to win RM162 at Betway
Leandro Higo vs. Joe Taimanglo
Leandro Higo to Win
Friday, 6th October – 10:00 pm (ET) / 2:00am (GMT)
Odds: 1.47Bet €100 to win €14747/100Bet £100 to win £147-213Bet $100 to win $1470.47Bet HK$100 to win HK$147-2.13Bet Rp100 to win Rp1470.4700Bet RM100 to win RM147 at Bet365