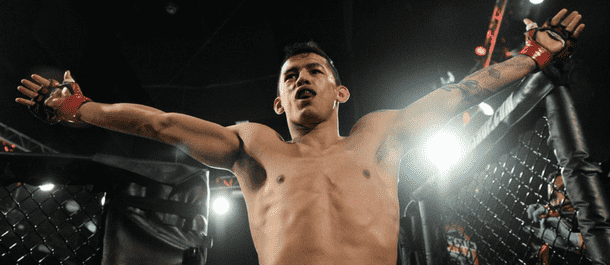 Eduardo Dantas vs. Darrion Caldwell
Bellator 184 Main Event – Bantamweight Championship
Bellator 184 is headlined by a Bellator Bantamweight Championship bout between Eduardo Dantas and Darrion Caldwell. Eduardo Dantas, the champion, will be looking to defend his title from the challenger who makes his return to the cage for the first time in 2017.
Eduardo Dantas
Record: 20-4
Height: 5'10" (178cm)
Reach: 69.0″ (175cm)
Odds: 1.83Bet €100 to win €18383/100Bet £100 to win £183-120Bet $100 to win $1830.83Bet HK$100 to win HK$183-1.20Bet Rp100 to win Rp1830.8300Bet RM100 to win RM183
Eduardo Dantas has racked up plenty of minutes inside the Bellator cage and will be fighting for the 12th time since joining Bellator. He's currently on a four-fight winning streak, the longest of anyone in the bantamweight division at Bellator. Dantas is no stranger to title fights, and this will be his seventh Bellator title fight.
The 28-year-old Brazilian has been pushed to the limits in his last two fights. After Joe Warren pushed him to a five round majority decision, Leandro Higo also forced the best out of Dantas by taking him to a three round split decision in a non-title fight in April.
Darrion Caldwell
Record: 9-1
Height: 5'10" (178cm)
Reach: 74.0″ (188cm)
Odds: 2.00Bet €100 to win €2001/1Bet £100 to win £200+100Bet $100 to win $2001.00Bet HK$100 to win HK$2001.00Bet Rp100 to win Rp2001.0000Bet RM100 to win RM200
Darrion Caldwell makes his first entry to the Bellator cage since December 2016. It was at this time when Caldwell avenged his only loss by defeating Joe Taimanglo via unanimous decision. It was a strange time for Caldwell, who lost the first fight via submission in the third round against Taimanglo despite entering as a 1.08Bet €100 to win €1082/25Bet £100 to win £108-1250Bet $100 to win $1080.08Bet HK$100 to win HK$108-12.50Bet Rp100 to win Rp1080.0800Bet RM100 to win RM108 favorite.
In the rematch, there was still plenty of respect for Caldwell as he stepped into the cage as a heavy betting favorite at 1.12Bet €100 to win €1123/25Bet £100 to win £112-833Bet $100 to win $1120.12Bet HK$100 to win HK$112-8.33Bet Rp100 to win Rp1120.1200Bet RM100 to win RM112 and this time he would prevail.
Since dropping to bantamweight, Caldwell has looked better than before and is now holding a 4-1 record in the division.

Fight Breakdown
The evolution of Eduardo Dantas will be on full display for everyone watching Bellator 184. His striking techniques, range, patience, and timing will all be tested against the powerful wrestling abilities of Darrion Caldwell.
While it's not entirely a striker vs. wrestler matchup, it definitely is as close to it as it gets. Caldwell is the type of explosive wrestler that can shoot in at your legs from across the cage before dragging you down to the mat and keeping you there. Alternatively, he'll just submit an opponent once they're down there and he has done this four times.
Dantas is capable of sticking at a safe distance and pumping the jab and other punches into the face of a frustrated opponent. If Caldwell can't get his shots and take Dantas down to the mat, he's likely to have a busted face after just one round of standing with Dantas. If Caldwell can get Dantas down to the canvas, it's going to be on Dantas to get back up as soon as possible because the heavy top pressure and relatively unusual wrestling techniques of Caldwell could spell trouble.
Prediction and Betting Guide
Eduardo Dantas is one of the coolest and composed champions in all of mixed martial arts. He's been here many times and succeeded many times as well. Strangely though, this is the type of matchup where it is on Dantas to step up to the plate because Caldwell brings excellent capabilities with him and a strong chance of topping the champion. I can't go past Dantas, though, and believe he'll be able to punish Caldwell standing up just enough to score the win.
At the moment, there are no betting odds available for this fight. Check back in closer to Bellator 184!
Prediction: Eduardo Dantas by split decision
Best Bet
Eduardo Dantas vs. Darrion Caldwell
Eduardo Dantas to Win
Saturday, 7th October – 11:50 pm (ET) / 3:50am (GMT)
Odds: 1.83Bet €100 to win €18383/100Bet £100 to win £183-120Bet $100 to win $1830.83Bet HK$100 to win HK$183-1.20Bet Rp100 to win Rp1830.8300Bet RM100 to win RM183