Paul Daley vs Lorenz Larkin

Bellator 183 Main Card – Welterweight Bout
This is not just one of the most promising fights at Bellator 183, but it could very well shape up to be one of the best fights of the year. Both Paul Daley and Lorenz Larkin know how to throw down and will be exchanging strikes all night long at Bellator 183.
Paul Daley (39-15-2) was recently smashed by Rory MacDonald at Bellator 179. Daley never looked a chance against MacDonald and was submitted in round two after MacDonald took his back. Unfortunately for Daley, it halted the run he had going after scoring arguably the best knockout of the year so far.
Lorenz Larkin (18-6) is in the new batch of Bellator talent that has crossed over from the UFC. Larkin's two-fight winning streak was stopped by Douglas Lima at Bellator NYC after Lima took him to the scorecards and won a unanimous decision. Larkin paid too much respect for Lima that night and ultimately was too inactive in the eyes of the judges.
Breakdown
This one will predominantly be fought standing up. Daley is a scrapper with heavy hands and stopping power. He'll likely walk forward and bring an aggressive style to Lorenz Larkin this weekend.
Larkin, on the other hand, is a technical striking phenom with vicious kicks and punches. He smashed the legs of Neil Magny at UFC 202 until he could walk no longer. The same approach is a risky one with Daley because unlike Magny, Daley has power in his hands that can cause plenty of trouble.
Prediction and Betting Strategy
Larkin is a beast and got off to the wrong start in his Bellator debut. His striking is sensational, but it only takes one mistake against the ever-dangerous Paul Daley. The bookmakers have Larkin as a moderative betting favorite, so I'll be betting the other side in the hope Daley scores a winning blow.
Prediction: Paul Daley by KO/TKO – Round Two
You can find the best odds for a Paul Daley victory at Bet365
Roy Nelson vs Javy Ayala

Bellator 183 Main Card – Heavyweight Bout
No, you're not reading that incorrectly.
Roy Nelson is now fighting in Bellator after leaving the UFC earlier this year. He's set to make his promotional debut against Javy Ayala this weekend at Bellator 183.
Nelson (22-14) most recently lost to Alexander Volkov at UFC on FOX 24 before crossing over the lines. "Big Country" hasn't strung two consecutive wins together since 2013 when he defeated Matt Mitrione and Cheick Kongo. Since then, he's now got a tendency to lose on the judges scorecards.
Javy Ayala (10-5) is yet to compete in 2017 but will enter after picking up two consecutive wins against Roy Boughton and Sergei Kharitonov.He's now 5-2 in Bellator since joining in 2013.
Breakdown
Roy Nelson's massive right hand can end the night early. Nelson has impressive jiu-jitsu and is incredibly dangerous on the mat, but the fight now rarely ever gets there for him as he continues to look to land his devastating fight-finishing power.
The massive Javy Ayala also has knockout power of his own. Want proof? Well, how about when he ended Kharitonov's night in just 16 seconds at Bellator 163.
Prediction and Betting Strategy
As much finishing power as these two fighters possess, Roy Nelson tends to get into long and drawn-out fights lately. I'm expecting this one to be no different as they will both respect each others power inside the Bellator cage. Roy Nelson by decision is the prediction, but the betting play is to bet on this one making it past 1.5 rounds.
Prediction: Roy Nelson by Unanimous Decision
You can find the best odds for Total Rounds – Over 1.5 at Betway

Adam Piccolotti vs Goiti Yamauchi

Bellator 183 Main Card – Lightweight Bout
Undefeated Adam Piccolotti (9-0) is quickly climbing the Bellator lightweight rankings after scoring five consecutive victories in the promotion since joining in February 2015. His most impressive victory was his most recent fight with Brandon Girtz; a fight in which he was unable to finish the 14-4 lightweight but instead managed to win a unanimous decision.
Goiti Yamauchi (21-3) is 7-2 in Bellator MMA since joining at Bellator 99. He's now managed two consecutive wins heading into this fight with Piccolotti and a win from either of these fighters will well and truly boost them in the rankings of the division. Piccolotti is definitely Yamauchi's greatest test of the last couple of years.
Breakdown
Both of these fighters are impressive jiu-jitsu technicians, but they have unique approaches to the grappling game in mixed martial arts.
Piccolotti, much like in Ben Askren kind-of style, chooses to ground and pound opponents on the mat. He'll strike his opponent over and over until forcing them to give up bad positions and eventually submissions.
Yamauchi, on the other hand, is a more traditional sport jiu-jitsu type of guy and will be looking to pass the guard and gain control of his opponent before attempting submissions.
Classic jiu-jitsu might not be around in the future of mixed martial arts as we continue to see a blend of striking and grappling techniques all blended together. It will be interesting to see the two styles collide this weekend.
Prediction and Betting Strategy
Piccolotti is dangerous everywhere. He's strong, athletic and powerful and will be looking for ways to finish Yamauchi this weekend. While both of these fighters have impressive submission defense, continued stalling will leave other opportunities for the finish and I can see a ground and pound victory occurring.
Prediction: Adam Piccolotti by KO/TKO – Round Three
You can find the best odds for Total Rounds – Under 2.5 at Marathon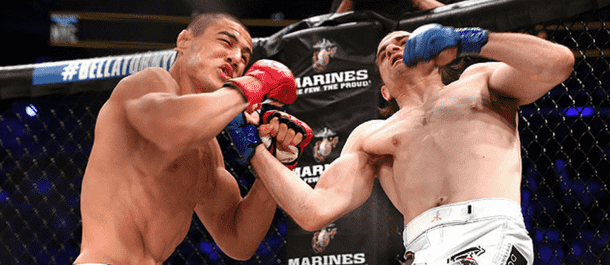 Aaron Pico vs Justin Linn

Bellator 183 Main Card – Featherweight Bout
Aaron Pico's (0-1) mixed martial arts debut turned sour as he was submitted by Zach Freeman in just 24 seconds on Bellator's biggest stage at Bellator NYC. Pico was (and still is) regarded as one of the best up-and-coming mixed martial artists. He enters the sport with an extensive list of wrestling credentials and Golden Gloves boxing championships to his name.
Justin Linn (7-3) is a tough and gritty fighter who is strangely entering Bellator after two straight losses after beginning his career 7-1. Much like Zach Freeman did, Linn will be hoping to shut down the hype behind Aaron Pico and surprise fans around the world.
Breakdown
This isn't as easy of a task for Pico as the bookmakers are suggesting.
Justin Linn has some nasty stand-up abilities to go with his jiu-jitsu and submission grappling. He fights long and rangy and can be a little awkward for opponents.
Aaron Pico is technically very solid on the feet and his boxing will be too classy for most opponents, however against a unique and unorthodox opponent like Linn, it takes away some of the effectiveness of his boxing. On the mat, Pico could get to stage where he pins Linn to the floor before ground and pounding away, but even then Linn has the abilities to get back to his feet when required or look for submissions.
Prediction and Betting Strategy
Aaron Pico will put up a bigger and better fight in this one than his Bellator debut, however, he will still fall short against the experienced Justin Linn.
Prediction: Justin Linn by Submission – Round Two
You can find the best odds for a Justin Linn victory at 188Bet
Best Bets
Paul Daley vs Lorenz Larkin
Paul Daley to Win
Saturday 23rd September – 10:30 pm (ET) / 2:30am GMT
Odds: 3.00Bet €100 to win €3002/1Bet £100 to win £300+200Bet $100 to win $3002.00Bet HK$100 to win HK$3002.00Bet Rp100 to win Rp300-0.5000Bet RM100 to win RM300 – Bet365
Roy Nelson vs Javy Ayala
Total Rounds – Over 1.5
Saturday 23rd September – 10:00 pm (ET) / 2:00am GMT
Odds: 1.95Bet €100 to win €19519/20Bet £100 to win £195-105Bet $100 to win $1950.95Bet HK$100 to win HK$195-1.05Bet Rp100 to win Rp1950.9500Bet RM100 to win RM195 – Betway
Adam Piccolotti vs Goiti Yamauchi
Total Rounds – Under 2.5
Saturday 23rd September – 9:30 pm (ET) / 1:30am GMT
Odds: 2.27Bet €100 to win €227127/100Bet £100 to win £227+127Bet $100 to win $2271.27Bet HK$100 to win HK$2271.27Bet Rp100 to win Rp227-0.7874Bet RM100 to win RM227 – Marathon
Aaron Pico vs Justin Linn
Justin Linn to Win
Saturday 23rd September – 9:00 pm (ET) / 1:00am GMT
Odds: 5.20Bet €100 to win €52021/5Bet £100 to win £520+420Bet $100 to win $5204.20Bet HK$100 to win HK$5204.20Bet Rp100 to win Rp520-0.2381Bet RM100 to win RM520 – 188Bet