Chidi Njokuani vs Andrey Koreshkov
Bellator 182 – Welterweight Main Event
Strap yourselves in for Bellator's main event this weekend when Chidi Njokuani faces Andrey Koreshkov.
Koreshkov, the former Bellator welterweight champion, lost his title against Douglas Lima in November last year. Koreskov controlled the majority of the fight but slipped up in round three and allowed Lima to land with full force. Koreshkov went down and lost for the second time in his career. His earlier loss was at the hands of the talented wrestler and current ONE: Championship title holder, Ben Askren in 2013.
Standing across from Koreshkov this weekend is Chidi Njokuani. Njokuani enters this fight on an eight-fight winning streak that includes four straight victories in Bellator. Njokuani's most recent victory was a beatdown of Melvin Guillard at Bellator 171.
Prediction and Betting Strategy
I really like watching Chidi Njokuani and think that he can be a top-quality fighter if he's not considered one already. However, he's going to be facing an extremely dangerous Koreshkov who enters this fight after suffering a loss. Expect Koreshkov to pick Njokuani apart for three rounds before finishing him in the fourth round.
Koreshkov enters this one as a heavy favorite, as expected. We'll still bet accordingly.
Andrey Koreshkov to win is 1.73Bet €100 to win €17373/100Bet £100 to win £173-137Bet $100 to win $1730.73Bet HK$100 to win HK$173-1.37Bet Rp100 to win Rp1730.7300Bet RM100 to win RM173 at Stan James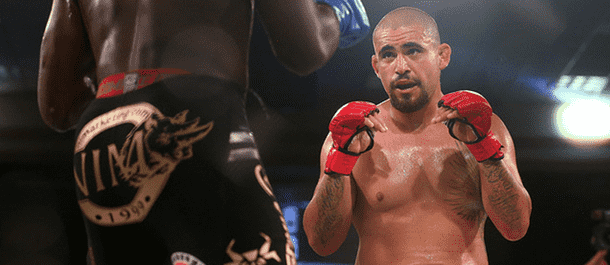 Fernando Gonzalez vs Brennan Ward
Bellator 182 – Catchweight Co-Main Event
While the UFC is enjoying an extended break as they continue to promote 'The Money Fight' on Saturday, Bellator has quietly put together one of the most exciting cards out there. Backing up the strong main event is a potential toe-to-toe thriller between Fernando Gonzalez and Brennan Ward.
Fernando Gonzalez has nearly been perfect through his Bellator career. He lost a split decision to Michael 'Venom' Page at Bellator 165 after starting the fight slowly and coming on to win the last round. He also fell short to Paul Daley in a kickboxing contest at Bellator 142. Outside of these two fights, though, Gonzalez has racked up seven wins in the organization, starting in 2014.
When Brennan Ward fights, you need to tune in. Ward brings proper fighting spirit into the octagon and wants to provide the knockout finish for fans. Unfortunately for Ward, while his promise of a knockout was true at Bellator 170, he was on the receiving end of a brutal Paul Daley knockout that is easily one of the best knockouts of 2017. The loss marked Ward down as 1-2 since April 2016 and he will be hoping to shut down the rise of Fernando Gonzalez this weekend.
Prediction and Betting Strategy
It's going to be interesting to see whether Gonzalez can handle the early trademark pressure of Ward. If he can survive the early moments and start to bring the fight to his own pace, Gonzalez should be able to outwork Ward for a decision victory. The odds here are close to even, so we will bet in line with our prediction.
Fernando Gonzalez to win is 1.95Bet €100 to win €19519/20Bet £100 to win £195-105Bet $100 to win $1950.95Bet HK$100 to win HK$195-1.05Bet Rp100 to win Rp1950.9500Bet RM100 to win RM195 at Ladbrokes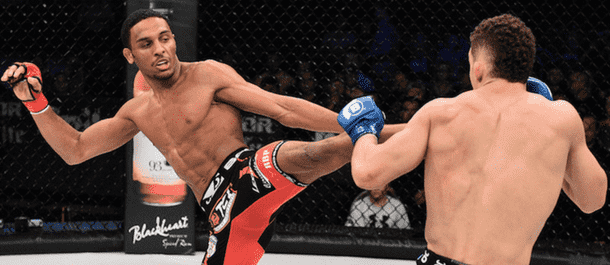 Blair Tugman vs AJ McKee
Bellator 182 – Featherweight Feature Fight
The undefeated 8-0 AJ McKee will be looking to continue his tear through Bellator's featherweight division when he meets Blair Tugman in the cage at Bellator 182. McKee steps in after flooring 12-1 Dominic Mazzotta with a head kick at Bellator 178.
Blair Tugman has managed a 5-1 record in Bellator since joining in 2014. Recently, Tugman has managed three straight victories and his last outing was a submission win over Tom English at Bellator 178 in April, the same card that McKee last featured on.
Prediction and Betting Strategy
AJ McKee continues to be matched against fighters that aren't really a true test of his abilities. Blair Tugman, despite a wealth of experience over AJ McKee, won't be able to slow down McKee's rise through Bellator's rankings. McKee has had trouble finishing opponents in the past and I believe that Tugman can stay the distance. There's no value on McKee, so we'll bet on the over 1.5 rounds total.
Total Rounds – Over 1.5 1.94Bet €100 to win €19447/50Bet £100 to win £194-106Bet $100 to win $1940.94Bet HK$100 to win HK$194-1.06Bet Rp100 to win Rp1940.9400Bet RM100 to win RM194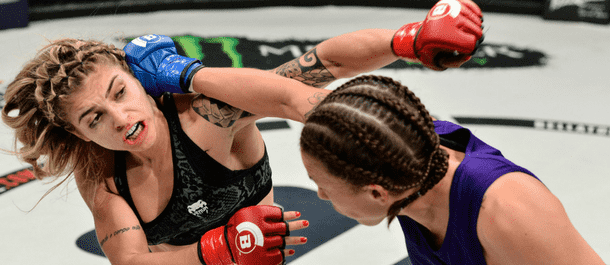 Veta Arteaga vs Bruna Ellen
Bellator 182 – Women's Flyweight Feature Fight
Two 3-1 female flyweights will meet on the main card of Bellator 182. Bruna Ellen, just 21-years of age, recently picked up her first win in Bellator in January this year after she unsuccessfully debuted against Jessica Middleton at Bellator 159.
Veta Arteaga is 2-1 in the Bellator organization and most recently picked up a KO/TKO victory against Brooke Mayo at Bellator 172. Arteaga beat up Mayo's eye so badly that it became swollen and the doctor's put an end to the fight.
Both of these fighters are relatively inexperienced and have not competed against quality competitors. Regardless, it should be an interesting battle and one that could push the winner into brighter spots in the future.
Prediction and Betting Strategy
I've got faith in Bruna Ellen's hands. Once she gets going inside the cage, she's going to win plenty of more fights in Bellator MMA. Arteaga sometimes enters her opponent's range carelessly and I can see Ellen landing her shots over and over. Strangely (and fortunately for us), the bookmakers have Veta Arteaga booked as the favorite.
Bruna Ellen to win is 2.55Bet €100 to win €25531/20Bet £100 to win £255+155Bet $100 to win $2551.55Bet HK$100 to win HK$2551.55Bet Rp100 to win Rp255-0.6452Bet RM100 to win RM255 at Bwin
Best Bets
Chidi Njokuani vs Andrey Koreshkov
Andrey Koreshkov to win
Friday 25th August – 10:30 pm (ET) / 2:30am GMT
Odds: 1.30Bet €100 to win €1303/10Bet £100 to win £130-333Bet $100 to win $1300.30Bet HK$100 to win HK$130-3.33Bet Rp100 to win Rp1300.3000Bet RM100 to win RM130 – Bet365
Fernando Gonzalez vs Brennan Ward
Fernando Gonzalez to win
Friday 25th August – 10:00 pm (ET) / 2:00am GMT
Odds: 1.95Bet €100 to win €19519/20Bet £100 to win £195-105Bet $100 to win $1950.95Bet HK$100 to win HK$195-1.05Bet Rp100 to win Rp1950.9500Bet RM100 to win RM195 – Ladbrokes
Blair Tugman vs AJ McKee
Total Rounds – Over 1.5
Friday 25th August – 9:30 pm (ET) / 1:30am GMT
Odds: 1.94Bet €100 to win €19447/50Bet £100 to win £194-106Bet $100 to win $1940.94Bet HK$100 to win HK$194-1.06Bet Rp100 to win Rp1940.9400Bet RM100 to win RM194
Veta Arteaga vs Bruna Ellen
Bruna Ellen to win
Friday 25th August – 9:00 pm (ET) / 1:00am GMT
Odds: 2.55Bet €100 to win €25531/20Bet £100 to win £255+155Bet $100 to win $2551.55Bet HK$100 to win HK$2551.55Bet Rp100 to win Rp255-0.6452Bet RM100 to win RM255 – Bwin