Jessica Middleton vs. Emily Ducote
Bellator 181 Co-Main Event – Women's Flyweight Bout
Jessica Middleton steps in on just three days notice to fight Emily Ducote after Valerie Letourneau was forced to withdraw due to injury.
Jessica Middleton
Record: 2-1
Height: 5'7″ (170cm)
Reach: N/A
Jessica Middleton rose to fame back in her amateur days when she landed a monstrous spinning back-fist on Holly Torrez in 2014. With all of this newly acquired popularity, Middleton was able to debut directly into Bellator MMA in July 2016. Since arriving in Bellator, Middleton has managed a 2-1 record with her most recent fight ending with her tapping to Ilima-Lei Macfarlane's vicious armbar.
Emily Ducote
Record: 5-2
Height: 5'2″ (157cm)
Reach: 63.0″ (160cm)
23-year-old Emily Ducote has racked up a 3-1 record in her short time at Bellator of just 12 months. Ducote is seemingly always the underdog in her fights but manages to find a way to win. Her three Bellator wins have all come via way of submission. Ducote is aggressive and dangerous inside the cage and is always looking for the finish.
The Breakdown
Jessica Middleton is a striker who likes to operate at the edge of her opponent's range. She's technical and will use footwork to keep punishing Ducote with long strikes.
Although Emily Ducote was planning to face Valerie Letourneau and not Jessica Middleton, her strategy won't change all that much when she enters the Bellator cage on Friday. Ducote will be looking to swarm Middleton and keep the pressure on her. Ideally, if Ducote can get Middleton to the mat she can hunt for a submission and finish the fight. Middleton's previous loss was via way of armbar and there's every chance that Ducote finds a way to secure a submission victory against her this weekend.
Prediction and Betting Strategy
This fight could very well play out the same as Middleton's last time in the cage. I've got Emily Ducote winning by way of second round submission.
Extended betting markets aren't released yet but we can capture value by going after the Total Rounds – Under 2.5 bet.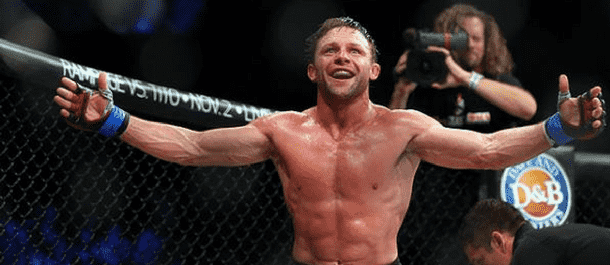 Joe Warren vs. Steve Garcia Jr.
Bellator 181 Main Card – Bantamweight Bout
Joe Warren
Record: 14-6-0
Height: 5'6″ (168cm)
Reach: 69.0″ (175cm)
Joe Warren is the oldest bantamweight on the Bellator roster. Warren is a former two-division Bellator champion in both the bantamweight and featherweight division. Despite not being super impressive form, he managed to score a title challenge bout against Eduardo Dantas at Bellator 166. Warren dropped a majority decision to Dantas in their five-round title fight.
Steve Garcia Jr.
Record: 7-1-0
Height: 6'0″ (183cm)
Reach: 73.0″ (185cm)
Steve Garcia Jr. is one of Bellator's many hidden prospects. Garcia is a knockout machine, which is rare to see from someone in the bantamweight division. He's now 5-1 in Bellator with three KO/TKO victories and his only loss comes via split decision against Ricky Turcios.
The Breakdown
Steve Garcia's got dangerous hands. Because of this, we can already assume how this fight is going to play out for Joe Warren. Warren is going to want to get this fight to the mat immediately and grind out a victory in classic Joe Warren fashion this weekend at Bellator 181.
It's going to take some impressive defensive wrestling if Steve Garcia wants to stay in this fight. Either that or he will need to land a devastating blow in the limited time that this one remains standing up.
Prediction and Betting Strategy
Joe Warren by decision. Warren's wrestling should be way too much for Garcia to handle at this stage. Warren always knows how to find a way to win and he'll shut down the up-and-coming Bellator prospect at Bellator 181.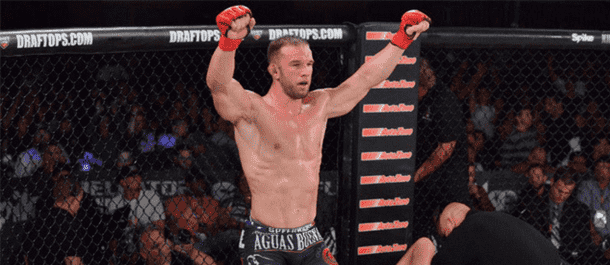 Kendall Grove vs. John Salter
Bellator 181 Main Card – Middleweight Bout
Kendall Grove
Record: 23-16
Height: 6'6″ (199cm)
Reach: 79.0″ (201cm)
Kendall Grove, the winner of The Ultimate Fighter 3, will be looking to return to form with a win against John Salter at Bellator 181. Grove's two-fight winning streak came to an end when he lost to Alexander Shlemenko by TKO at Bellator 162.
John Salter
Record: 13-3
Height: 6'1″ (186cm)
Reach: 74.0″ (188cm)
John Salter is quickly moving into the top tier of fighters in Bellator's middleweight division if he's not there already. After scoring a big upset win against Brandon Halsey at Bellator 156, Salter backed it up at Bellator 168 with a first round KO/TKO victory against Claudio Annicchiarico.
The Breakdown
This fight simply comes down to who controls the range. Kendall Grove is very tall for the middleweight division and is five inches taller than John Salter entering this one. If Grove can manage to fight behind his jab, use his range and throw effective combinations from the outside, he should be able to keep Salter away all night long.
Salter, on the other hand, will need to find ways to move inside Grove's range by slipping straight punches and moving forward quickly. Salter has a distinct advantage on the ground in this fight and if he can get it there, he will be able to instantly take away any of Grove's advantages that come from height and reach.
Prediction and Betting Strategy
John Salter by KO/TKO after dishing out some extreme ground and pound. Grove may be able to keep Salter away for a little while, but Salter will move in and tag Grove with some heavy shots before taking it to the ground and finishing him.
Best Bet
Jessica Middleton vs. Emily Ducote
Total Rounds – Under 2.5
Friday 14th July – 10:30 pm (ET) / 2:30am GMT
Odds: 2.50Bet €100 to win €2503/2Bet £100 to win £250+150Bet $100 to win $2501.50Bet HK$100 to win HK$2501.50Bet Rp100 to win Rp250-0.6667Bet RM100 to win RM250 – Paddy Power
Joe Warren vs. Steve Garcia Jr.
Joe Warren to Win
Friday 14th July – 10:00 pm (ET) / 2:00am GMT
Odds: 1.50Bet €100 to win €1501/2Bet £100 to win £150-200Bet $100 to win $1500.50Bet HK$100 to win HK$150-2.00Bet Rp100 to win Rp1500.5000Bet RM100 to win RM150 – SkyBet
Kendall Grove vs. John Salter
John Salter to Win
Friday 14th July – 09:30 pm (ET) / 1:30am GMT
Odds: 1.50Bet €100 to win €1501/2Bet £100 to win £150-200Bet $100 to win $1500.50Bet HK$100 to win HK$150-2.00Bet Rp100 to win Rp1500.5000Bet RM100 to win RM150 – SkyBet