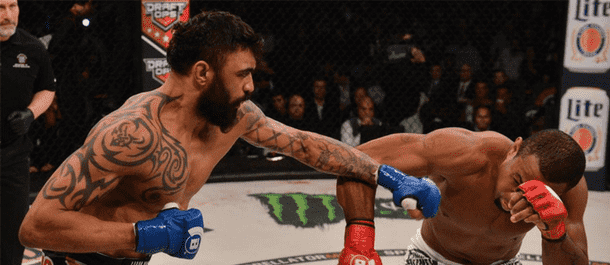 Liam McGeary vs. Linton Vassell
The battle between these two talented light heavyweights has now been bumped to the co-main event slot of Bellator 179 after the announcement that Michael 'Venom' Page vs. Derek Anderson is cancelled due to Page injuring his knee. This is an important bout for Bellator's light-heavyweight division, so let's break it down!
Liam McGeary
Record: 12-1
Height: 6'6″ (198cm)
Reach: 81.0″ (206cm)
Gym: Team Renzo Gracie
Liam McGeary was invited to take the Linton Vassell fight in London by Scott Coker after defeating Brett McDermott at Bellator 173. It was an obvious 'yes' from McGeary who gets a chance to work his way back to the title with a win over Linton Vassell in front of London fans.
McGeary is a truly destructive force inside the cage and has finished eleven of his twelve victories via the way of stoppage. He owns both some powerful striking abilities and a nasty submission game, also. McGeary was previously undefeated before Phil Davis took the Bellator light-heavyweight championship away from him, defeating him in a landslide 50-43, 50-44 and 50-45 unanimous decision.
Linton Vassell
Record: 18-5
Height: 6'4″ (193cm)
Reach: 82.0″ (208cm)
Gym: Immortal MMA
Linton Vassell is somewhat of a quiet achiever in the world of mixed martial arts. He blew his shot at the light-heavyweight title against Emanuel Newton back at Bellator 130 after losing via submission in the fifth round but was later able to avenge his loss at Bellator 149. Unfortunately for Vassell, the title was in the hands of McGeary at the time of victory.
Vassell has excellent wrestling ability and his top control is fundamental to his game in mixed martial arts. His stand-up isn't particularly good and that makes him somewhat of a typical grappler, being that they want to get this fight to the mat urgently. This is especially the case against a striker such as McGeary.
The Breakdown
This is not your typical striker vs. grappler match-up. There are a couple of additional factors at play, but first, we will analyse the striking. It's clear that McGeary has the advantage here, despite giving up a small reach advantage to Vassell. McGeary packs more power and is very comfortable trading blows, as evident in his last bout with Brett McDermott in which both fighters stood toe-to-toe.
I don't doubt Vassell's ability to get this one to the mat as he seemingly always finds a way to do so. Phil Davis was able to dominate Liam McGeary from inside McGeary's guard and I'm sure that Vassell will be hoping to replicate this at Bellator 179.
The extra element to consider here, though, is McGeary's submission game and the effect that may have on Vassell when it hits the mat. Vassell will need to be careful of McGeary throwing up submission attempts from the bottom and this may limit his effectiveness.
Prediction
McGeary has more ways to win in this one and I believe he'll stop Vassell early in the second round.

Cheick Kongo vs. Augusto Sakai
It's always a rare sighting to see two heavyweight fighters on a hot-streak battle it out, but we're treated to exactly that at Bellator 179.
Cheick Kongo
Record: 26-10-2
Height: 6'4″ (194cm)
Reach: 81.0″ (206cm)
Gym: Quoniam Gym
Cheick Kongo, the 41-year-old veteran from France will look to continue his four win streak by defeating Augusto Sakai at Bellator 179. Kongo's last loss was to 'King Mo' Muhammed Lawal back at Bellator 134 in February 2015. Since that day, he has managed four decision victories, even booked as an underdog in two of the fights.
Augusto Sakai
Record: 9-0-1
Height: 6'3″ (191cm)
Reach: 78.0″ (198cm)
Gym: Gile Ribeiro Team / Noguchi

Augusto Sakai is one big dude, having to cut weight to make the heavyweight limit – crazy! At just 25-years-old, Sakai hasn't even competed in close to a quarter of the fights that Kongo has completed. Sakai is known as a 'knockout artist' and has put seven of his opponents away due to KO/TKO. Sakai will be hoping to remain undefeated and continue to climb the heavyweight rankings at Bellator.
The Breakdown
I don't expect Kongo to trade blows and rely on his Muay Thai against Sakai's powerful striking. Instead, Kongo will be looking to get Sakai down to the mat and lay on him in typical Cheick Kongo style.
The tricky part here, however, is that Sakai is extremely difficult to work against because of his massive size and he works from a distance using long kicks to keep his opponent away.
Sakai was taken down very easily by Dan Charles at the beginning of Round 3 but wasn't able to hold him down. I expect Kongo to control Sakai from top position.
Prediction
Kongo wins a decision victory in a fairly uneventful fight.

Dan Edwards vs. Alex Lohore
This bout really isn't the best technical display of fighting from Bellator's perspective, but it could be quite entertaining.
Dan Edwards
Record: 14-14
Height: 6'2″ (188cm)
Gym: Arcadius MMA
Dan 'Vinni' recently snapped his six-fight losing streak by winning two consecutive fights in the later half of 2016. Interestingly, he fought at light heavyweight (205lbs) in August before dropping to welterweight (170lbs) to defeat Vaso Bakočević and now take on Alex Lohore. Dan will make his Bellator debut at Bellator 179 in front of local fans in England.
Alex Lohore
Record: 11-1
Height: 170.4 lbs (77.3 kgs)
Gym: New Wave Academy
Alex Lohore made his Bellator debut at Bellator 173 against Colin Fletcher. It was an exciting fight with back-and-forth moments, but most notably Fletcher pretty much knocked Lohore out with a solid punch in round one but Lohore bounced back to consciousness when his head hit the mat and recovered before a stoppage. Lohore fought on and ended up winning via rear naked choke in the middle of round two.
The Breakdown
Alex Lohore is exciting and will move forward behind some brilliant striking, especially his kicks. However, Lohore doesn't have much in terms of defensive awareness in the striking game, opting to lean back and plant his feet heavy to avoid strikes rather than move his feet.
Dan Vinni moves quite well around the cage and has decent jiu-jitsu too. It's hard to look past the 14-14 record for many, but I believe Dan Vinni is actually much better than his record suggests and will provide a tough fight for Alex Lohore in front of the London crowd.
Prediction
I am certain that this fight won't make it to the judge's scorecards but choosing a winner is proving difficult. For odds purposes, that means we take the heavy underdog in Dan Edwards.
Best Bets
Liam McGeary vs. Linton Vassell
Liam McGeary to Win
Friday 19th May, 22:30 GMT
Odds: 1.53Bet €100 to win €15353/100Bet £100 to win £153-189Bet $100 to win $1530.53Bet HK$100 to win HK$153-1.89Bet Rp100 to win Rp1530.5300Bet RM100 to win RM153 – PaddyPower
Cheick Kongo vs. Augusto Sakai
Cheick Kongo to Win
Friday 19th May, 22:00 GMT
Odds: 1.50Bet €100 to win €1501/2Bet £100 to win £150-200Bet $100 to win $1500.50Bet HK$100 to win HK$150-2.00Bet Rp100 to win Rp1500.5000Bet RM100 to win RM150 – PaddyPower
Dan Edwards vs. Alex Lohore
Dan Edwards to Win
Friday 19th May, 21:30 GMT
Odds: 1.50Bet €100 to win €1501/2Bet £100 to win £150-200Bet $100 to win $1500.50Bet HK$100 to win HK$150-2.00Bet Rp100 to win Rp1500.5000Bet RM100 to win RM150 – SkyBet
Bellator
Bellator 179
Liam McGeary
Linton Vassell
MMA