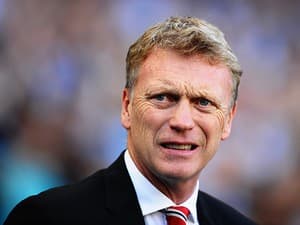 Manchester United has made its worst English Premier League start for 24 years and its UEFA Champions League assignment against Shakhtar Donetsk in the Ukrainian mining city throws up a gem of a match bet at odds of 2.55 with 888sport.
Shakhtar Donetsk is unbeaten in its last 14 home games in all competitions – 11 wins and three draws – with its last defeat in front of its own supporters being an unlucky 0-1 loss to Juventus in last season's UEFA Champions League group stage in which it scored for its Italian opponent.
If one goes back to December 2011, Shakhtar Donetsk has won 28, drawn four and lost one of its 33 home matches. Those numbers are one of two reasons why Shakhtar Donetsk stands out at odds of 2.55 to beat Manchester United. The other reason is that Manchester United is on the brink of a crisis, sitting on the bottom half of the English Premier League after accruing only seven points from six games.
The pressure is mounting on Manchester United manager David Moyes and history rather unkindly shows that the Red Devils boss does not perform when the heat is on. Out to English Premier League fourth favourites less than one-sixth of the way through its title defence, Manchester United was awful in losing 1-2 to West Bromwich, a result that prompted some Red Devils fans to boo their heroes off Old Trafford. It is increasingly looking like Manchester United will not recover its glories until the Red Devils hierarchy has the balls to admit that appointing Moyes was a terrible mistake. That is not going to happen any time soon – remember, Alex Ferguson was the man who said that Manchester United should recruit Moyes – so one should look to oppose the Red Devils when opportunities such as the Shakhtar Donetsk one pop up.
Shakhtar Donetsk should be trading at odds around the 2.20 mark for the visit of Manchester United so all of the prices in the market are attractive, particularly 888sport's offer of 2.55. A conservative punter could snap up odds of 1.82 with 888sport about Shakhtar Donetsk in the draw-no-bet market. Manchester United is not playing anywhere near well enough for the Red Devils to achieve something that only Juventus has managed in the last 22 months. And do not forget that Shakhtar Donetsk shot itself versus Juventus.
Staying in the UEFA Champions League, Chelsea is a rare away team worth backing with BetVictor at odds of 1.80. Anything other than three points is not an option for Chelsea having slumped to a shock 1-2 UEFA Champions League Group E loss at home to Basel so the Blues will play positively in Romania. English Premier League mid-table side Swansea comfortably accounted for Romania's Petrolul Ploiesti in a UEFA Europa League tie and, based on that, Chelsea really ought to be far too strong for Steaua Bucuresti, even on the road.
The other UEFA Champions League bets that appeal are draws in the big matches between Arsenal and Napoli, Manchester City and Bayern Munchen and Porto and Atletico Madrid. One could easily get sucked in to backing Napoli, Manchester City and Atletico Madrid at odds of 3.00 and greater but these games look too close to call. Backing the draws – Arsenal to draw with Napoli is available at odds of 3.70 with BetVictor, Manchester City to draw with Bayern Munchen is trading at odds of 3.50 with Bwin, and Porto to draw with Atletico Madrid is on offer at odds of 3.30 with BetVictor. If one bets to level stakes on the draws, one will make a profit if one or more of the matches fail to produce a winner. That looks like a good plan of attack.
There is a full English Championship program this midweek and a couple of teams are interesting at their head-to-head odds – Blackpool and Bolton. Blackpool hosts Bolton in a Lancashire derby and anyone looking at the odds would be forgiven for thinking that the Tangerines and Wanderers occupy similar positions on the second-tier ladder after nine rounds. Blackpool is 14 points and 16 rungs above Bolton so its odds of 2.15 with BetVictor are, quite frankly, ridiculous because it should be around 1.80. Brighton has won only one of its last five games but the Seagulls have performed to par with its recent matches including trips to Ipswich, Queens Park Rangers and Reading. Brighton is attractive at odds of 1.75 with BetVictor to maintain its place in the top half of the table with a home win over a shocking Sheffield Wednesday side that has kicked off its campaign with five losses and four draws even though most of its games have been against second-tier strugglers.